Return to Headlines
Parkmoor Elementary School Counts Down Until Blended Learning on Monday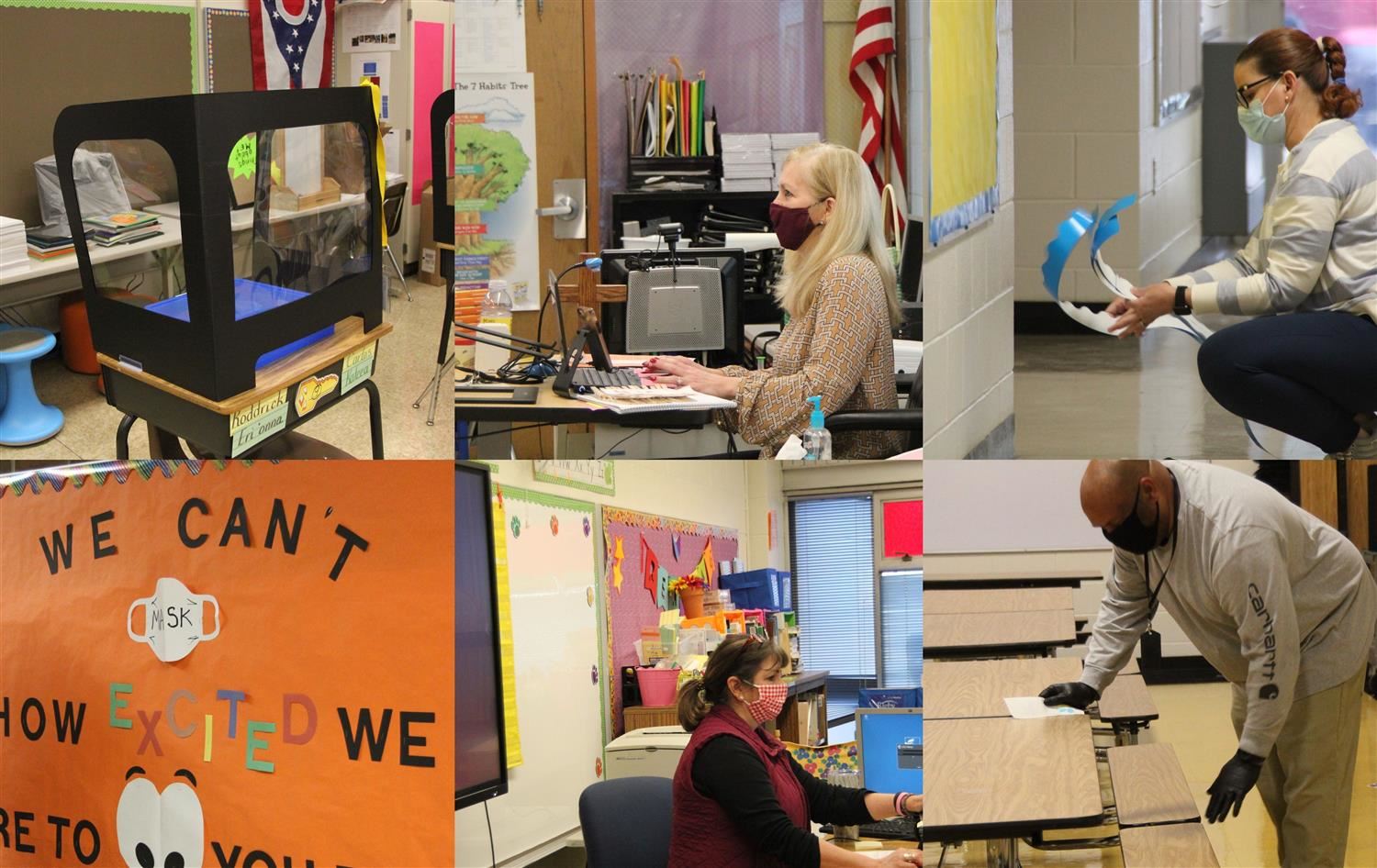 January 28, 2021 -- As any first-time parent will tell you, when the due date is down to days, the anxious moments increase along with the checks on the massive to-do list. For Columbus City Schools, the countdown to blended learning this Monday, February 1, is no different.
Just ask Parkmoor's fourth-grade teacher, Debbie Mosko, who will be meeting some of her students for the very first time after 11 months.
"The only thing I have left to do is figure out how to greet my students," the language arts and social studies teacher said. "I'm a hugger, but I can't do that now, so I have to figure out if I give air hugs, elbow taps, or fist bumps without touching."
A peek inside Mosko's classroom gives you a glimpse of how ready she is to welcome students back to school this Monday.
Plastic dividers between desks? Check.
Individual student name tags on lanyards hanging on plastic dividers? Check.
Plastic screen for the teacher's desk? Check.
Coat hooks on the wall now spaced further apart? Check.
Individual plastic storage bins for textbooks and school supplies on each student's desk? Check.
Signage on the floor to keep students six feet apart when they enter and leave the classroom? Check.
Hand sanitizer, disinfectant wipes, and extra masks at the classroom door? Check.
Individual plastic bags filled with playground toys for each student? Check.
The only thing missing from this picture are the students.
"I miss them so much, and I can't wait for them to return," said Mosko.
Head custodian Kevin Brower feels the same way. Mr. Brower was in the gym putting colored stickers on tables where certain groups of students will sit when it's their time to eat.
"PreK will sit at the table with the burgundy stickers, kindergarten green, blue for first graders," Brower explained to Parkmoor principal Charmaine Campbell. The number of stickers also indicates the maximum number of students permitted to sit at one time at a table to stay safe.
Brower just wants a clean and safe environment for the students when they return. "The only thing that has changed is the constant sanitizing and cleaning of surfaces, door handles, playground equipment, and restrooms," said the 17-year District employee.
Brower's to-do list also includes placing Parkmoor paw stickers on every floor in the school, so students know where to step to maintain six feet of distance in every hallway, the library, and gymnasium. Brower has also placed safety signage in every restroom, hand sanitizer, and extra face coverings at the main entrance, and shut off all water fountains.
The Parkmoor principal is so proud of what staff and teachers have accomplished so far.
"I wouldn't call these times challenging," said Charmaine Campbell. "What we have experienced in the last eleven months has provided us with creative advantages or different ways to figure out how we educate our students when we can't be in person. After Monday, we will have another opportunity to figure out how teachers can collaborate on cross-curricular program instruction for in-person learning and those days when students work independently at home. The one thing we have learned in the last eleven months is how to think outside the box."