Return to Headlines
Dr. Dixon's First Day Observations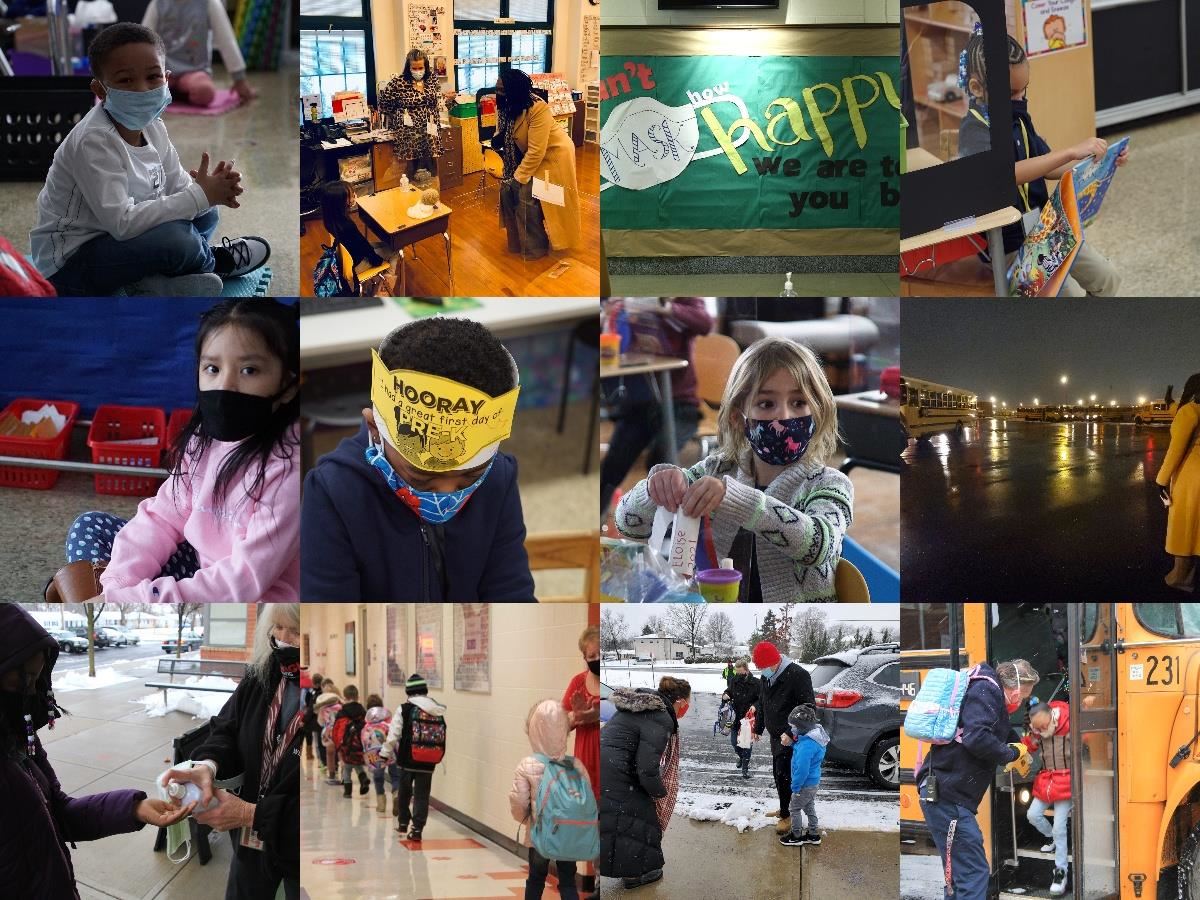 February 1, 2021 -- Occasional snow flurries and this past weekend's winter storm did not deter Ohio's largest school district from carrying out its mission to begin in-person learning today. Columbus City Schools welcomed our youngest students and others back into our buildings for the first time in nearly a year.
This weekend's snow did lead to a sleepless Sunday night for me. I was worried that the weather would force us to cancel the first day back -- a day we have been waiting almost a year to reach. At 4 a.m., I got the phone call, the all-clear that it was safe to transport students on our school buses.
Before daybreak, it was all business at the Frebis Avenue Bus Compound, where I started my morning. Bus drivers were busy sanitizing buses and defrosting windows for an early departure before 6:00 a.m. to begin their pick-up routes.
CCS Operations Staff were also up early to salt and clear driveways and walkways around schools to ensure these areas were free of all snow and ice. One dad at Ecole Kenwood French Immersion seemed very appreciative because he could safely get down on one knee to capture the moment his daughter walked into school for the first time in nearly 11 months.
School buildings across the District were buzzing with excitement in anticipation of seeing everyone face to face. A colorful assortment of face masks and inquisitive eyes greeted me as I visited several schools across the District. Regardless of the school, it was clear Spiderman and lots of color were the most popular mask themes for students.
Principal Kevin Hainer at Shady Lane Elementary School did more than welcome students. He carried backpacks and helped students off the bus. Near the main entrance, I saw the "new normal" for students. A staffer provided a squirt of sanitizer in each set of cupped hands. Inside, I met Daisy, the newest staff member at Shady Lane. Counselor Mrs. Kay is the handler for this therapy dog in training. Daisy waited patiently inside for students to enter.
At Northtowne Elementary, Ms. Hannah Gardner's Kindergarten class started the morning off with a "happy" dance parody to a popular Lizzo song. Ms. Gardner's version was changed to Feeling Good and Safe.
At Broadleigh Elementary, a pint-sized snowman wearing school spirit wear greeted students. An archway of balloons hung over the front entrance at Ecole Kenwood French Immersion. Many colorful welcome back signs were displayed on the fences and in windows at Como, Highland, and Eakin Elementary schools. Inside, the hallway bulletin board at Clinton Elementary displayed a positive message very fitting for the times: "we can't mask how happy we are to have you back."
Depending on the school, students grabbed breakfast and either ate in the cafeteria or classroom. Like any first day, many students carried new backpacks and showed off their new threads and kicks. Along with their new school supplies, I noticed many youngsters also brought in extra canisters of disinfectant wipes.
Another new norm I noticed: loud cheers and clapping have replaced the hugs and hand-holding—no bumping or touching in hallways either. Instead, students kept their distance following the signage on the floor. No matter the adjustments, our youngest learners need that in-person, face-to-face connection with their teachers. It allows them to build meaningful relationships that may not always be possible in a remote learning environment.
If today was any indication, we are well on our way to building those bonds. Showing our students, you can do both: meet all health and safety protocols and hold in-person classes during this global pandemic.
That's why today was a good day for Columbus City Schools.