Return to Headlines
Community Donations Benefit Trevitt Elementary School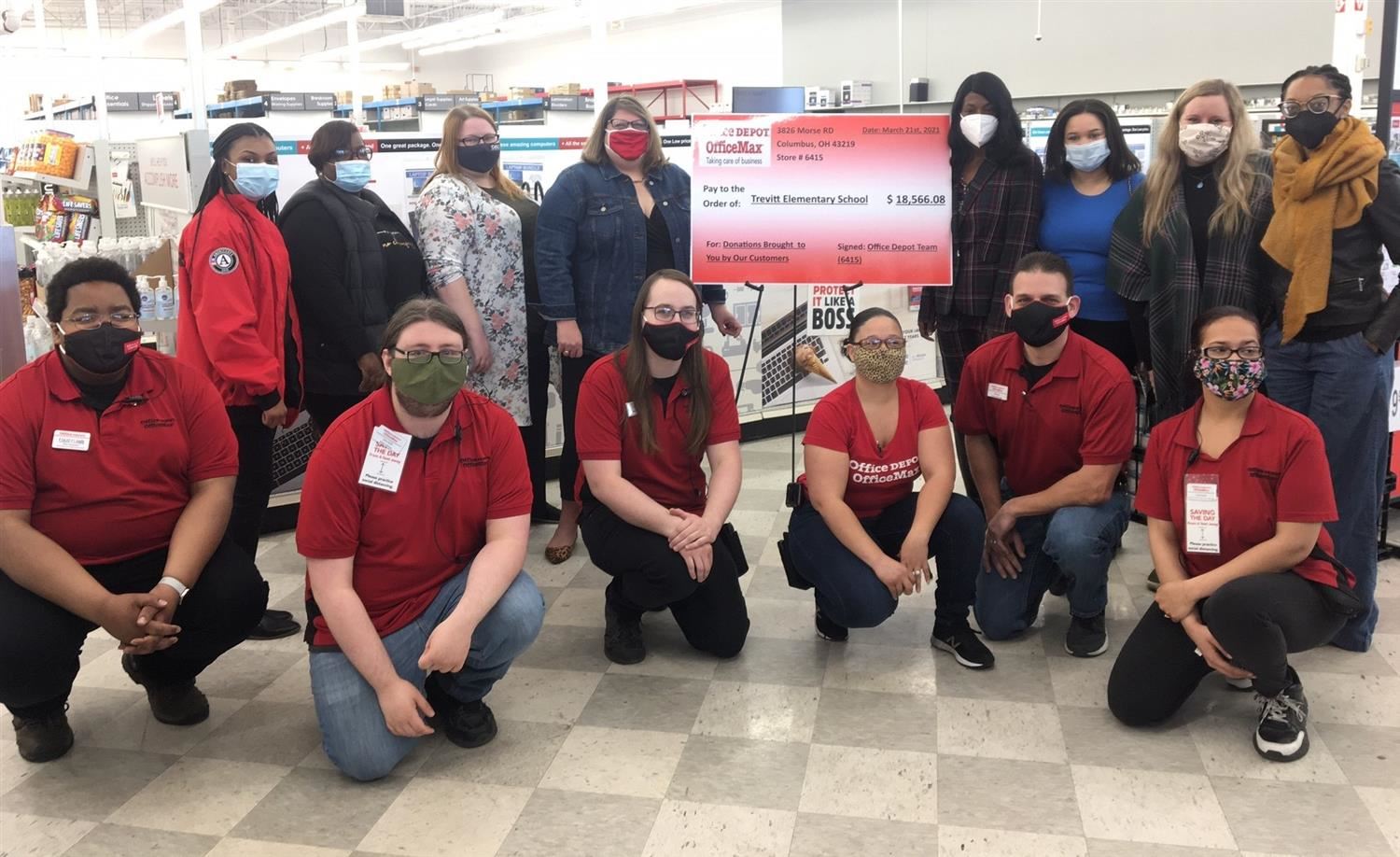 March 22, 2021 -- Trevitt Elementary School Instructional Coach Stephanie Ritter has always valued her neighbors. Still, her relationship with neighbor Shawn Peterson is extra special after more than $18,000 was collected from customers at Peterson's workplace, OfficeMax/Office Depot, and given to Trevitt Elementary School.
"It was an honor to do this for the teachers, staff, and students at Trevitt Elementary School," said Shawn Peterson, General Manager OfficeMax/Office Depot. "This is the single largest amount a store in our region has ever collected and given to a Title I school that I can recall."
"We are so appreciative of this generosity," said Dr. Keisha Fletcher-Bates, Principal, Trevitt Elementary School. "It has been a difficult year for our students, teachers, parents, and guardians who have had struggles both in and out of the classroom. It is so nice to feel appreciated and purchase items that our students and families need."
Principal Fletcher-Bates, along with ten teachers and staff, arrived early on Sunday morning at the Morse Road OfficeMax/Office Depot store on the northeast side to go shopping. They were greeted with a bevy of assorted pastries and fresh coffee that lined the counter. The staff at Trevitt had the entire store to themselves. The retailer didn't open its doors to the public until 11 that morning.
"We wanted them to feel special," said Peterson, who brought in five sales associates to help the Trevitt team.
"Ohhhhhh, I love those cute erasers," said Trevitt third-grade teacher Caitlynn Dauterman. Shaped like cupcakes and pizzas, Ms. Dauterman thought the erasers would be a great way to reward students for good, positive behaviors.
"Don't forget testing," said Sierra Mathews, another third-grade teacher. "Those erasers along with the neon pencils I put in my shopping cart will be perfect when testing begins the week of March 22."
"I got a huge bag of mints for testing too," said Principal Fletcher-Bates.
With a check for $18,566.08, Trevitt was buying more than paper, pencils, mints, and erasers.
"We have some computer needs," said Fletcher-Bates. "I am going to work with the IT people at the District and OfficeMax/Office Depot to see what's compatible and what will work best for our students and families. We have pivoted once again this year with students in school a few days a week and at home, daycare, or their grandparent's house, so we have needs."
"It's definitely a blessing," said Gabrielle Hill, a school counselor at Trevitt. She was shopping with Kirsten Davis, a CityYear Columbus volunteer.
"I am at Trevitt as a community partner to support students in grades 1-5, teachers and staff," said Davis, who enjoyed spending a few hours of her Sunday morning to help the Trevitt community.
Both Davis and Hill had laminators in their shopping carts, art supplies, and combination locks in their carts.
"It may not seem like a big deal, but helping our students figure out how to use a combination lock is one more way we can smooth the transition from elementary to middle school," said Hill.
To show their appreciation, the students at Trevitt created and personally signed a "thank you" banner presented to the store manager and associates before the shopping began. Within minutes, the OfficeMax/Office Depot team had hung the six-foot, orange banner up on the wall so every customer who walks in the front door can't miss it.