Return to Headlines
March Madness Comes to the Classroom Virtually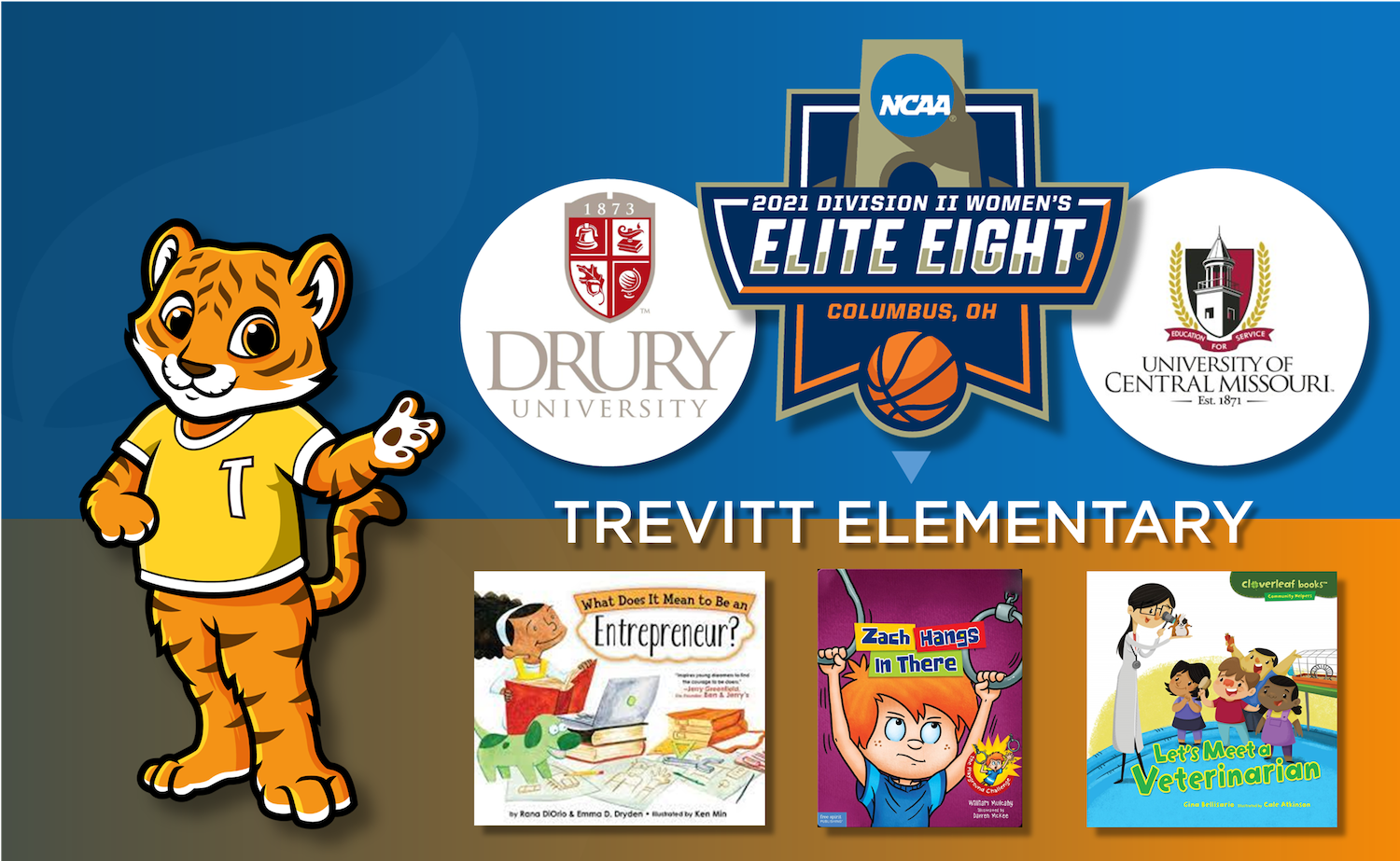 March 25, 2021 -- Before Division II Women's NCAA basketball players try to win the National Championship here in Columbus, players from two teams met with Trevitt Elementary School students virtually to read and talk about goal setting and careers.
"Now that you are in college and competing for a national title, what would you do differently in elementary school based on what you know today?" asked Trevitt principal Dr. Keisha Fletcher-Bates.
"Surround yourself with people who lift you up. Don't listen to people who tell you that you can't do something. Surround yourself with friends and families that support you," said one of the Drury University Lady Panthers.
Ten athletes from the Drury University basketball team took turns reading two books to Trevitt students in grades 3 – 5; "What Does it Mean to Be an Entrepreneur?" by Rana DiOrio & Emma D. Dryden and "Zach Hangs in There" by William Mulcahy.
The principal at Trevitt said that she selected these two books because they align with the District's Health Science Academies and career readiness standards.
One of the Drury University players shared that she was an entrepreneur and started her own business last year when she was a college junior.
"It's a health and nutrition business," she explained.
The students took turns stepping up to the built-in microphone on the laptop to ask questions.
"What's it like to be in college? How many classes do you take? How many three-pointers can you make? Is it fun to play basketball on TV? How do you use teamwork?" were some of the questions from students.
"Those are great questions. We use teamwork by supporting each other and trusting one another both on and off the basketball court. We are close friends and care a lot about each other," the Lady Panthers shared.
Earlier in the day, another NCAA Elite 8 Women's Basketball team read and talked to kindergartners, first and second-grade students at Trevitt Elementary School.
The Lady Jennies of the University of Central Missouri in Warrensburg, Missouri, also read "What Does it Mean to Be an Entrepreneur?" by Rana DiOrio & Emma D. Dryden but for their second book read, "Let's Meet a Veterinarian" by Gina Bellisario.
The younger students asked, "Why they play basketball? Who was their favorite player, and what kind of pets do they have?"
One Trevitt student shared that he has a dog, cat, lizard, and guinea pig. The Lady Jennies all laughed, and then one team player said, "I bet you never get bored at home with all those animals."
During the hour virtual meet and greet, the Lady Panthers also led stretching exercises with the students. The college athletes told the students "getting out of your chair and moving around a bit helps when you're fidgety in school."
All eight teams in the NCAA Division II Women's Basketball National Championship will spend one hour this week talking with elementary school students. In addition to Trevitt Elementary School, athletes also spoke to classes at Weinland Park and West Broad Elementary Schools.
"These elite women chose to be with you today," said Trevitt Principal Dr. Keisha Fletcher-Bates.
"Pursue your dreams. If you put your mind to it, you can do anything," said one of the Lady Panthers.
"Before we say good-bye, let's share our Trevitt motto with these young women. Altogether, what are we," asked Fletcher-Bates?
"We are not average; we are excellent," yelled the Trevitt students.
"I can't hear you. What did you say," asked the principal?
"We are not average; we are excellent," the Trevitt students shouted even louder.
CCS Region 3 Area Superintendent agrees. "Dr. Bates, I am extra proud of you and the Trevitt team,'' said Dr. Sandy Womack. "Thank you for putting your students first."