Return to Headlines
Cleveland Browns Honor Two Columbus City Schools for Fitness Challenge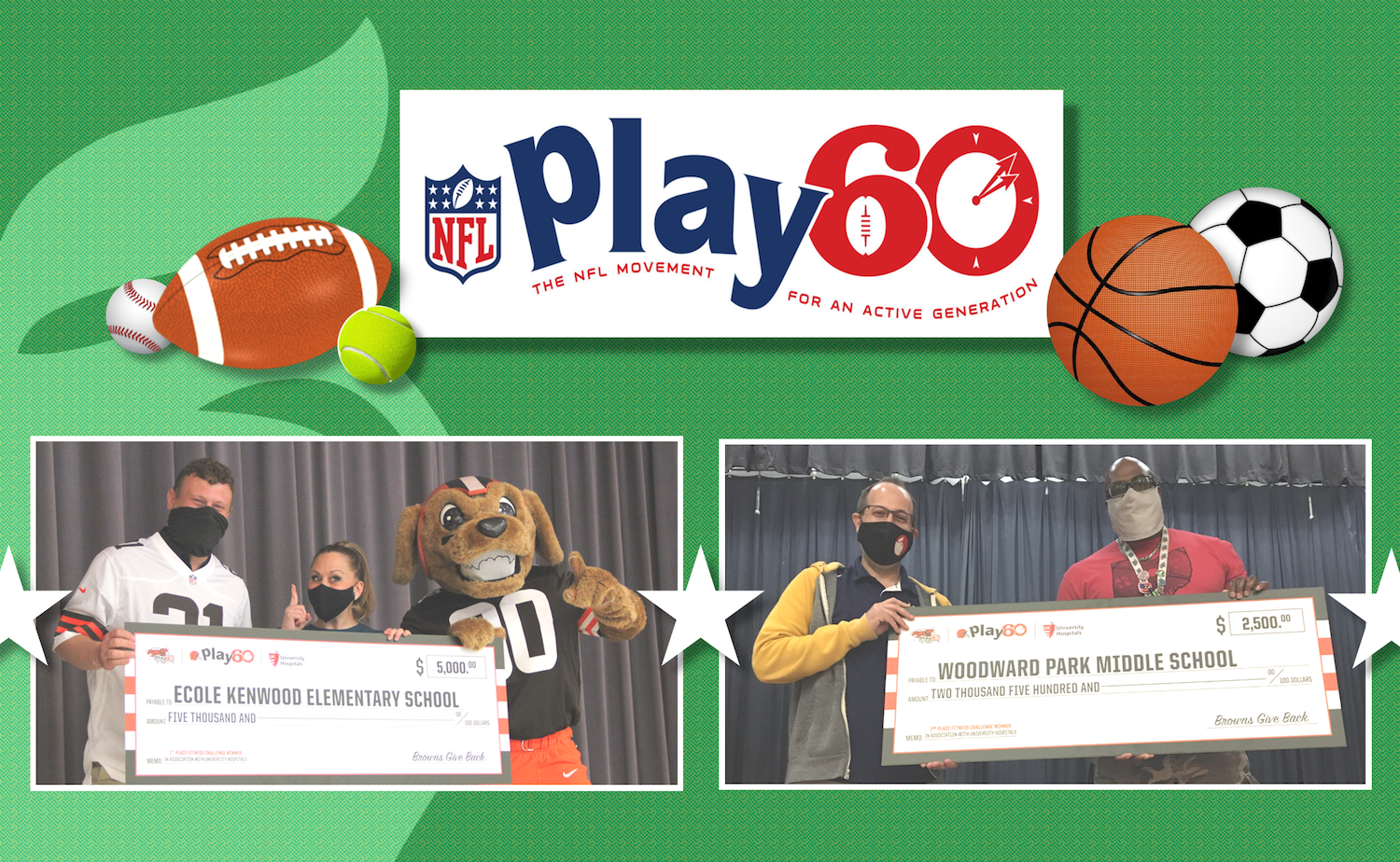 March 26, 2021 -- The Cleveland Browns honored two Columbus City Schools today for outstanding participation in a statewide fitness program targeted at school-aged children. The program is called the Cleveland Browns Play 60 Fitness Challenge.
Ecole Kenwood French Immersion School earned top honors in the Fitness Challenge, and Woodward Park Middle School came in second place. That's out of a field of 75 schools throughout Ohio and thousands of elementary and middle school students.
"Thank you all for your hard work and dedication," said Bryan Ferres, Health and Physical Education teacher at Ecole Kenwood.
Ferres has been a champion of the Cleveland Brown Play 60 Fitness Challenge for ten years.
"Mr. Ferres is a Browns Play 60 Fitness Ambassador," said Darrell Taylor, Director of the Cleveland Browns Youth Football Program. "Throughout the last year, we've been challenged due to the ongoing pandemic, which is why we launched a free, four-week fitness program to encourage students to eat healthily and do at least sixty minutes of physical activity."
To show how much the Browns appreciate the efforts of Ecole Kenwood, Taylor, and the Browns mascot, Chomp showed up to surprise Ferres and the students in the school cafetorium.
"I was shocked," said Ferres. "I was told there was a mandatory school assembly at ten this morning. When I walked in, the students started to applaud, and there was Chomp on the stage. It was amazing. That was the last thing I expected. I really had no idea."
Ecole Kenwood earned the most points in the Fitness challenge because it had the largest number of students participating, and those students collectively spent more time on physical activity than any other participating school. After each week, schools shared their exercise videos on the Browns social media platforms.
"I am so proud of Mr. Ferres and my students and what they accomplished at school and virtually," said Emma Corbin, Principal at Ecole Kenwood.
For winning the Cleveland Browns Play 60 Fitness Challenge, the Browns presented Principal Corbin with a $5,000 check plus a flag football kit. Ferres also received a Browns jersey with his name on the back.
"We're going to use the money to finish our school climbing wall," said Ferres.
After Ecole Kenwood, the Browns visited Woodward Park Middle School and surprised computer science and robotics teacher Christopher Daniel. Like Ferres, Daniel has also been a Cleveland Browns Play 60 Fitness Challenge Ambassador for ten years.
Woodward Park came in second place and received a $2,500 check plus a flag football kit.
"We are going to use the money to purchase some basketball rims," said Daniel.
Together with the American Dairy Association Mideast and University Hospitals, the Cleveland Browns Fitness Challenge mission is to empower youth to be the most physically active and healthy.
Since today's Cleveland Browns visit was all about staying active, Chomp led the students at both schools in some safely-distanced group exercises before heading back to the Dawg Pound.
Click here to watch a video of the Cleveland Browns surprise visit to Ecole Kenwood.