Return to Headlines
Social Justice Teacher's Dream Grant in Action at Cedarwood Alternative Elementary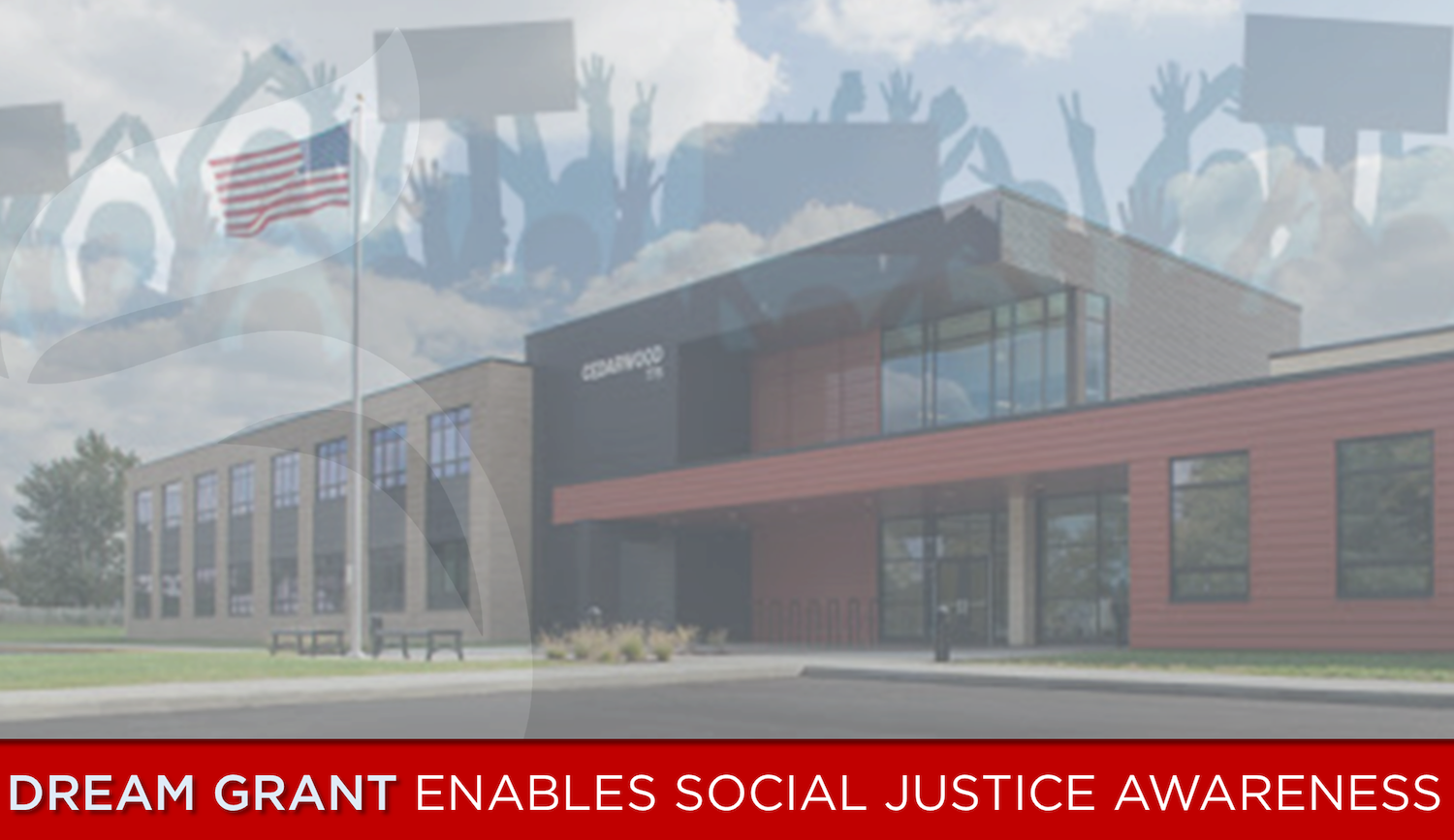 April 9, 2021 -- For the teachers and staff at Cedarwood Alternative Elementary School, it's one thing to say you believe in equity, inclusion, and diversity, and another thing to show it -- but that's exactly what they are doing every Wednesday morning and afternoon.
"It's called Wednesday Woodchuck Words," said Merele Wilder, a fifth-grade teacher at Cedarwood. "It started when we received a District Teacher's Dream Grant for Social Justice. A group of us, including Intervention Specialist Robyn Chernack, Music Teacher Rachel Ostrander, Kindergarten Teacher Teresa Rollins, and Fine Arts Teacher Matt Vrbanac formed a committee and came up with events and activities that include our entire school family and members of the community."
"Wednesday Woodchuck Words" started in February. During morning announcements, the group might read a book, share a poem, or invite a community member such as a dentist, nurse or social worker to speak to the Cedarwood community. During the Wednesday afternoon session at 3 p.m., it's a similar format, except students and staff have the opportunity to ask questions and interact, especially if a community member is participating.
"That's what inclusion is about," said Wilder. "Including everyone, staff and students so they feel that they are a part of the community. This interaction with our community helps teach awareness and empathy."
Recently Clinton Township firefighter Tyler Norwood was the guest speaker for "Wednesday Woodchuck Words." He shared how he grew up on the south side of Columbus, graduated from Marion-Franklin High School, and attended Columbus Downtown High School to pursue a firefighting career.
"Between the ages of eight and 18, I didn't have a father figure in my life," Norwood said. "I was living with my great grandmother, who was very active in the church. That's where I found a mentor who just so happened to be a Columbus firefighter, and the rest is history as you say."
Using his cellphone, Firefighter Norwood took Cedarwood teachers, staff, and students on a virtual tour of his firehouse. He put on his firefighting gear, climbed inside a fire truck, and even showed everyone how the portable defibrillator worked when he responds to a call that someone's had a heart attack.
The students loved the interaction and had dozens of questions. "How heavy is your gear? Do you have a pole you slide down at the firehouse? Do you have a fire dog at the station?
"No dog because some people are allergic," said Norwood. "No pole either, and the gear is very heavy. That's why we train a lot, so it becomes muscle memory when we are fighting a fire."
"Have you ever been in an actual fire, and were you terrified?" asked another student.
"Yes, I've fought many fires, and I'm not scared, but it is stressful when you can't see inside the building because of all the smoke, or the floor has holes in it that I might fall through."
Tyler Norwood, a proud CCS graduate, has been a Clinton Township firefighter for ten years.
"Wow, I'm only six. You've been a firefighter longer than I've been alive," shared one Cedarwood first-grader.
Before leaving the virtual show-and-tell, Tyler Norwood asked each student to go back to their family and come up with a fire plan, a way to get out of their home if it's on fire and pick a safe spot to meet once outside.
Along with guest speakers, the Cedarwood Equity, Inclusion, and Diversity Committee are also planning to use the Social Justice Teacher's Dream Grant for several school-wide art and gardening projects this Spring and next Fall.
Currently, CCS is accepting applications for this year's Teacher's Dream Grant. Grants between $500 to $5,000 are available for all teachers in the District. The application deadline is 4:00 p.m. April 23. Log onto the CCS Staff Page for more information.