Return to Headlines
Just a Pair of Shoes Teams up with Morris Home to Provide Students with Custom Shoes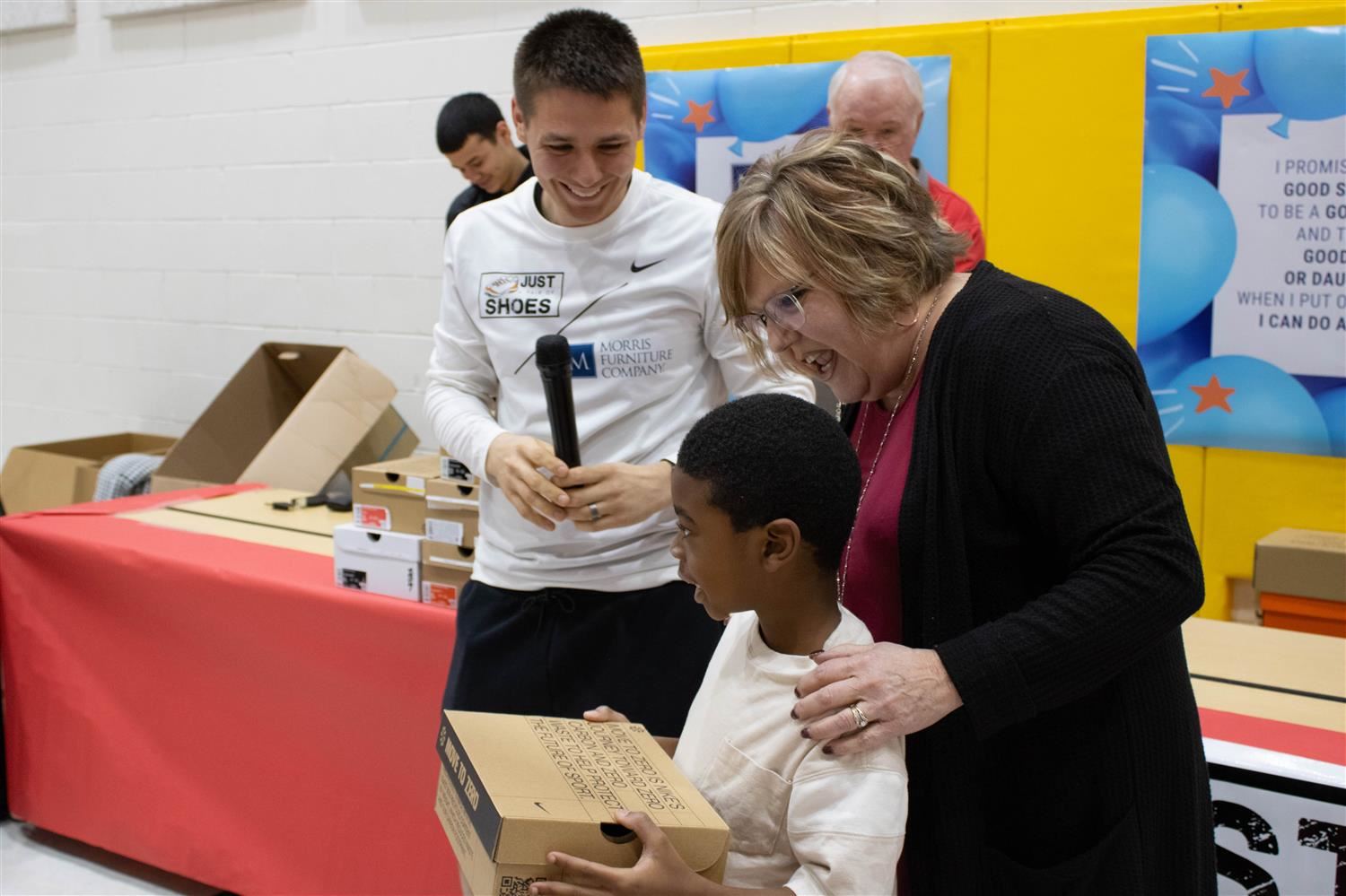 December 20, 2022 -- When Matthew Cline first meets a group of students, he asks them to promise him three things:
To be a good student.
To be a good friend.
To be a good child at home.
After the students have made their promises, Cline brings out shoes – stacks of Nike boxes filled with footwear of all different colors and styles. Students assemble excitedly and wait to hear their names. Then, when called, students walk down a red carpet and pick up a box of hand-selected and personalized shoes.
This shoe giveaway was partially inspired by Cline's experiences growing up in a low-income household where he didn't always have access to new shoes.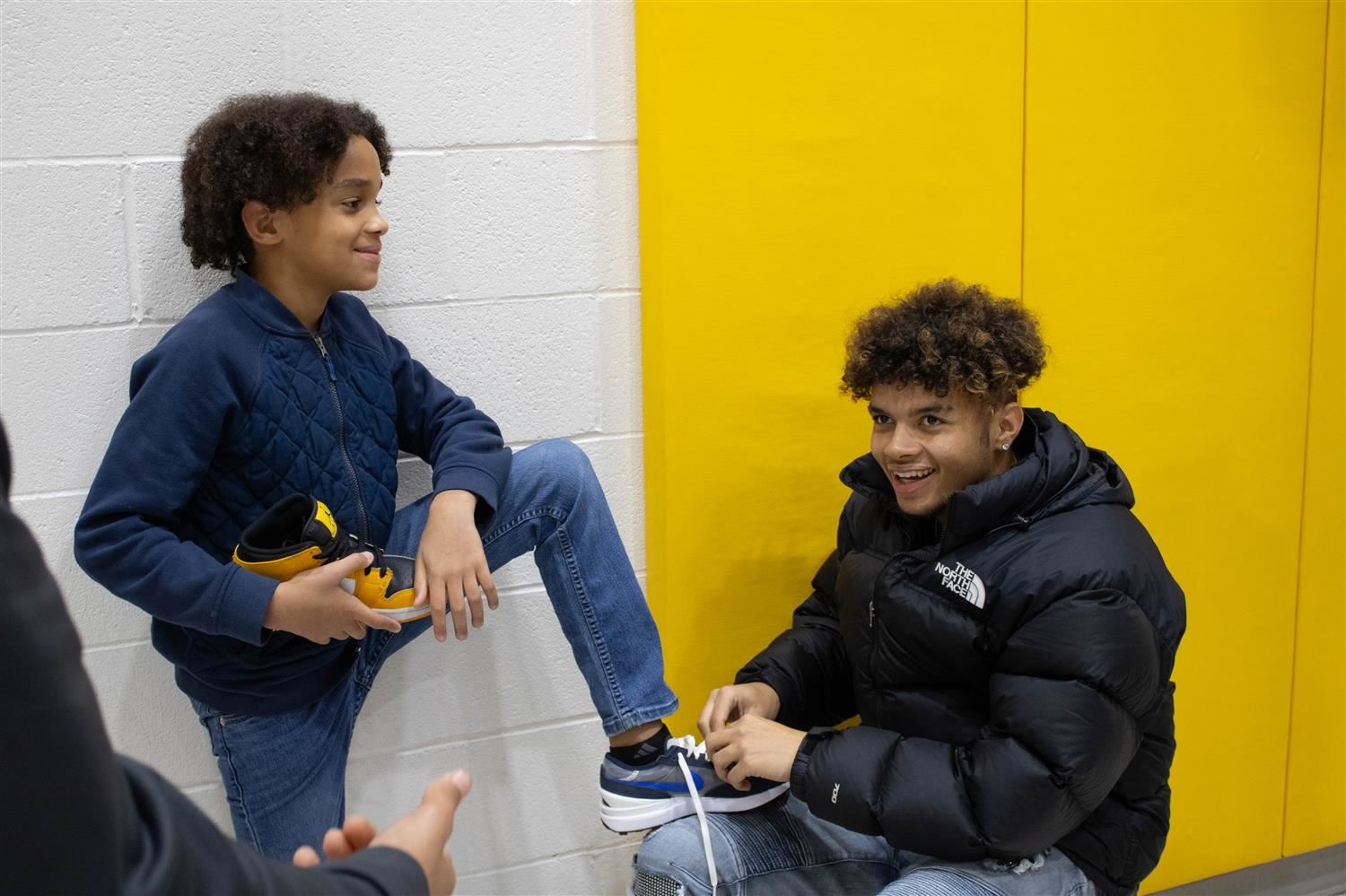 "With poverty, you don't get to pick. When you get something it's always 'It is what it is,'" he explained. "In the sixth grade, I started cutting grass and shoveling driveways, and I got my first pair of Nike shoes. I got a lot of confidence from those shoes. My life changed."
Now, Cline works to impact other kids' lives the way his first pair of Nikes changed his. He is the founder of the non-profit Just a Pair of Shoes, which works to instill confidence in kids by providing them with name-brand, trendy footwear. This year, Cline teamed up with Morris Home, who provided 75 pairs of shoes in honor of their 75th anniversary. Recently, they visited Sullivant Elementary School and gave a new pair of shoes to the fourth and fifth grade students.
"Serving the community is one of our core values," explained James Davis, the regional sales director for Morris Home. "I'm proud to be here and be a part of this. I'm a better person for showing up and doing this."
Volunteers from Morris Home weren't the only community members present. Student-athletes from West High School visited to help the young students try on their shoes and ensure they had the perfect pair. Na'Ryah Golston is a sophomore at West and said working with young CCS students was impactful for her.
"All of the kids I helped were so nice and sweet. They were so happy, and their smiles made me happy, too," she said.
Amontae Kelly was one of the students given a new pair of shoes. When it comes to clothing, Kelly keeps it simple. The fifth grade student at Sullivant likes to wear all black. Now, Kelly will have footwear to match his typical ensemble thanks to Just a Pair of Shoes.
"I like that the shoes I got are black," he explained. "They're going to match my outfits because I wear that color so much."
The shoe giveaway at Sullivant was particularly impactful for Cline. It marked the 1000th pair of shoes he has donated since starting his mission.
"It's a big deal," Cline said. "I'm at a loss of words to be honest. This is all volunteer work, and it's amazing to see so many people come together who care."
During the giveaway, the gymnasium at Sullivant was full of volunteers and community members helping students with their shoes. Along with CCS and Morris Home employees, multiple community partners showed up, including The Ohio State University men's gymnastics team and Brutus Buckeye.
"I had no idea there would be this many people here to watch us get our shoes," Kelly said. "They have balloons, a red carpet, and Brutus! It was awesome."
Cline hopes the shoes the students receive will be the boost some of them need to grow their self-confidence.
"You can't be successful without confidence," Cline said. "We want their new shoes to be that first domino that falls and pushes them towards that confidence."
---