Return to Headlines
Board Meeting Preview: October 25, 2022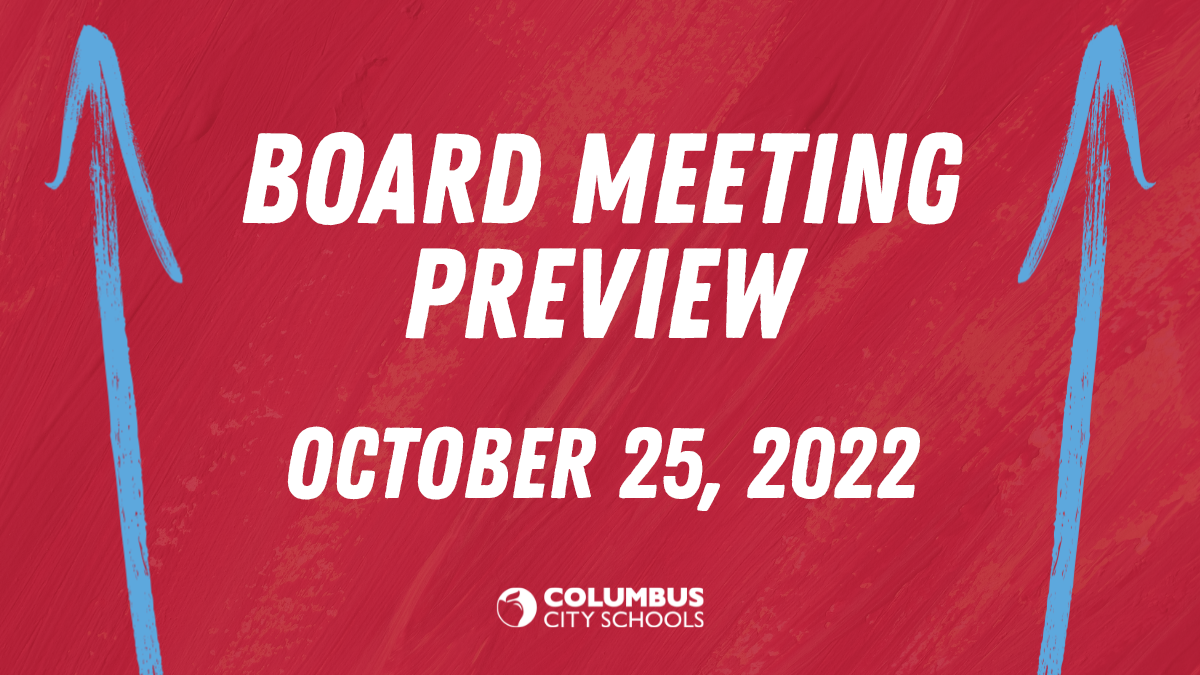 Columbus City Schools
Board of Education Meeting
Tuesday, October 25, 2022, at 5:30 p.m.
Viewing the Board Meeting
The Columbus Board of Education will convene for a Special Meeting per Ohio Revised Code Section 3313.16 beginning at 5:30 p.m., at the Southland Center (3700 S. High St., Suite 825). This meeting is in place of the Board's regularly scheduled business meeting that was to occur on Tuesday, October 18, 2022.
Meeting attendees will need to enter the north-facing door toward the west end of the building.
The Board will conclude with an Executive Session, per Section 121.22 (G)(1) Ohio Revised Code, to consider the appointment, employment, or compensation of public employees.
The public meeting will be streamed via Facebook Live and the Columbus City Schools' BOE YouTube Channel. For more information on meeting dates and times, click here. Also, visit the Columbus City Schools BOE YouTube Channel to view past Board meetings.
Meeting Agenda Topics
The meeting agenda topics include:
4.1 - Superintendent Dr. Talisa Dixon will provide a monitoring report regarding Board Goal 2: Close Opportunity Gaps.
12.2 - Supporting a Whole-Child Focus, Equitable Opportunities for All, and Board Goal One: Strengthen Reading Proficiency, the Board will be asked to authorize the administration to enter into a purchasing agreement with CTBook Holdings LLC. Books will be delivered to schools quarterly then distributed to homes to increase students' access to print by building home libraries.
12.3 - Supporting Equitable Opportunities for all, the Board will be asked to authorize the administration to enter into a service agreement with Dual Language Education of New Mexico to ensure a strong dual language foundation for students and strengthen the Immersion Pathway from Columbus Spanish Immersion Academy to World Language Middle School and Columbus International High School.
15.1 - Supporting Strong Learning Communities in Every Region, the Board will be asked to authorize the administration to purchase security systems and access control installations and repairs for district buildings from Convergint to ensure safe learning and working environments for students, teachers, and staff.
22.1 - Ensuring Strong Learning Communities in Every Region, the Office of Transformation and Leadership will request authorization to enter into a purchase of services agreement with The Ohio State University to provide services aligned to the Wallace Foundation Equity Centered Pipeline Initiative (ECPI) Grant.
For additional background information, and to view the full meeting agenda, click here.
Making a Public Comment
Any public participant wishing to make comments has the option of addressing the Board in person or by telephone. To sign up, public participants must call to leave a voicemail with Customer Relations at 614-365-8888 or email customerrelations@columbus.k12.oh.us by 3:30 p.m. on Tuesday, October 25. Speakers will need to provide their name, topic, and phone number.
Upcoming Meetings
October 27, 2022 - Neighborhood School Development Partnership Meeting, 8:00 a.m.
October 27, 2022 - Audit and Accountability Committee Meeting, 3:30 p.m.
November 1, 2022 - Regular Board Business Meeting, 5:30 p.m.