Return to Headlines
Marion-Franklin High School Shines in Mini Bridge Building Competition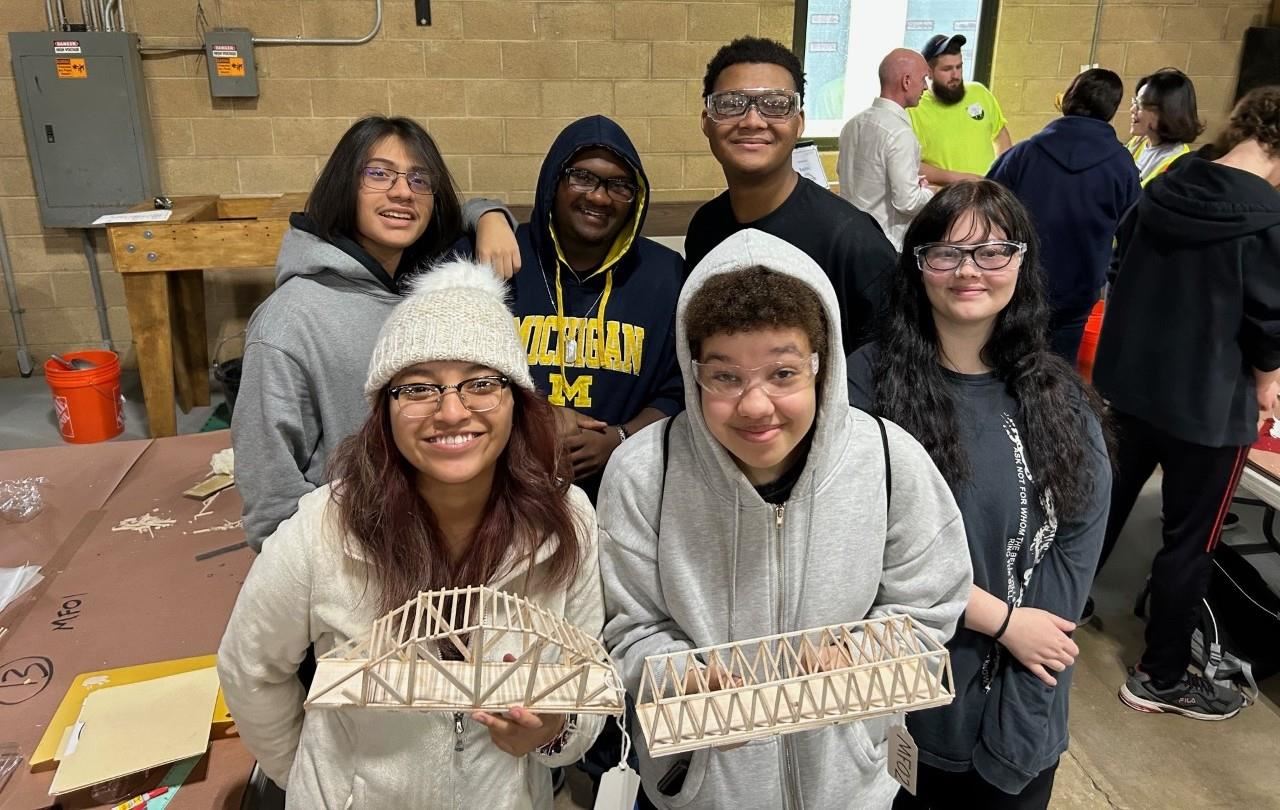 March 30, 2023 -- The students at Marion-Franklin High School are building bridges to a bright future.
Two groups of students recently participated in the 3rd Annual Central Ohio Miniature Bridge Building Competition (CohMBBC), where they showcased their engineering skills and creativity.
This competition, sponsored by esteemed organizations including the Central Ohio Association of Bridge Construction and Design (ABCD), The Franklin County Engineer, The Ohio State University (OSU), and Ohio Department of Transportation (ODOT) District 6, provided students with an opportunity to interact with the local civil engineering community.
The CohMBBC event brought together 72 students from area high schools, all competing to see who could construct the strongest and most efficient miniature bridge.
Engineering teacher Jason Perkins, who coached the Marion-Franklin team, shares how his class became involved in the competition.
"I received an email suggesting we enter the competition, so I asked the students if they were interested," said Perkins. "We had just completed a unit on bridges and trusses, and many students were eager to participate."
The competition required participants to design and build a miniature bridge, which was tested for strength and durability. The students had to follow specific guidelines and use materials, including balsa wood and glue.
Marion-Franklin Senior Elecktra Sims explains what inspired her to participate in the competition.
"I have a friend who had already signed up to participate and is a student in Mr. Perkins's engineering class," said Sims. "My friend Maranda Bond bought up the idea, and I decided to help and be on her team."
According to Mr. Perkins, the biggest challenge facing students was the short notice they received about the competition, which left them too little time to practice as a team.
Because the teams were in different classes, they had to work hard to develop a game plan and practice building together.
"We used bridge-building software called Bridge Designer as a template," said Perkins. "We also watched videos on how to build bridges. We talked about different ideas and techniques and walked through the pros and cons of various bridge designs."
Students rose to the challenge and demonstrated their creativity, innovation, and technical expertise.
"The bridges had to be at least 12 inches but no longer than 14 inches," said Perkins. "They had to weigh less than 100 grams, and they had three hours to build them."
With great effort, each teammate used their problem-solving skills to overcome obstacles and produce bridges that were aesthetically pleasing and strong enough to withstand the weight and pressure of testing.
"We were given a bridge-building kit and it required cutting the wood into pieces with small knives and the wood broke easily, making the wood uneven," said Sims. "The most challenging part was making sure the measurements were correct."
Each member was vital in completing the task as quickly as possible. The team also assisted each other whenever needed, for instance, by holding the bridge while another member glued pieces of wood. The bridge supported two pounds of sand during its noteworthy strength test.
They received valuable feedback from the judges, who evaluated their bridges based on various criteria, including aesthetics, efficiency, and structural integrity.
"We received really good feedback from the judges," said Perkins. "One suggestion was to have a detailed outline to accompany our blueprint. Another judge suggested we continually practice constructing bridges. This will allow us to figure out what our weak points are."
Sims was proud of the bridge her team created and Marion-Franklin's placement in the competition.
"What I found most rewarding about the experience was when we completed the bridge, it wasn't perfect, but we got it done before time ran out," said Sims.
Mr. Perkins is looking forward to the CohMBBC next year, and so are his students.
"We are already talking about the plan for next year," said Perkins. "I am proud of what they created. They enjoyed the competition, and they enjoyed working as a team to complete this project."