Return to Headlines
Second Grader's Culinary Talents Serving Up Smiles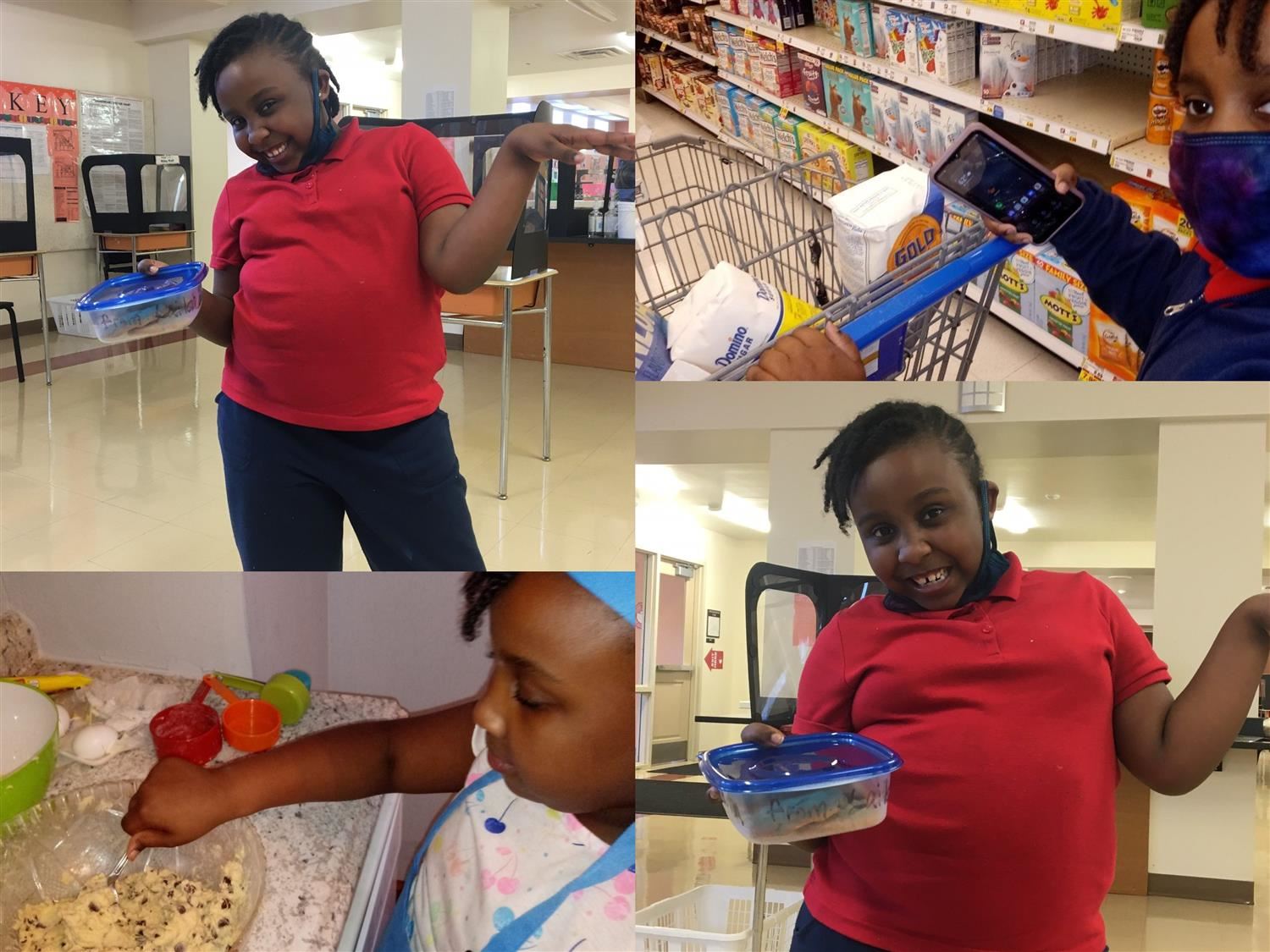 May 24, 2021 -– When five-year-old Lailah Jones told her Latchkey teacher that her favorite food was blackberry cobbler, Mildred Tate couldn't believe it.
"I've been a Latchkey teacher for Columbus City Schools for 13 years, and I've never had a child tell me their favorite food is blackberry cobbler," said Tate. "Usually it's pizza, hot dogs, french fries, ice cream, definitely not blackberry cobbler."
That was two years ago. Fast forward to 2021. Mildred Tate is still the Latchkey teacher at Stewart Alternative Elementary School, but Lailah Jones is in second grade now, and her culinary talents have expanded way beyond blackberry cobbler.
"I make cookies, cake, lasagna, seafood with homemade seasoning," said Jones.
You heard right, Lailah Jones has figured out how to make seafood taste better at the tender age of seven.
"Garlic, salt, paprika, seasoning salt, lemon, and two drops of hot sauce," said Jones, giggling. "Anything more than two drops of hot sauce will make it too spicy."
When you listen to Lailah talk about cooking and baking, her eyes sparkle, and you know she's smiling behind that mask. It's hard to believe she is just seven years old. Her vocabulary is as expansive as her culinary talents.
"She's amazing," said Margaret Bailey, a CCS satellite kitchen operator who prefers to go by the title lunch lady. "I've tried that blackberry cobbler, and it really is amazing. The blackberries just melt in your mouth. I've been around food and school meals for dozens of years. I know when something tastes good, and Lailah has a talent."
Lailah's love of cooking came from her grandmother.
"When I was three or four, my grandmother would always ask me to help pour the flour in the bowl or add the salt," said Jones. "I just like being in the kitchen with my grandmother and my mom."
Lailah remembers the exact moment when she went from just watching to cooking.
"We were frying fish, and my mom turned around to go do something," said Jones. "I picked up a piece of fish, dipped it in the batter and then put it in the pan all by myself."
That was the moment Lailah knew she loved being in the kitchen.
"It's not just a hobby but a passion of mine," said Jones. "It has to be homemade, nothing from a box. Homemade is special."
Right now, Lailah is working on a homemade pizza crust. She admits sometimes she watches the YouTube channel to get ideas. Already Lailah has won over the hearts and stomachs of teachers and staff at Stewart Alternative Elementary School.
"Lailah is a star student," said Mildred Tate. "She helps out and sees the joy people feel when eating one of her cookies, or a piece of cobbler or one of her pies."