Return to Headlines
CCS Student Podcaster Visits City Hall to Interview Mayor Ginther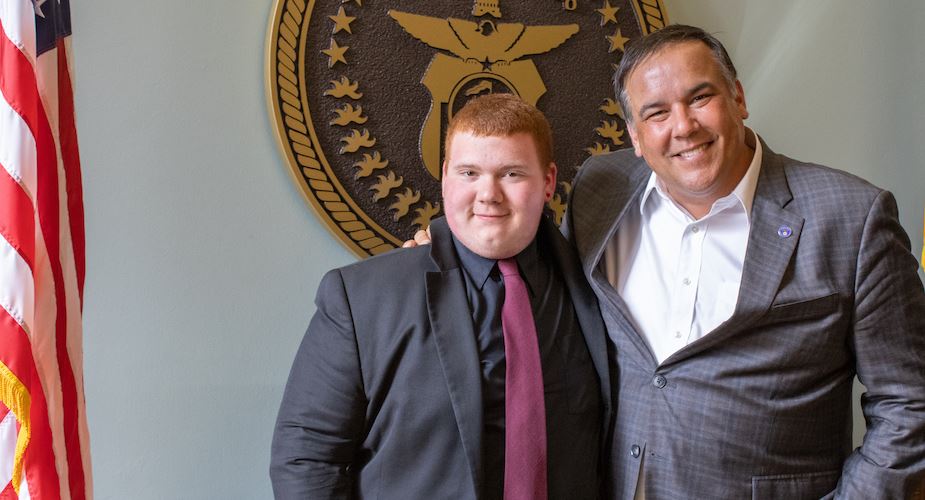 August 18, 2022 -- On Tuesday, August 9th, Tim Walsh entered the doors of City Hall with audio equipment in his hands. The rising 9th grade student at Briggs High School visited the headquarters of Columbus' local government to speak with Mayor Andrew Ginther on his podcast "Talking with Tim."
Walsh started the podcast earlier this year at Hilltonia Middle School. He focuses on mental health topics affecting students and the Social and Emotional Learning (SEL) resources available to them through Columbus City Schools.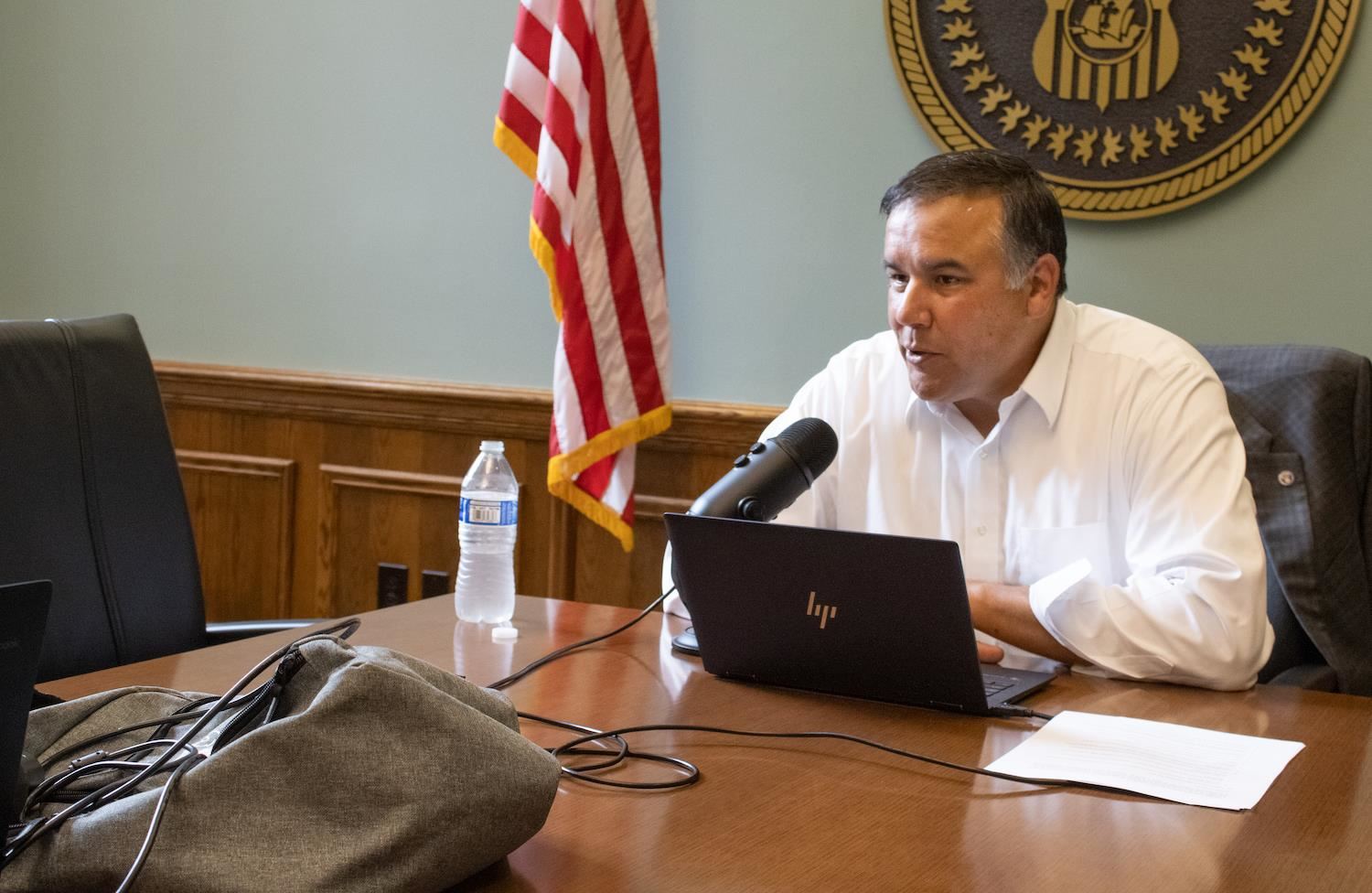 SEL is a learning style through which children and adults acquire the knowledge, attitudes, and skills necessary to understand and manage their emotions. In addition, it teaches them to show empathy for others and navigate relationships.
Walsh highlights SEL in his podcast to show people struggling with mental health that they're not the only ones.
"People everywhere feel like they don't belong. I thought the podcast could be a way to tell people they're not alone," Walsh said.
Walsh collaborates with CCS staff to produce his podcast. His counselor, Angela Clarke, and favorite teacher, Tonya Shinabargar, help him write and edit questions for his podcast guests. Hilltonia Principal Dr. Joyce Albright provides him with podcasting equipment and facilitates interviews.
Dr. Albright said he has grown and expanded his skill set since starting the podcast.
"I think when it first started, he was just looking for people in our building to do his podcast. His questions were simpler, more direct. You didn't get a lot of conversation," Dr. Albright said. "As it got bigger, he started going outside of our building to find people to interview, and his questions started to develop."
In a City Hall conference room, Walsh and Mayor Ginther discussed how the Mayor's office interacts with CCS and his work to remove mental health stigma.
"Mental health is exceptionally important," Mayor Ginther told Walsh. "I think we need to talk more about mental health and taking away the stigma that is associated with it."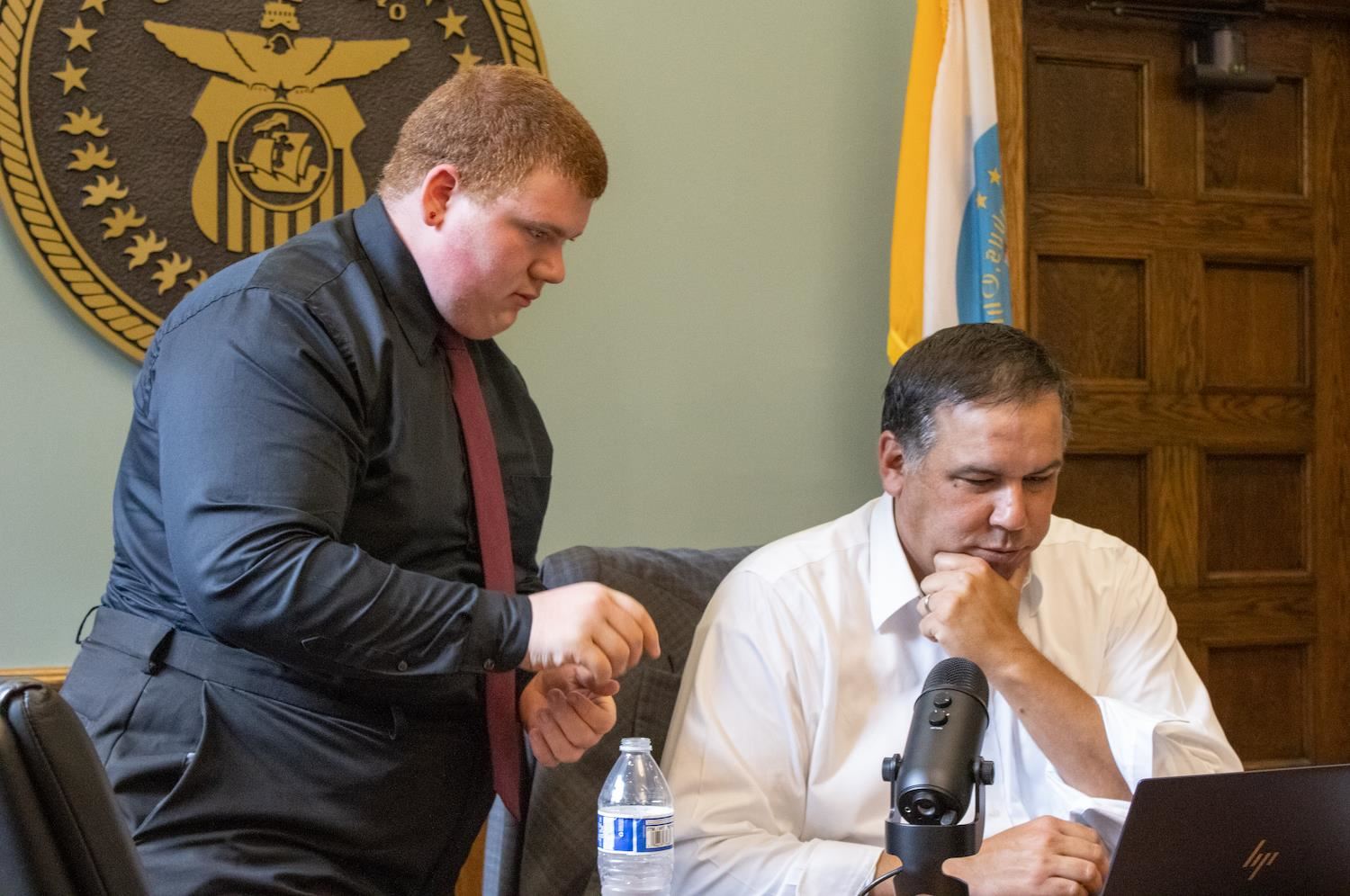 Mayor Ginther went on to discuss his own experiences with mental health and attending counseling. Walsh said hearing the Mayor talk about the importance of mental health was impactful.
"For me, it was very thoughtful, hearing him talk about his mental health," Walsh said.
Mayor Ginther wasn't Walsh's only guest outside of the Hilltonia halls. Earlier this year, he sat with Columbus City Schools Superintendent/CEO Dr. Talisa Dixon to discuss SEL resources for CCS educators and students. They discussed healthy ways for students to work through emotional struggles and the effect of COVID-19 on social behaviors.
"Social-emotional learning is so important, especially [in the context of] the pandemic," Dr. Dixon said during the interview with Walsh. "Our students are trying to juggle academic excellence while also dealing with the many traumas that they faced."
Initially, Walsh's podcast was called "Talking with the Hawks" - a reference to the Hilltonia Hawks. However, Walsh will become a Briggs Bruin this year, and while the podcast's name has changed, he has no intention of stopping it.
"I know I want to keep the podcast going," he said. "If it goes the way I want it to, I want to talk with the Governor and, hopefully, the President."
If you are interested in listening to Walsh's interview with Mayor Ginther, you can click here or use the embedded player above.