Return to Headlines
Columbus City Schools Encourages Students to Finish the Year Strong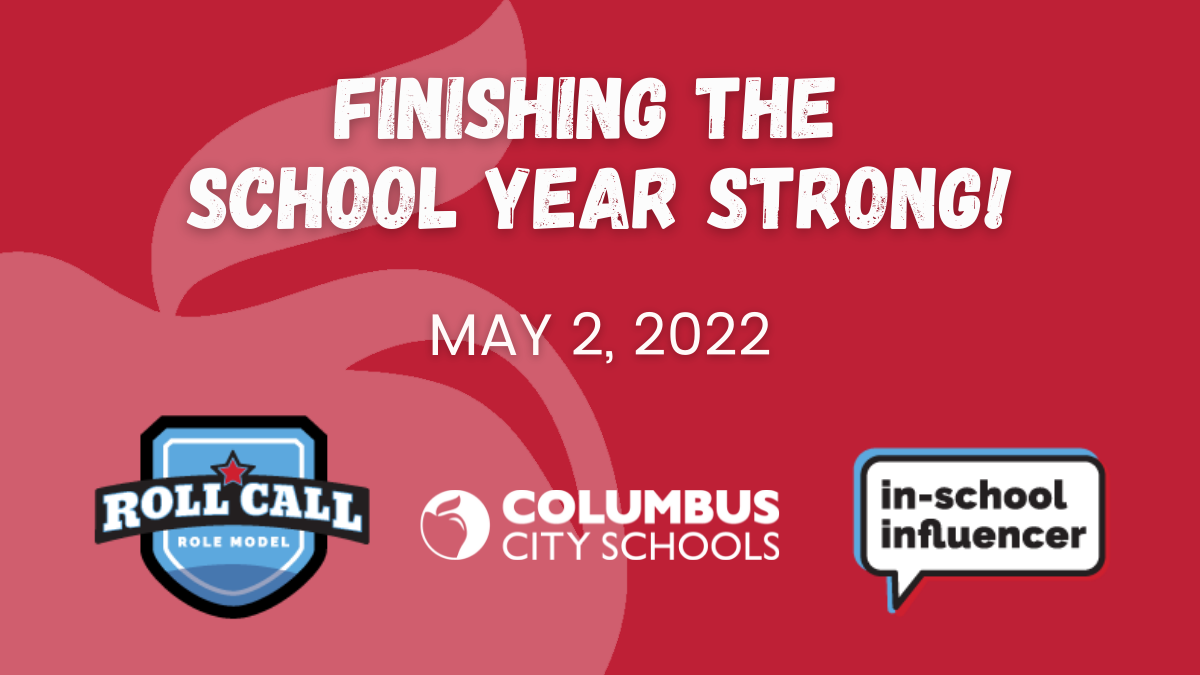 May 2, 2022 -- With less than five weeks left to wrap up the school year, Columbus City Schools' leaders are working diligently to ensure all students finish strong. In doing so, CCS is launching a fun, creative campaign to celebrate daily attendance.
A "Roll Call Role Model" message reminds elementary school students that role models make good decisions and lead by setting a positive example. Students are encouraged to attend school regularly to lead the way as Roll Call Role Models.
Middle and high school students are hearing a message about "In-School Influencers." These aren't fashion or video game influencers typically seen on social media. Instead, CCS is looking for influencers on school attendance by asking students and parents to share tips on how they prepare for school every day.
Students are eligible for weekly prizes and incentives including free tickets to Columbus Clippers games and free food coupons from Donatos, Tim Hortons, and White Castle.
"At the heart of improving attendance is engagement - better engaging our students, their families, and our entire learning community to prioritize coming to school on time and every day," said Scott Varner, Executive Director of Family and Student Engagement. "At the same time, it's about connecting with families to better understand the challenges that stand in the way of solid daily attendance."
In addition to this short-term campaign, the District has been partnering with Attendance Works, a national organization whose mission is to advance student success and help close equity gaps by reducing chronic absence, to develop a pilot program called Everyday Labs. The program is currently in several of the district's schools and includes biweekly text messages to all families, providing updates on their student's attendance. Families of students with an absentee rate higher than five percent receive an email every six weeks to address the situation.
CCS is also working to build an attendance team at every school. These teams address issues impacting students' attendance and connect families with resources to assist in these areas.
"Children of lower-income families, for instance, are three times more likely to be chronically absent because their community lacks the resources to make up for the lost learning in school," said Tyree Pollard, Director of Attendance. "Students from communities of color, those with disabilities, and English Learners are also disproportionately affected because of the persistence of educational inequities. The attendance teams serve as the eyes and ears within the schools so we can address these issues leading to chronic absenteeism. This is why attendance is housed under the Department of Equity - to combat those systemic issues."
Pollard said all but five schools currently have an attendance team, with a goal of every school having a fully functioning team before the start of the 2022-2023 school year. Several schools with the highest chronic absenteeism rate will also maintain their current Student Attendance Support Specialists, who are able to provide home visits and further resources.
These efforts combined reflect how CCS truly is the Power of One community joining together to provide Equitable Opportunities For All, and set students up for success.