Return to Headlines
Columbus Downtown Programming Seniors Spend Morning with Meta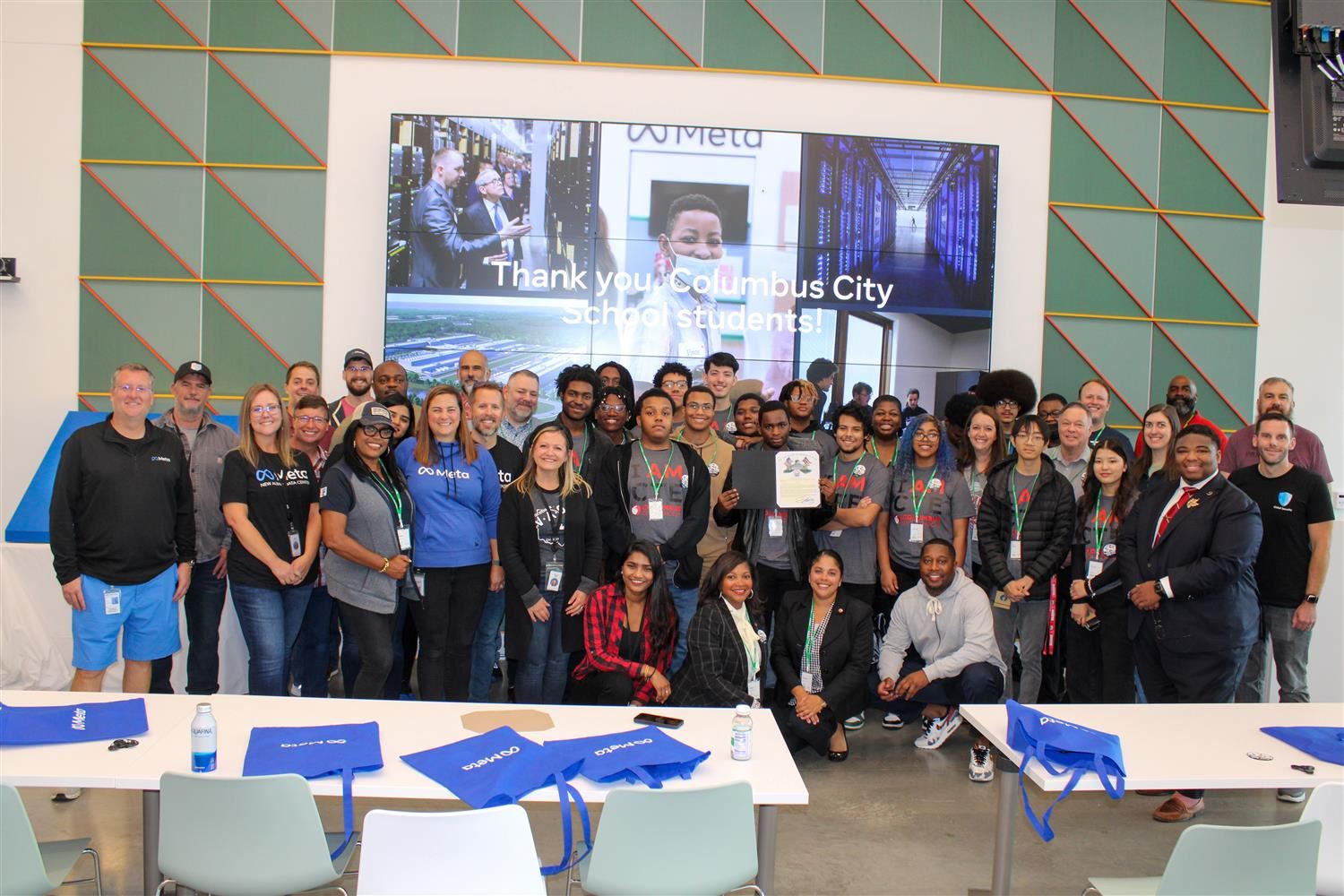 September 29, 2023– Beyond the likes, shares, and status updates, Columbus Downtown High School students got a unique opportunity to get a behind-the-scenes look at Meta's New Albany data center.
While there, students got to hear from Meta employees, some of whom were Columbus City Schools alums, ask questions, and take a tour of the facility. This was the first tour of students to see this particular building, getting a chance to peel back the layers of a Meta office.
"I am a product of Columbus City Schools and also graduated from a career and technical school," said Chris Suel, community development regional manager for Meta of Ohio. "Having this level of exposure as a senior helps students navigate what the next steps of their careers can look like."
Friday's tour kicked off Ohio Tech Day, a statewide celebration of technology in the Buckeye State. Chris Berry, president and CEO of Ohio X, hopes the day served as an opportunity to inspire Ohio's students to consider and explore innovative careers.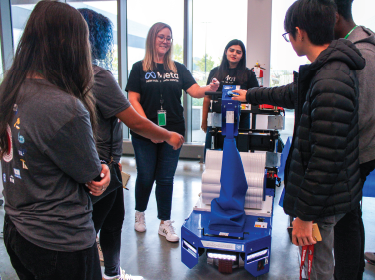 "We were thrilled to be here at Meta with our partners at Columbus City Schools for the kickoff of the day and to explore how Meta of Ohio and their data center power the world," Berry said. "We are so excited and thrilled Columbus City Schools students and teachers could join us for this.
The purpose of the trip was to expose students to technology they may not see regularly and to see how many career options there are regardless of where their careers take them.
"The whole reason we brought the seniors is so they could see what their next steps could be," said Christopher Daniel, Office of Career and Technical Education Curriculum Coordinator. "One of the slides at Meta's introductory presentation showed that it is not just the technical pieces. They use construction students, HVAC students, electricians, and programmers. It gives the kids options for things they would be able to do in their pathways. It encompasses all the pathways we have."
Students got the chance to see an updated version of the buildings on the New Albany campus with some of the highlights including the many servers, AI racks, cooling rooms, game rooms, conference rooms, and the cafe.
"They were all super excited," McDaniel said. "They all wanted to be here. There were certain key things that stood out to them and one of them was the cooling room. They got to see the process of cooling all the servers, how they pull the air out and bring the outside air in. Another quirky thing that stood out to them was the vending machine, where they could get keyboards, charging blocks, and a computer mouse."
Carlos Quintinilla and Trey Clark were two of the 17 Programming Career Pathway seniors who took part in the morning with Meta. Besides the microkitchen, which both said had every drink and snack imaginable, the private offices which were named after Ohio staples, were among their favorite parts of the tour.
"For me, the building is fascinating," Quintinilla said. "The private rooms were a nice change of pace because you get your own little area. For the data servers, it was interesting to see how all the lights and all the wiring go together. Our guide was great too! He was able to explain everything and knew his way around."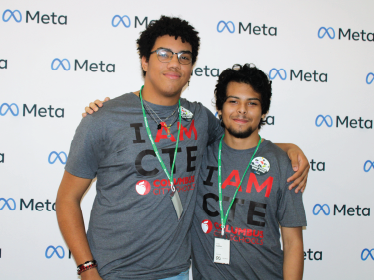 "I liked the advancement of the building," Clark added. "There were a lot of private rooms and just a lot of space where you can have your own personal space, which is really nice."
Clark is interested in a career in software engineering and currently has an internship at the Ohio Department of Transportation.
"I like the creativity of the field," Clark said. "The field is growing so large. I can only imagine where it will take us. We have the Intel facility coming up and that's a big thing. There are so many opportunities for us. That's what intrigues me."
Quintinilla said he is torn between cybersecurity and becoming a teacher, sharing his knowledge of technology with future generations.
"I've always been interested in firewalls and protection of data and how that works," he said. "There's also a software engineering angle of creating things that would never be physically possible, functions that can do actions 100 times faster than any human can. Technology is fascinating with how far we can take this. However, my end game is I would like to be a teacher and explain this to the youth more."
Daniel said he hopes students left inspired by all they can accomplish.
"The fact that some of these people are Columbus City Schools graduates is important," Daniel said. "We wanted to bring our students into this process so that they can see what is available to them."