Return to Headlines
Superintendent's Message to Families - August 23, 2022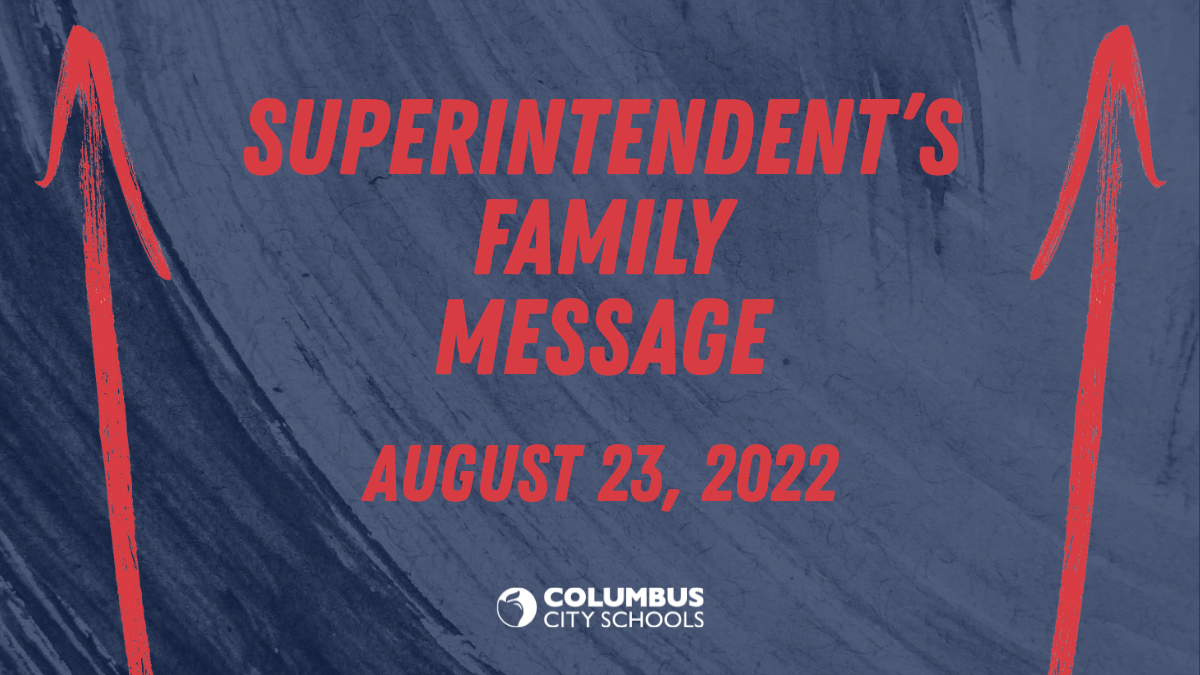 Dear CCS Families,
With tomorrow being the first day of school, I'd like to emphasize that despite the current situation with our teachers on strike, I am excited to welcome our students back, even if virtually for the time being.
We all want our students in their classrooms with their teachers. It is where they learn best and it is what they deserve. Unfortunately, an online start to the school year is unavoidable at this point.
As I said yesterday, I understand that this is weighing heavily on you, as it is our teachers, staff, Board, and district leaders. I am asking now, that we focus on the resources available to get us through these difficult times.
Asynchronous Online Learning Resources
Our Academic Services team has developed a comprehensive Online Learning Resource Guide that includes asynchronous (independent) assignments and access to online platforms students typically use throughout the year. The resource guide also includes virtual experiences designed by community partners that can serve as "brain breaks" while keeping students engaged and learning.
I'd like to remind you that attendance during online learning is expected and required, including during a teacher strike. It is important that students log in daily to avoid being marked absent.
School bell times during asynchronous learning have not changed. Principals are sharing guidance for attendance and expectations for students learning asynchronously, including check-in times and links.
Student Support Centers
For those families who need a safe space to send their children during online learning, our partners at the City of Columbus Recreation & Parks Department will open nine recreation centers early to provide our students with safe, adult-supervised locations and easy internet access.
These Student Support Centers will be helpful for students who might need support to log-in for daily attendance check-ins and online learning. Student Support Centers will be open Wednesday, Aug. 24, through Friday, Aug. 26, from 7:00 a.m. - 6:00 p.m. For the complete list, including YMCA and Boys and Girls Club locations, go to https://columbusrecparks.com/community/student-support-centers/.
Meal Sites and Technology Help
I cannot stress enough how important it will be for you to continue visiting our website's Back-to-School Hub on a regular basis, as updates are added daily.
There you will find a map of our 25 meal sites that will open around the city tomorrow, August 24. These sites will be open Monday through Friday from 11:00 a.m. to 1:00 p.m. throughout the duration of the strike. Students will be provided with a grab-and-go lunch for the day and a breakfast option for the next day.
Families, including those of newly enrolled students, can also pick up Chromebooks or have repairs completed at the designated meal sites between 9:00 a.m. and 1:00 p.m. tomorrow, August 24 through Friday, August 26, then 11:00 a.m. to 1:00 p.m. Monday through Friday the following week.
In addition, our help desk can assist with technology questions. If you need assistance, please call 614-365-8425.
Supporting New American Families
To assist our New American Families, the English as a Second Language (ESL) Department is providing translations in our top 5 major languages: Spanish, Somali, Nepali, French, and Arabic. Translated information is available on the CCS webpage.
Families can call the Language Assistance Center at the numbers listed below:
Arabic - (614) 365-6920
French - (614) 365-5327
Nepali - (614) 365-3105
Spanish - (614) 365-5118
Somali - (614) 365-8972
I am confident our students will meet the coming days with the same strength and fortitude they have displayed over the past two years. Although the circumstances resulting in online learning have changed, their resilience, perseverance, and ability to Lead the Way remains constant.
Sincerely,
Talisa Dixon
Superintendent/CEO, Columbus City Schools