Return to Headlines
Superintendent's Weekly Message - May 7, 2021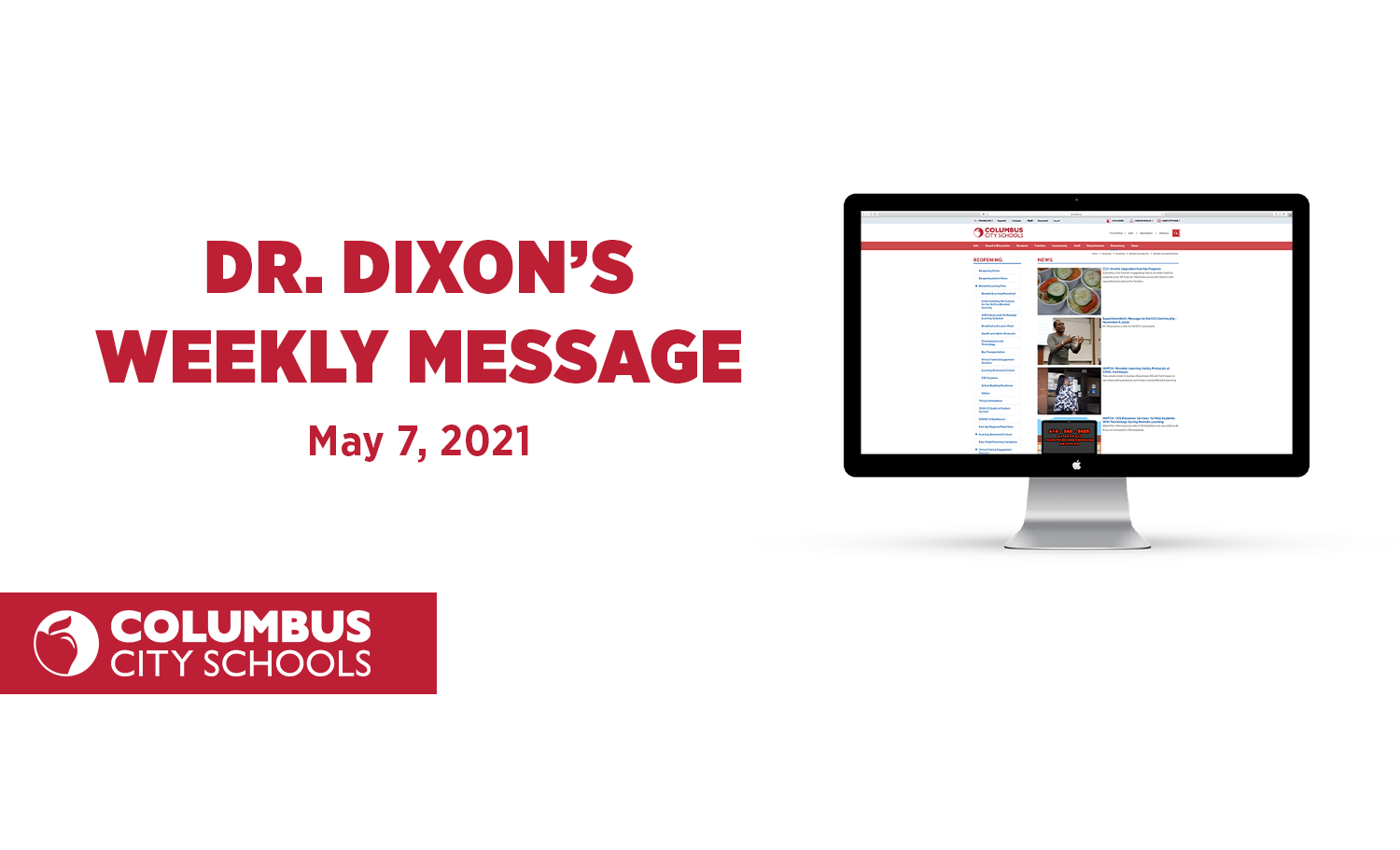 Dear CCS Community,
This week can best be summarized in two words: Thank You. Research shows a culture of gratitude is contagious. When people are thanked, they tend to become more trusting and helpful. This week we thanked many of our team members at CCS -- and deservedly so! These team members are on the front lines and have put children first throughout the pandemic, keeping them safe and making a difference in their lives.
Showing Appreciation
This entire week is Teacher Appreciation Week, a time to thank our teachers -- both full-time and substitutes -- for all they do for our students. This year, unlike any other, teachers had to pivot on a moment's notice to adjust to the global pandemic and teach in a completely remote environment first and then adjust to a blended learning model. Several of our students also took time out to thank their teachers.
This week we also thanked school principals, bus drivers, coaches, physical education teachers, food service workers, and substitutes. All of them play a vital role in the safe development of our students both in and out of the classroom. Every Board of Education member also thanked our CCS team members for their efforts in the largest school district in the state.
In-Person Graduation Plans Announced
This week, I was thrilled to announce the graduation plans for the Class of 2021. Graduation ceremonies will be held June 2-5. Students will be given two tickets each for family members. After reading my emails and viewing social media, I know folks are disappointed that we could not provide more tickets per family. While I wish that we didn't have a ticket limit, there is a big reason: Safety. We are in the middle of a pandemic, yet we are still able to hold in-person graduation ceremonies. This will be the first time in a year your student will be together with their fellow classmates under one roof. That's something to be thankful for given the past year.
2021-2022 School Year
At Wednesday's Board of Education meeting, I shared reopening plans for the 2021-2022 school year. It includes in-person instruction for students five days a week. I've maintained from the beginning that in-person, face-to-face instruction is the best instruction, especially for our youngest learners. The Academic Services team also outlined that the District's Digital Academy will be replaced with a new program called BlendED. Plans for athletics and extracurricular activities, including band and drill teams, were also shared. Currently, all plans for the next school year include following the health and safety guidelines outlined during the Board of Education presentation.
Summer Experience 2021
The word is getting out about our innovative, hands-on programming for six weeks this summer for students Pre-K through Grade 12. Beginning June 14, your student can remediate and accelerate. If they need to make up coursework, the Summer Experience can help. If students want to accelerate and earn credit, it can happen by enrolling your student in the Summer Experience. Have a youngster entering Kindergarten in the Fall? We have programming to get them ready for the school year this summer. Have a middle schooler who wants to learn about gaming, fashion, and robots? Sign them up for the Summer Experience. Sign your child up through the Parent Portal or call your child's school if you need assistance. The school secretary can also register your student for the 2021 Summer Experience at CCS. Visit CCSSummer.org for more information.
CCS Facilities Master Plan Envision Phase
The District is now in the Envision phase of the Facilities Master Plan process. For this phase, we will be discussing goals and aspirations to imagine the future of learning environments to support the vision set in Portrait of a Graduate. In particular, we will review three pillars of the Portrait of a Graduate: Adaptability, Communication, and Global Empathy. How do schools with these pillars as a vision perform? What do they look like? Register for the next round of community conversations that begin Monday, May 17.
In closing, I would be remiss if I did not thank you, our parents, and our families, for believing in Columbus City Schools, believing that we can develop highly educated students who are ready for college, career, and service when they graduate. Thank you.
Sincerely,
Talisa Dixon
Superintendent/CEO, Columbus City Schools