School Announcements
AVALON SCHOOL SPIRITWEAR

Students may wear Avalon Spiritwear tops with jeans on Fridays!

Check out the Avalon School Spiritwear available by clicking on this link:

You'll find a wide array of t-shirts, sweatshirts, hats and many other items with wonderful and fun Avalon logos!



ATTENDANCE + ENGAGEMENT = SUCCESS

Columbus City Schools and the Columbus Crew have teamed up for a historic partnership to promote the importance of school attendance.

Student success starts with attendance and engaged learning, either in person or remotely. Students who are absent from school miss important learning opportunities, which can be difficult, or even impossible, to make up. The mission of the Stay in the Game! Keep Learning, Every Day Network (the Stay in the Game! Network) is to prioritize attendance by connecting its users to resources aimed at tackling chronic absenteeism.

Click here to "Stay in the Game"!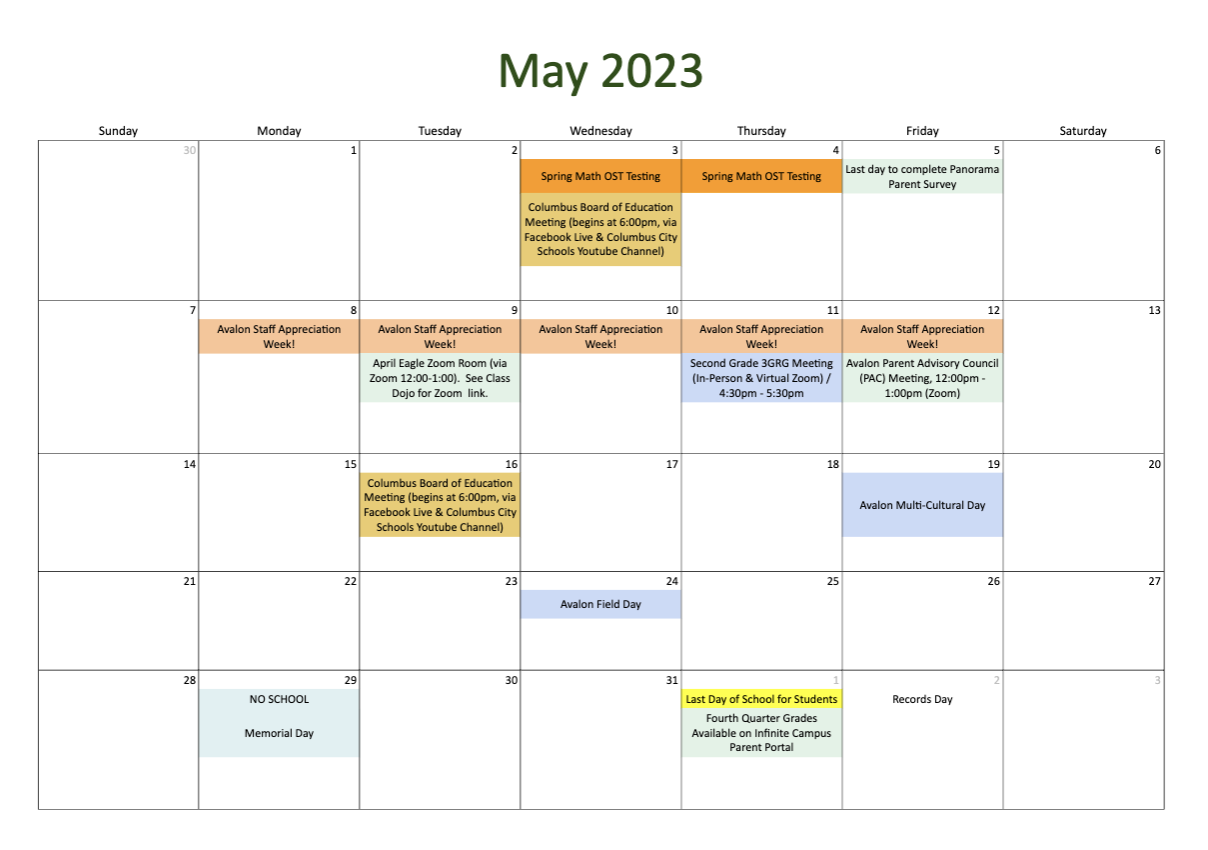 Multicultural Day May 19, 2023
PAC "Stay in the Game" Pastries With Parents March 15, 2023
"Stay in the Game" Clap-In With The Columbus Crew March 1, 2023
PAC Pizza With Parents "Get to Know Your Neighbor" February 15, 2023
Math & Literacy Night October 25, 2022
PAC Pastries With Parents September 28, 2022
Ice Cream Social August 30, 2022
In the News at Avalon Elementary
May 9, 2023 -- Avalon Elementary School has been awarded a $10,000 grant through the Ohio Department of Transportation's DriveOhio initiative.  The school is the first Columbus City School to receive the foundational DriveOhio Smart Mobility Ambassador Equipment Grant, through the Ohio Department of Transportation. 
NEED TO CHANGE YOUR ADDRESS OR EMAIL ADDRESS?

CLICK HERE FOR INFORMATION ON HOW TO ACCESS THE INFINITE CAMPUS CCS PARENT PORTAL.



Contact Us
Phone: (614) 365-5361
Email: avalones@columbus.k12.oh.us
School Hours: 8:50 a.m. - 3:30 p.m.

Avalon Elementary School School
5220 Avalon Avenue
Columbus, OH 43229