Return to Headlines
Starling Students Experience Science, Nature Through Summer Experience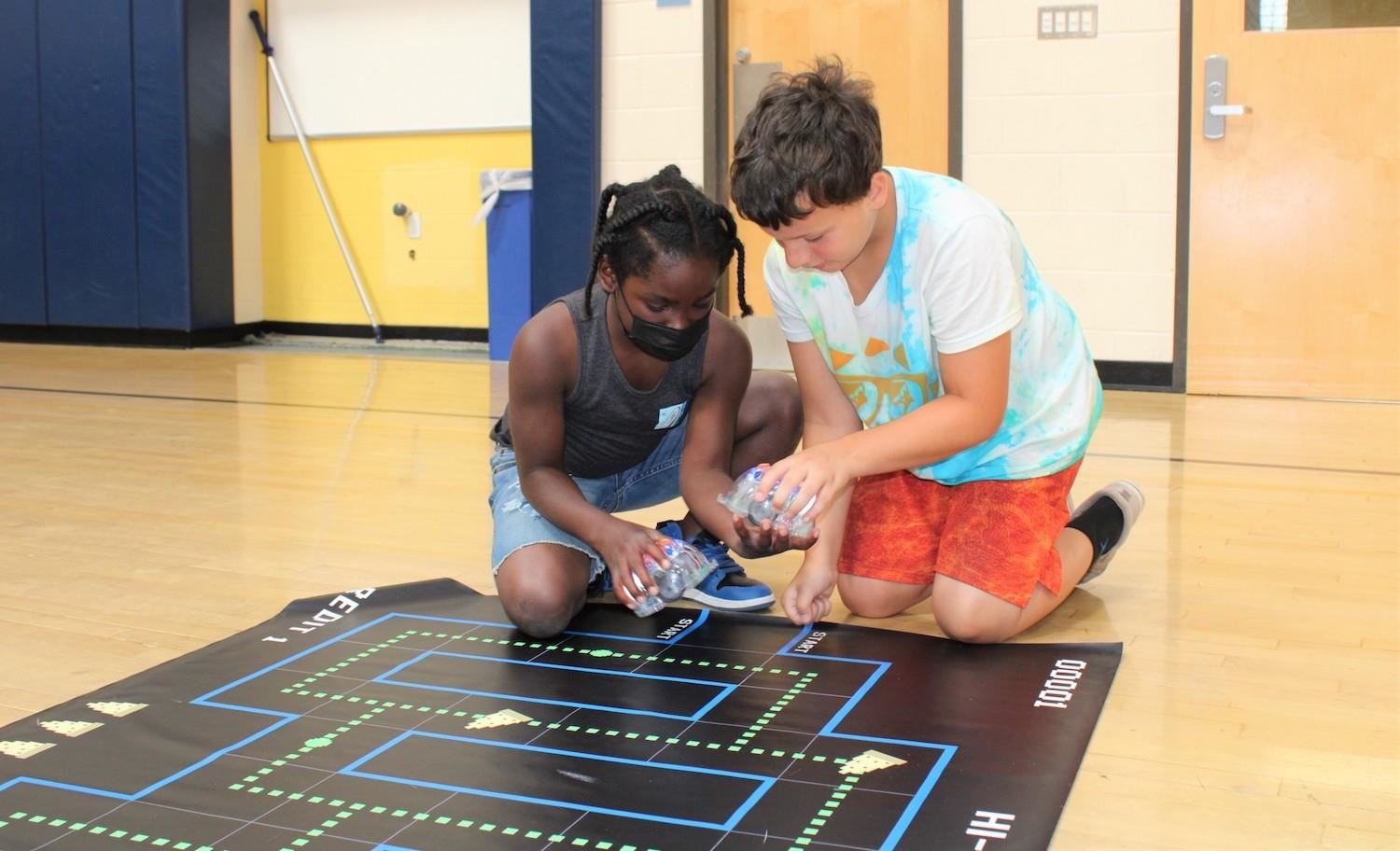 June 21, 2022 -- Kimberly Curtis, a third grade teacher at Starling STEM PK-8, worked alongside her students on the gymnasium floor as Center of Science and Industry (COSI) instructors talked students through lessons on energy and robotics.
Tuesday marked the beginning of Summer Experience, a free six-week program providing Columbus City Schools students school- and community-based learning experiences.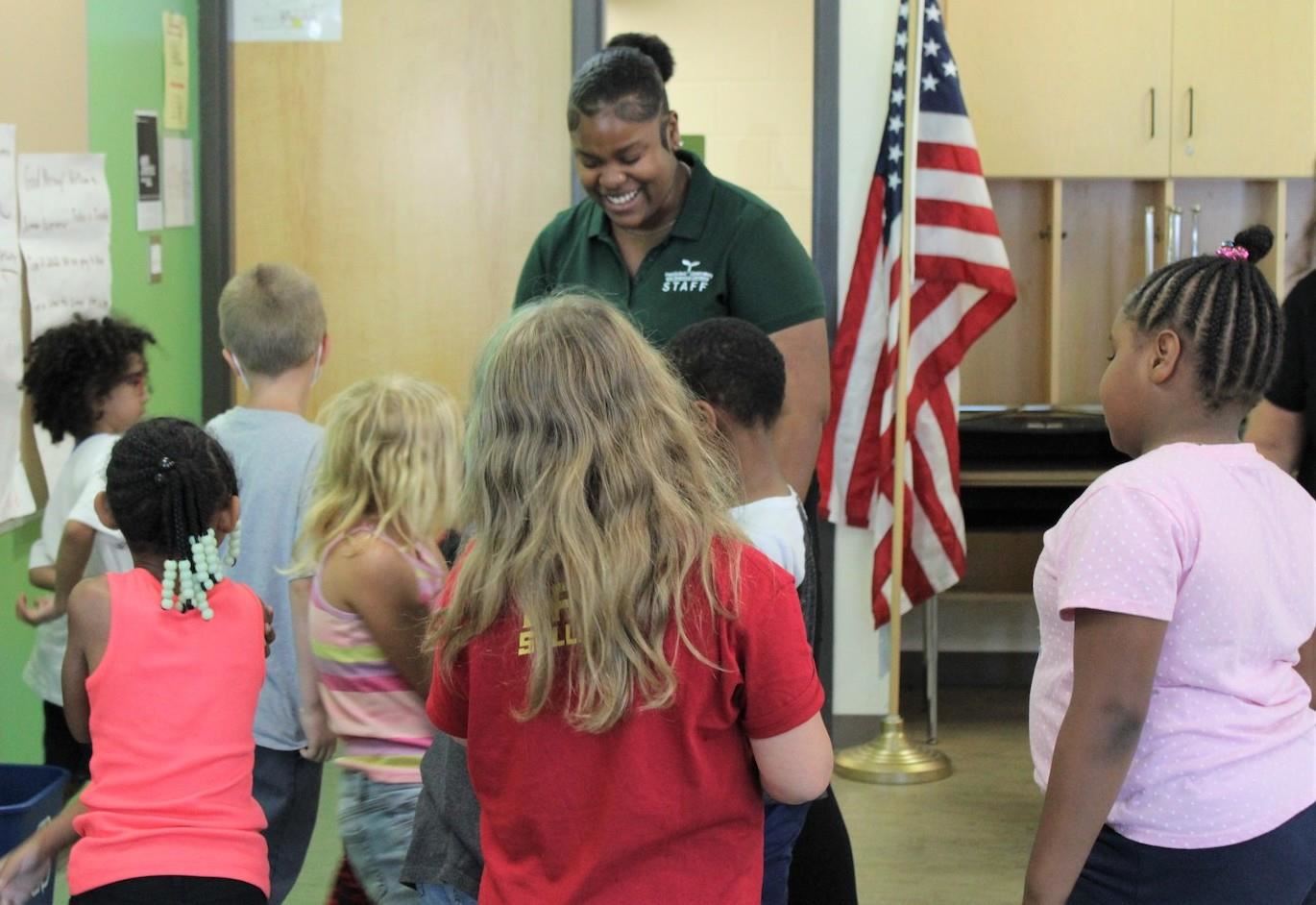 At Starling on Tuesday morning, COSI and Franklin Park Conservatory instructors taught kids everything from how circuits work to how art and nature interact.
"Today, kids are learning about energy," Curtis said as groups worked with Snap Circuits, creating closed circuits with the goal of powering little green fans. "We want to bring them science activities so hopefully, they develop a love for it. You can see it because they are actively engaged, participating and learning."
Jeffrey Clevenger and Xavier Tracy, both third graders, worked with little silver robots called Ozobots. These small robots use sensors to follow along a path printed on paper. Color codes tell robots the direction and how fast to travel, along with other fun moves.
Clevenger and Tracy experimented with different paths to see how the Ozobot responded. Tracy said he liked working with the Bee-bots, which are programmed to make their way through a Pac-Man-style maze. However, Tracy also enjoyed the Ozobots.
"I like the tornado path. It's like Mario Kart when it hits a banana peel and just spins," Tracy said as his Ozobot spun around on the path.

Jeff Mayzum, an administrator for the Summer Experience program at Starling, said he hopes students will have fun while developing skills through wide-ranging experiences.
"We want them to experience everything that's out there, such as what COSI and Franklin Park Conservatory offer," Mayzum said. "These are things students don't get to experience during the regular school year because there is so much stuff they have to focus on. The Summer Experience is enhancing things, and showing them things they don't get to experience every day."
Mayzum used the example of Michelle Hall's first grade class, who learned Tuesday about how nature and art interact from the Franklin Park Conservatory. Students will learn how to create a train out of sponges and wooden wheels this week.
"It's not just about building the train," Mayzum said. "It's about building the train and talking about the math related to it, the measurements involved. These lessons all tie into the summer experience."
Mayzum said he is grateful to COSI and the Franklin Park Conservatory for coming to the school to give kids hands-on experience. Additionally, kids will visit COSI and Franklin Park Conservatory and spend three days at the Columbus Zoo during the course of the summer.
"We want them to see different things, have fun, and enjoy coming to school instead of thinking, 'oh, it's summer school.' It's not. It's a summer experience," Mayzum said.
Looking forward to the rest of the summer, Curtis said her biggest goal for her class is for kids to take these lessons and apply them to other areas of academics and hopefully develop a love of learning.
"I hope that these lessons teach them that school doesn't have to be boring," Curtis said. "It doesn't have to be paper and pen. It can be fun. That's the big thing I want them to take away from the summer experience."