Return to Headlines
Getting Art Supplies into the Hands of Thousands of CCS Students During a Pandemic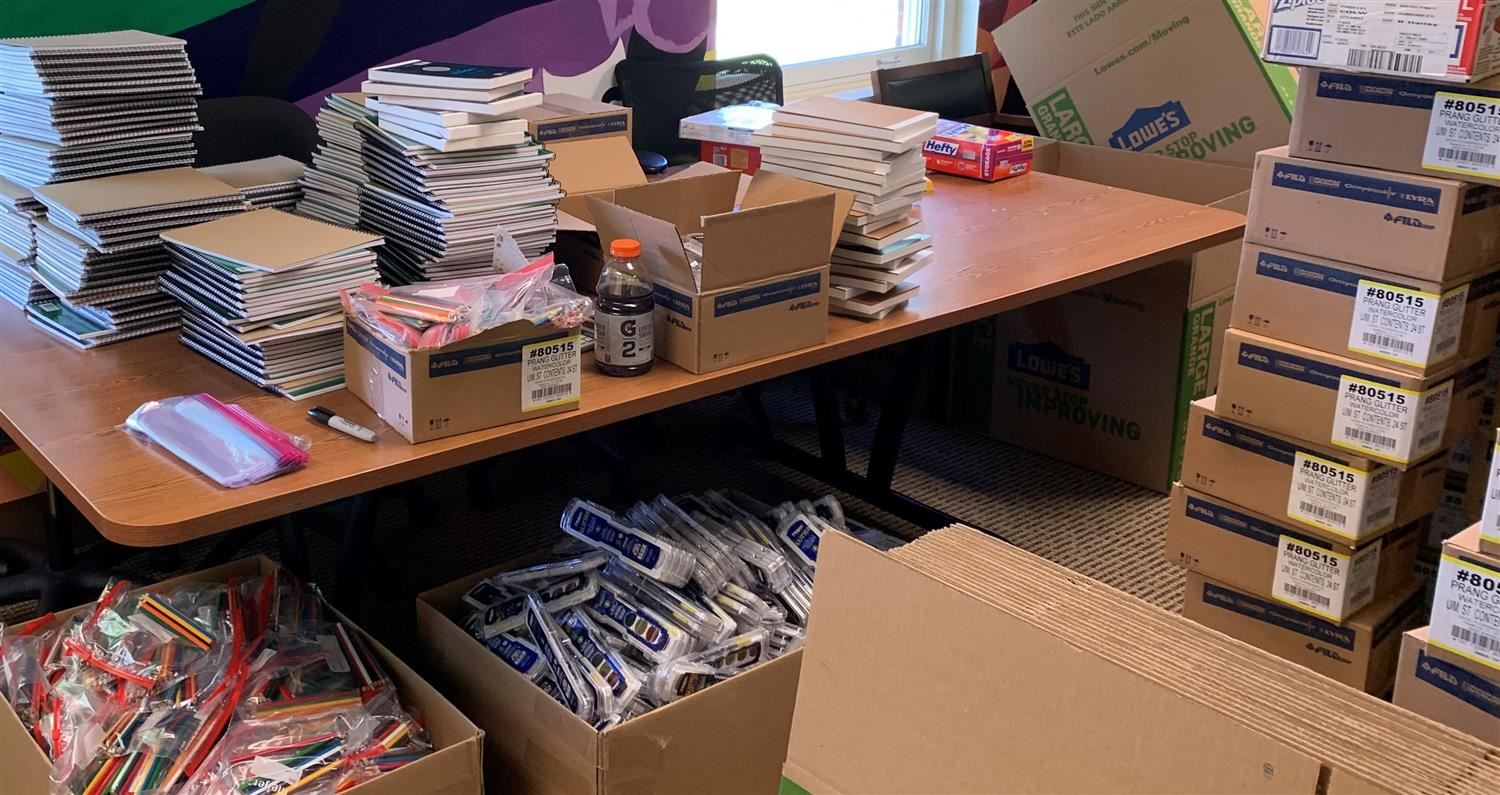 November 16, 2020 -- Dr. Betty Hill, the Unified Arts K-12 Supervisor for the District, is pretty quick with numbers these days. That's because for the last two months she's been trying to get thousands of sketchbooks, paint, and pencils into the hands of Columbus City School students despite the fact that most school buildings are closed.
"We literally had 12,500 sketch pads for students in grades 3 through 5 to deliver to every elementary school in the district, and that's not all," said Dr. Hill. "There were 6,700 art kits for every middle and high school student, and 80,400 colored pencils that needed to be organized into packs of 12 for each of one of those 6,700 kits."
Ordering these art supplies was so different this year because of the pandemic. Delivery was delayed, and many items were shipped in bulk because it was easier for the vendor. Dr. Hill and her team got creative when it came to figuring out how to distribute more than 80-thousand colored pencils.
"My son and grandson helped me organize all those pencils," said Hill. "The goal was 6,700 pencil packs that included 12 different colors." One of the Unified Arts coordinators took on the task of assembling the art kits. He got his children and a small group of neighborhood children to pitch in.
"The coordinator and the neighborhood parents created a COVID play bubble last spring that's exclusive and small," said Hill. "Inside the coordinator's garage, the play bubble organized the art kits and made sure all 6,700 kits each had a 12-pack of colored pencils."
Not only has the pandemic delayed delivery, but it's also impacted the selection of supplies. "The only type of paint available for purchase for the first quarter was glitter paint for the middle and high school art kits. I know some folks weren't happy with the glitter paint, but it was the only paint we were able to get into student's hands quickly," said Hill.
Dr. Hill's office is at the Fort Hayes Career Center. Because Career Technical Education (CTE) students did not return until November 2 to Blended Learning instruction, Hill used other rooms and hallways to pack boxes and store supplies until they were picked up for delivery.
"Last month, there were so many boxes, dozen of them, some packed up, others waiting to be filled, lined up along several hallways at Ft. Hayes," said Hill.
She is very appreciative of the many trips made by Delivery Services to Ft. Hayes. "One morning I came in and three trucks were waiting at 7:30 a.m.," said Hill. "Those trucks came back four more times in the same day to pick up boxes of art supplies."
The sketchbook, art kits, and colored pencils have all been delivered to every school in the District. You would think Betty Hill could breathe a brief sigh of relief. "Nope, I just ordered close to 12-thousand specialized masks for students and teachers who play an instrument or sing," said Hill. "That PPE (personal protection equipment) will have to be sorted by school and delivered so teachers and students will have those specialized face masks when they return to the classroom in January."