Return to Headlines
Briggs High School Honor Roll Students Celebrated with a Drive-Thru Ceremony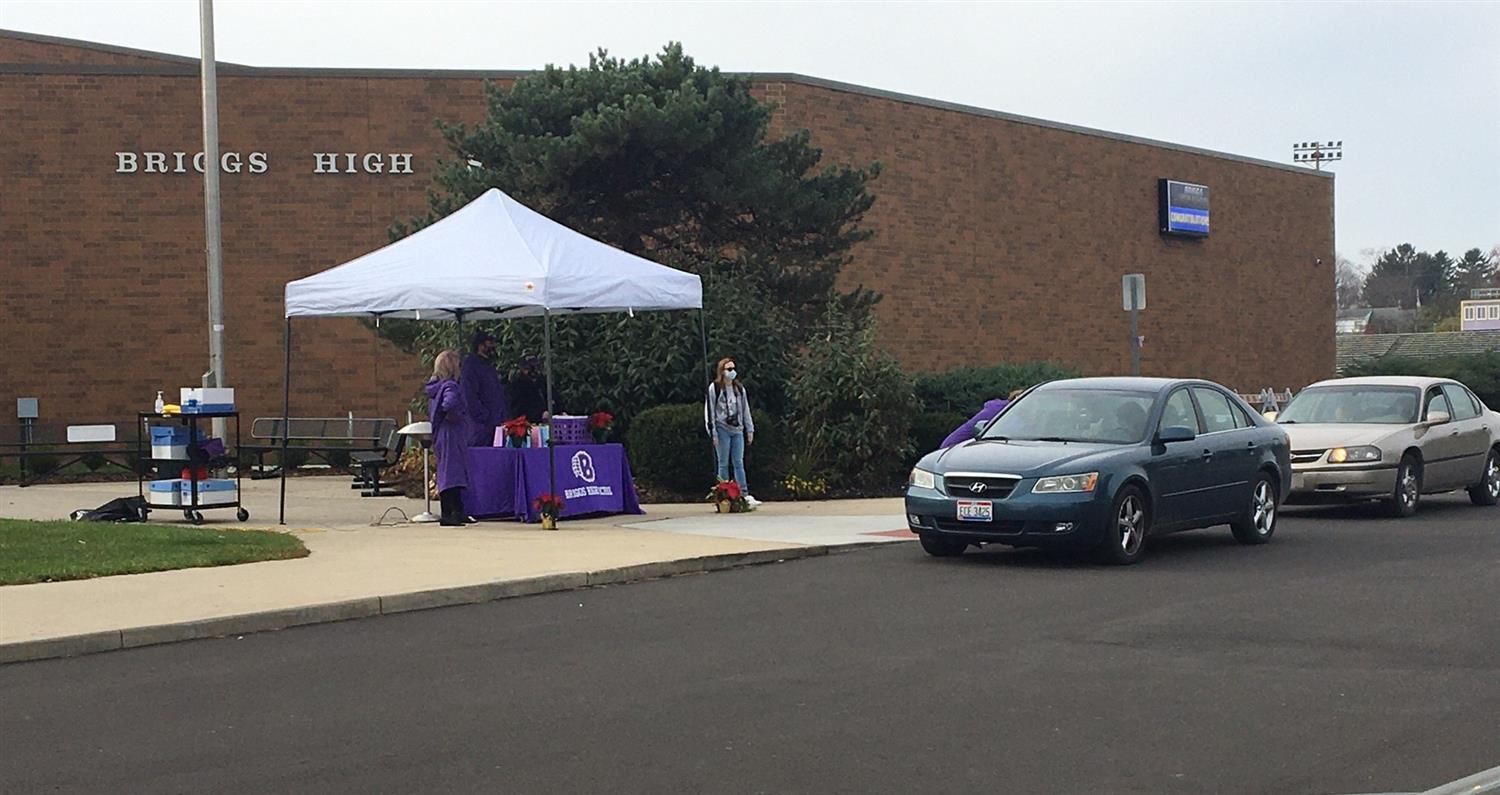 November 16, 2020 -- The principal at Briggs High School is refusing to let a global pandemic prevent her and the staff from celebrating with all the students who made the honor roll during the first quarter of the 2020-21 school year. To prove it, Dr. Tonya Milligan held a two-hour, drive-thru honor roll celebration.
Milligan and school administrators greeted every student with a round of applause as they drove in. Students who made the honor roll received a certificate, a gift bag, and a Briggs monogrammed face mask before they drove off. Everyone maintained six feet of distance because no one got in or out of any vehicle.
"I did the work and got the grades," said sophomore Jessica Daniels, who wasn't shy about sharing this was her first time making the honor roll. "I just locked myself in my room at home and did the work."
Jessica Daniels and her mom were one of the first to show up for the drive-thru honor roll celebration. "Despite the seemingly insurmountable challenges, teachers are using interactive and engaging virtual lessons, and the students showing up today have risen to the challenge of virtual schooling to make the honor roll," said Dr. Tonya Milligan, Briggs HS Principal. "I think it's important as a school community to recognize and celebrate these students and their families for accomplishing this academic achievement during one of the most difficult times in history."
Gabriella Quintanilla's dad was near tears as he drove his daughter through the line. "I support my daughter 100%," said Adan Quintanilla. This is the second time Gabriella Quintanilla has made the honor roll. "I can do anything," said the Briggs High School senior. "I want to go to college and study to become a veterinary technician."
Senior Tina Bin brought both her mom and dad to Briggs High School for the event. "It wasn't hard to get the good grades," said the student who currently has a 3.9 GPA. "The hardest part was not being able to see my teachers in person."
Even behind their face masks, you could see the pride in Tina's parents' faces. "Our daughter has worked so hard all four years of high school," said Tina's mom Sokumthea Bin. So hard, in fact, Tina's parents have rewarded their daughter. "We bought Tina a new car," said Tina's dad Boeuy Bin. "She has to have a way to get to college next year, doesn't she," said Mom, smiling behind her mask.
Recognizing that effort was essential to Dr. Milligan and her staff, who told every student who showed up how much they were loved and missed during this first quarter. "Our students are the reason we do what we do, and not being able to interact in person has been as difficult on us as it has been on them," said Milligan. "Our students dug deep, dealt with the reality of this pandemic, and made it happen."
It was no accident that Dr. Milligan and her staff made sure the honor roll gift bags also included a face mask. "Given the rising COVID numbers in Franklin County, I urged all our students and their families to stay safe and follow all the safety guidelines," said the principal. "If we wear our masks and stay socially distanced, hopefully, we will be back in school sooner rather than later."
Congratulations to all 192 Briggs High School students who made the honor roll the first quarter of the 2020-21 school year.