Return to Headlines
Celebrate #LastDayCCS and Start of Summer Break for Students in Columbus City Schools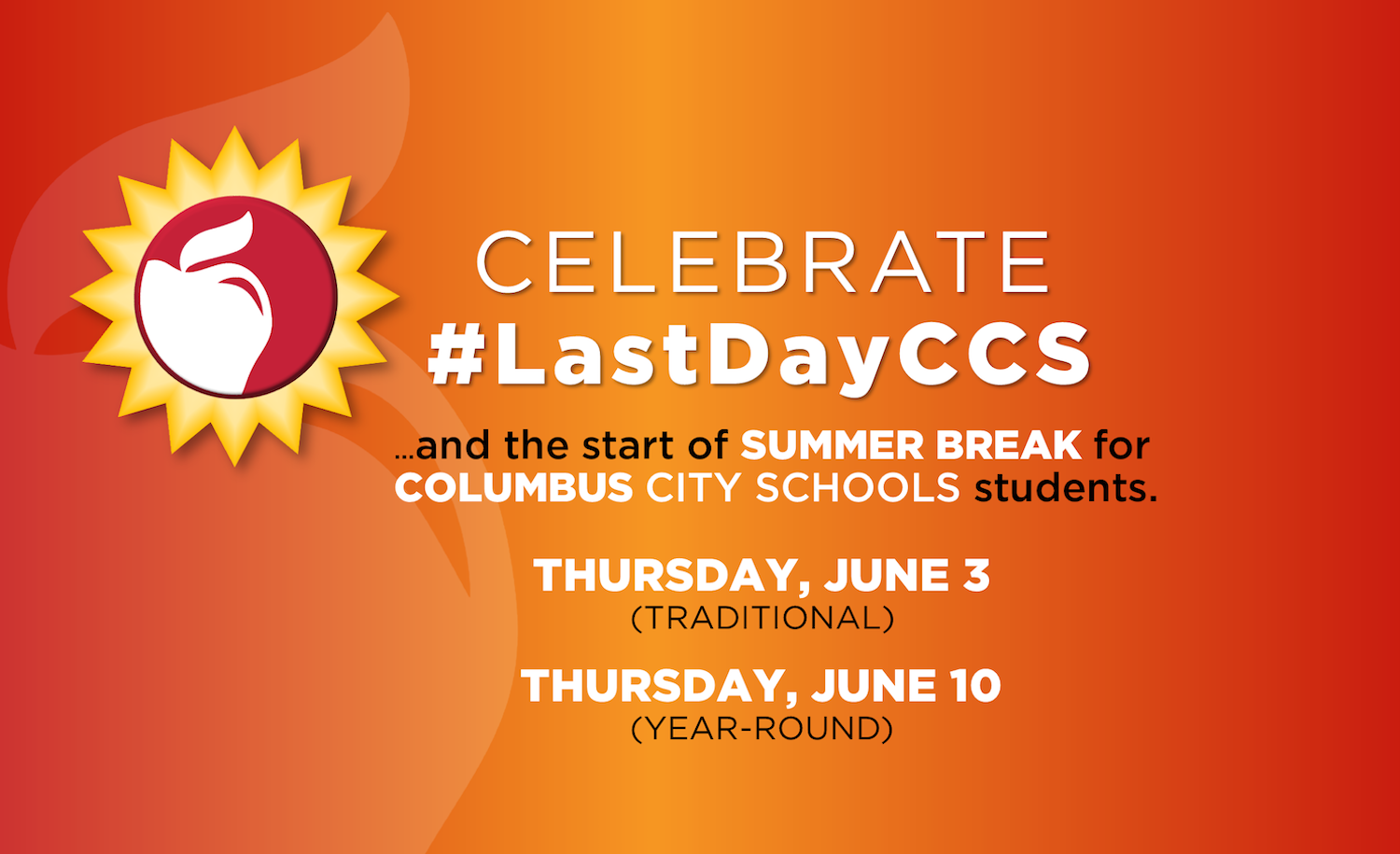 June 2, 2021 -- Thursday, June 3, is the last day of classes for more than 46,000 Columbus City Schools students, and we want to see your last day selfies.
Join us in celebrating the conclusion of a very unusual school year and the matriculation to the next grade level -- plus wish students and staff a safe and productive summer break.
When families and friends post pictures or messages on social media, be sure to tag @ColsCitySchools or add the hashtag #LastDayCCS.
Throughout the day, many of these last day pics will be re-posted and shared on the District's social media platforms.
Columbus Recreation and Parks offers the "School's Out" website with information on safe summer activities and discount offers for Columbus City Schools families.
Columbus City Schools also partners in the City of Columbus' Go Lunch summer meal program, which launches June 10 and offers free, nutritionally-balanced meals served at many locations throughout Columbus and the surrounding suburbs.
And the Columbus Metropolitan Library is encouraging Columbus students to read all summer long and earn special prizes and digital badges with their online 2021 Summer Reading Challenge, through July 31. Due to COVID-19 precautions, this year's program will be online only.
Fun, Friends, Family, and Art
Columbus City Schools students, families, and staff can explore the Columbus Museum of Art for FREE this summer. Thanks to a special partnership with Battelle, CMA is offering all CCS students, their families, and our staff the opportunity to visit the museum and its special exhibits at no charge, starting this week.
Families and staff can reserve WonderPass tickets online through the Columbus Museum of Art website using the code CCS2021 at checkout. The WonderPass provides free, unlimited visits all summer long, now through Sunday, September 5. All tickets must be reserved online in advance due to ongoing capacity guidelines.
Students, families, and staff will be able to explore art throughout the museum galleries via hands-on activities and puzzles, and conversation spaces. The Museum is also excited to offer for viewing at no charge, their current exhibition and a Columbus City Schools graduate, Aminah Robinson. Families will be able to see, for free, her unique work, Raggin' On: The Art of Aminah Robinson's House and Journals.
Getting to the Museum is easy; public transportation is available on COTA: the #10 bus-line stops right in front of the Museum. Visitors can park in the CMA parking lot for $5, and free parking is available in adjacent lots.
The Museum is dedicated to remaining a safe and welcoming place for Columbus families and visitors. In response to coronavirus (COVID-19) and to support efforts to help reduce the spread of the virus, CMA has implemented new protocols and guidelines developed in alignment with official health and government recommendations. Your visit to the Museum may look different, but know that these protocols and guidelines are there to provide a safe and great experience for all visitors and staff.
Learn more at columbusmuseum.org.
Check the Columbus City Schools website throughout the summer for updates on other activities and our countdown to the 2021-2022 school year which begins on August 26.