Return to Headlines
Superintendent's Weekly Message - March 31, 2021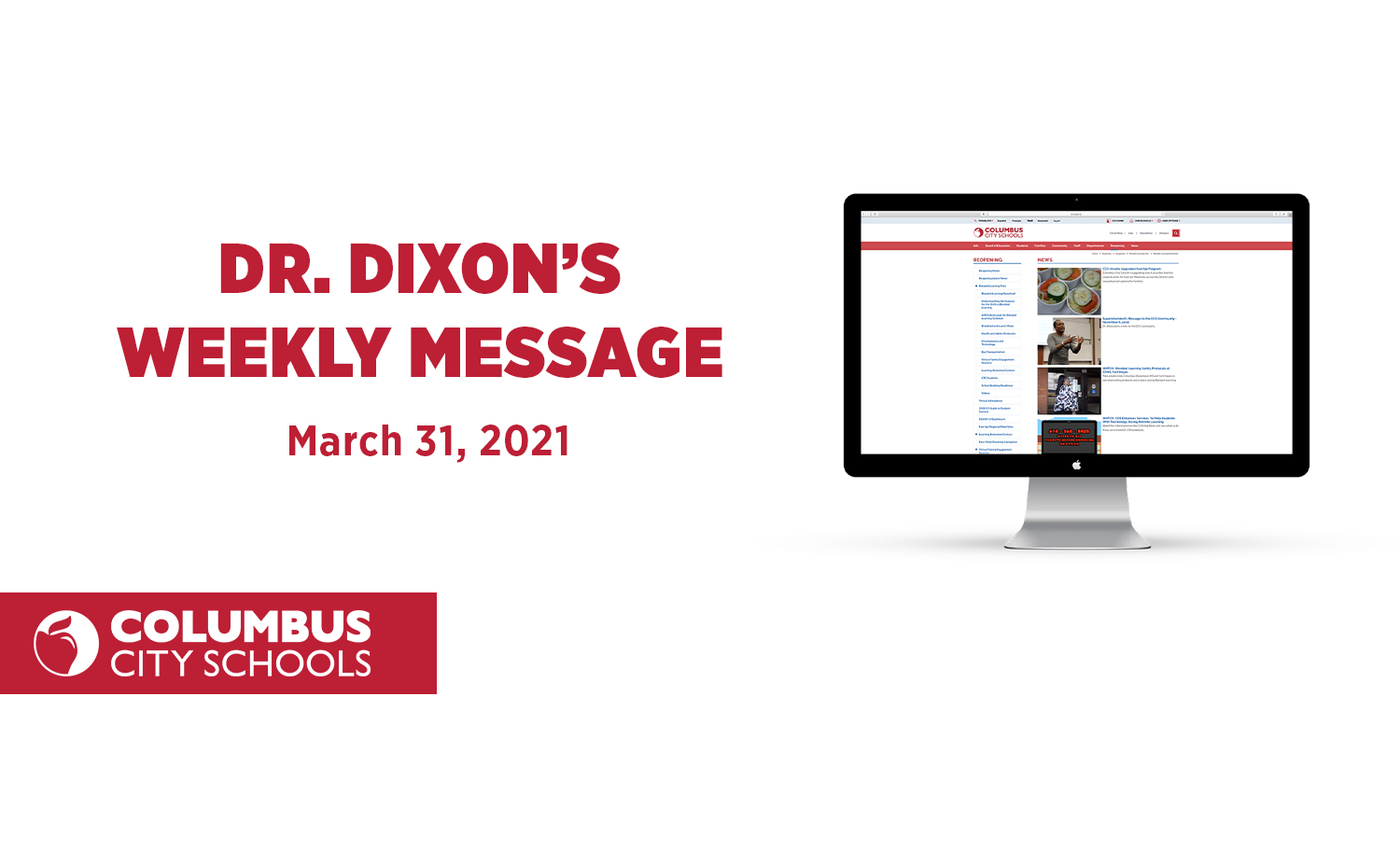 Dear CCS Families,
As we prepare to start our Spring Break recess, I think about this time last year when we announced we would not be returning to school after Spring Break due to the COVID-19 global pandemic. Many of us thought it would just be a three-week extension.
Three weeks turned into an unprecedented year for our District.
Look how far we have come in just a year, the successes and achievements despite so much adversity and distance. We did it. Together with our partners, we worked tirelessly so our students could succeed amidst this health crisis.
Starting February 1, we began to return our youngest students to the classroom for blended learning. Two weeks ago, we completed our last student group's transition back to blended learning: our middle and high school students.
While the global pandemic is not over, we are in a much better and safer place than this time last year. The end of the tunnel is brighter, but we're not quite there. Continue to remain vigilant, wear your mask, and practice Public Health Department safety protocols.
Spring Break for the District is Friday, April 2 -- April 9.
Please take advantage of Spring Break to pause, reflect and take care of yourself; perhaps, disconnect from the technology that has been a lifeline for students and families this past year.
The week-long break can be challenging because the structured activities to keep young people engaged are not in place. Our community partners, including Columbus Recreation and Parks, Columbus Zoo, Columbus Museum of Art, Columbus Metropolitan Library, Grange Insurance Audubon Center, and Franklin Park Conservatory, offer Spring Break Programming. Many of these activities are free or at a reduced cost to keep young people active and engaged during their time away from school.
First Spring, Then Comes Summer
During your Spring Break, please take a moment to check out the Summer Experience Hub on the Columbus City Schools website. We've added additional videos this week that highlight the engaging, hands-on, face-to-face experience that Columbus City School students, grades PreK-12, will receive in six weeks beginning June 14.
Please check out the videos highlighting the Summer Experience for CCS High School Students, CCS Middle School Students, and CCS Elementary School Students, Grades K-2, and Grades 3-5.
You can register your student for the CCS Summer Experience through the Parent Portal. If you need assistance, contact your child's school. School secretaries and administrators are now able to register students on behalf of families. If you have a student who would benefit from our summer enrichment opportunities, I encourage you to get them signed up as soon as possible.
Facilities Master Plan
Beginning the week of April 19, the Board of Education Facilities Master Plan Committee will kick-off several virtual community conversations about the future of the Districts' facilities. Your input is needed. This is an opportunity for you to shape the future of our school buildings and classrooms and what they look like to meet our mission and vision.
Please complete a pre-meeting survey, serving as your registration for our upcoming community conversations on April 19, 21, and 22.
Embracing Diversity
As the largest school district in Ohio and one of the largest urban districts in the United States, our classrooms reflect the communities where our families live and work. Our different ethnicities and cultural differences make our communities richer, not poorer.
This Columbus City Schools video shows we are a diverse community that stands together. Xenophobia, prejudice, racism, and violence have no place in our society, nor are they acceptable in our school community.
Rest and recharge over Spring Break. Come back energized and ready to help our students finish strong and get our seniors to the finish line. Cohort A students will resume their class schedules on Monday, April 12. Cohort B students will resume their class schedules on Thursday, April 15.
I continue to be amazed at our educators, staff, and private-public partners' efforts to work together for our students no matter the challenges. These are life lessons that strengthen and motivate all of us to succeed and do better.
Sincerely,
Talisa Dixon
Superintendent/CEO, Columbus City Schools