Return to Headlines
Profiles of the Class of 2021: West High Seniors and Twins Nasro and Ahmed Somow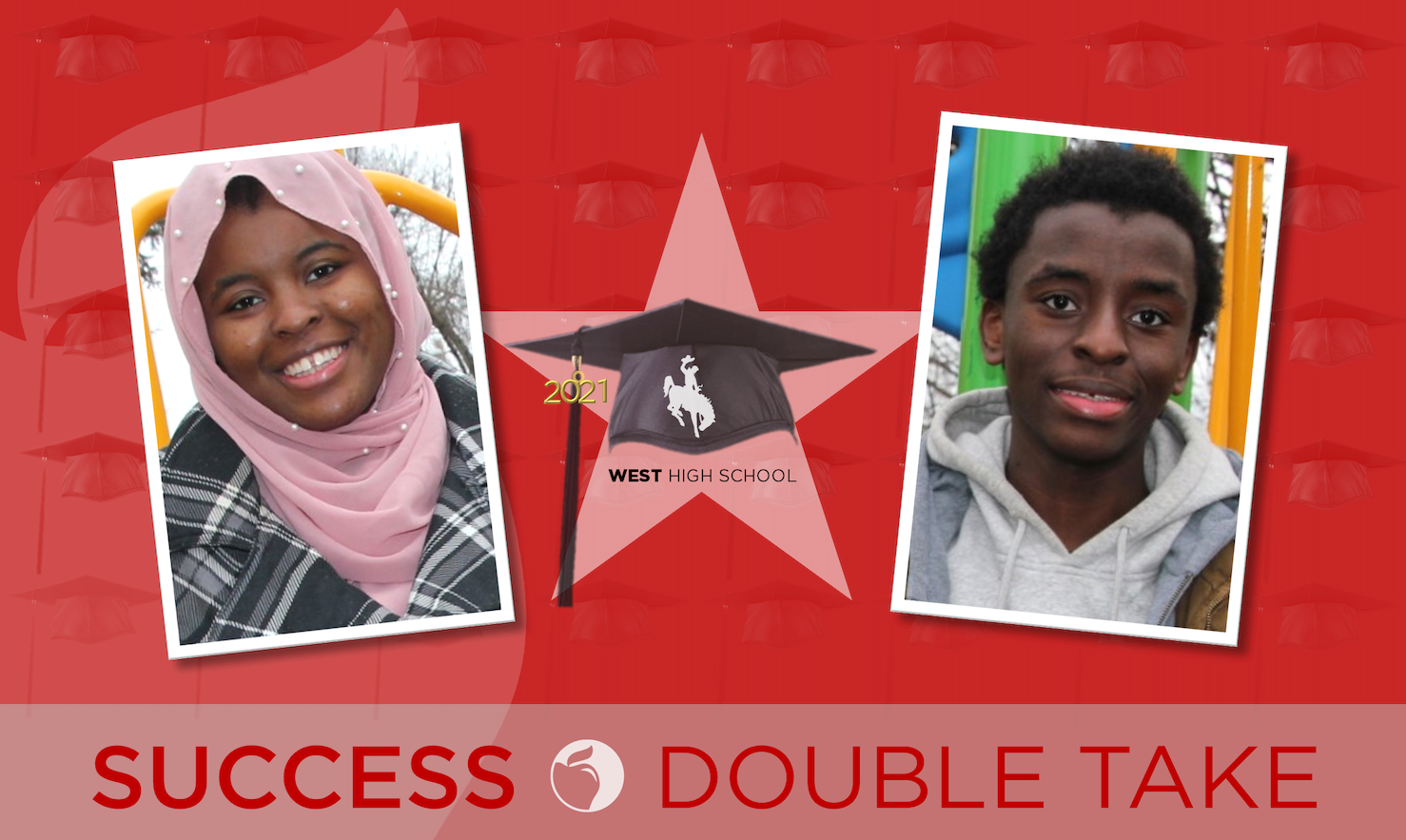 April 16, 2021 -- Nasro and Ahmed Somow are fraternal twins and proud members of the Class of 2021 at Columbus City Schools. Both are on track to graduate from West High School this spring. "We have similar classes and are together one or two periods during the school day," said Nasro Somow. "Online learning is kind of easy, but if there are assignments in Pre-Calculus that we don't understand, we help each other."
The Somow twins were born in Kenya and came to America when they were six months old. They've been students in the District since first grade.
"Both are very smart and mature," said West High School counselor Maria McClain. "They both are each other's cheerleaders."
"We get along really well," said Ahmed. "I always compliment Nasro if she has done a great job on a school assignment." The twins support each other because that's what their west side community here in Columbus has shown them. "We live near other families who also came here from Africa," said Nasro. "We help each other. That's just what we do."
The family needed help two years ago when the twins' mom was in a debilitating car crash.
"Our mom was hurt so badly she is now paralyzed from the waist down," said Nasro Somow. "I help my mom a lot. That's one of the reasons I want to go into nursing after high school."
Since the twins' mom is no longer working, the Somow family relies on their father's income for sole support. Both of the twins work part-time jobs at the same retailer to get extra income for the family. Nasro is currently taking English, Pre-Calculus, and a law class. She also attends the Fort Hayes Career Center so she can become a state tested nursing assistant. Nasro currently has a 3.8 GPA.
"One of my favorite classes was Mandarian Chinese," said Nasro, who took the class for three of her four high school years.
Ahmed's high school course load includes English, AP Science, Spanish 4, Pre-Calculus, and Photography. Currently, his GPA is 3.3, and while Ahmed is not sure what his major of study will be when he goes to college, he is confident about one thing.
"I don't want to go into debt so if Nasro and I go to college, we will attend a community college first then transfer," said Ahmed.
While learning in a pandemic has not bothered them too much, there are two things the twins struggled with when school was utterly remote.
"We missed being in the building and working with teachers and counselors on scholarships and financial aid applications," said Ahmed. "The other thing that was hard was remembering to mark our attendance in class," Ahmed added. "When we were in school, the teachers always did that, and we didn't worry about it."
One thing the twins won't forget is the teachers at CCS that made a difference. For Nasro, it's Miss Williams, her third-grade teacher who is no longer teaching with the District.
"When I was little, my handwriting was awful, big and wonky," she said. "Every day at lunch and during recess, Miss Williams would work with me one-on-one until I figured out cursive writing. Today, I get compliments on my handwriting, and I smile and think about Miss Williams every time."
For Ahmed, that mentor was his eighth-grade science teacher and soccer coach, Mr. Bloom. Ahmed and his team had made it to the state championship that year.
"We ended up losing, and all of us were so sad in the locker room after the game," he said. "Coach Bloom came in and said we shouldn't measure wins and losses with one game. Instead, we needed to look at the weeks and months leading up to the championship game and all the plays we made as a team to get there."
As these West High School seniors prepare for life after high school graduation, they appreciate the educators that helped them every step of the way.
"Teachers always encouraged us to try our best," said Ahmed. "Teachers were always there if you needed help." Nasro agrees. "Our teachers were kind and genuine, very easy to be around," she said.