Return to Headlines
Intel Partners with Columbus City Schools to Spark Interest in STEAM Programming
Intel Partners with Columbus City Schools to Spark Interest in STEAM Programming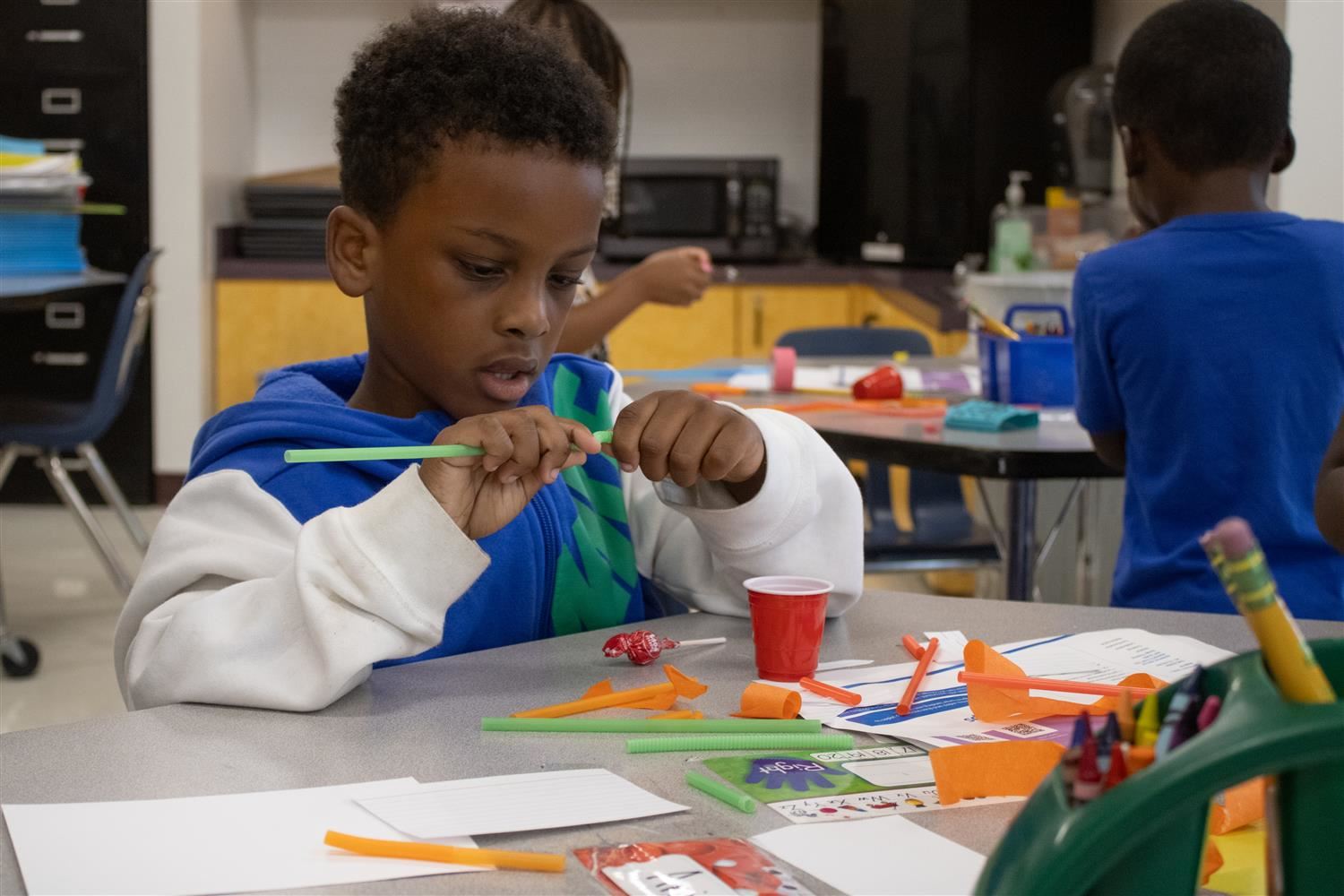 November 8, 2023 – It's National Science, Technology, Engineering, Art, and Math (STEAM) Day, and third grader Ra'Khi Albert is preparing her thinking cap. Albert said her thinking cap is invisible and only accessible when she breathes in and out deeply and does a little dance.
Albert's thinking cap saw a lot of use during a three-day immersive STEAM learning camp: Camp Woodcrest. The camp was the result of a partnership between Moonshot Ohio and The Intel Foundation.
With the help of Intel employees, Albert created a robot, learned about the properties of light, and invented a rocket to help keep her astronaut - a miniature sucker - safe on missions.
For their final project, students worked in groups to create their own board games. Using their thinking caps, Albert and her team created a game that is truly one of a kind.
"Our game starts with a bridge. Then, there's water you have to cross," Albert explained. "Whoever brings the bird to the tree first wins. Whoever falls into the lake loses and has to start over. After, they go see the 'Barbie' movie."
Unique ideas like Albert's are something that Kevin Hoggatt, Director of State Government Affairs for Intel in Ohio, hopes to encourage in all students. He said there is never one solution and wants to help kids use creative problem-solving. These activities let the students explore different answers, especially if their first idea didn't work.
"A key part of STEAM is coming up with new ways to solve a problem because things don't always work the first time," Hoggatt explained. "One important concept we are stressing to these students is that it's okay to make mistakes. Embrace those mistakes. Find out what isn't working, and shift courses."
Brandon English, a Woodcrest fifth-grader, has experience making mistakes. When English first tried to create his rocket, his original design did not keep the astronaut safe, and he had to try again.
"When we first put our astronaut in the rocket, it fell out. The next design, we taped the entire thing, and it still fell out," English said. "I thought we should tape the inside and put more tape on top. We did that, and then it worked."
English said he made mistakes in other activities as well. Still, he took the advice of the Intel staff and continued trying. After multiple attempts, English completed all of the experiments, showing a tenacity that is important for school and beyond.
Executive Director of CTE & Workforce Megan Noble said exposing students to the principles of STEAM early in their education is crucial for encouraging them to pursue these interests later in life.
"We want to give our students the opportunity to explore and grow," Noble explained. "The Intel Future Skills program office developed an amazing 3-day event that exposed students to design thinking, learning with industry partners, and career exploration utilizing Intel's Future Skills resources."