Return to Headlines
CCS Outlines District Operations in Response to City Health Advisory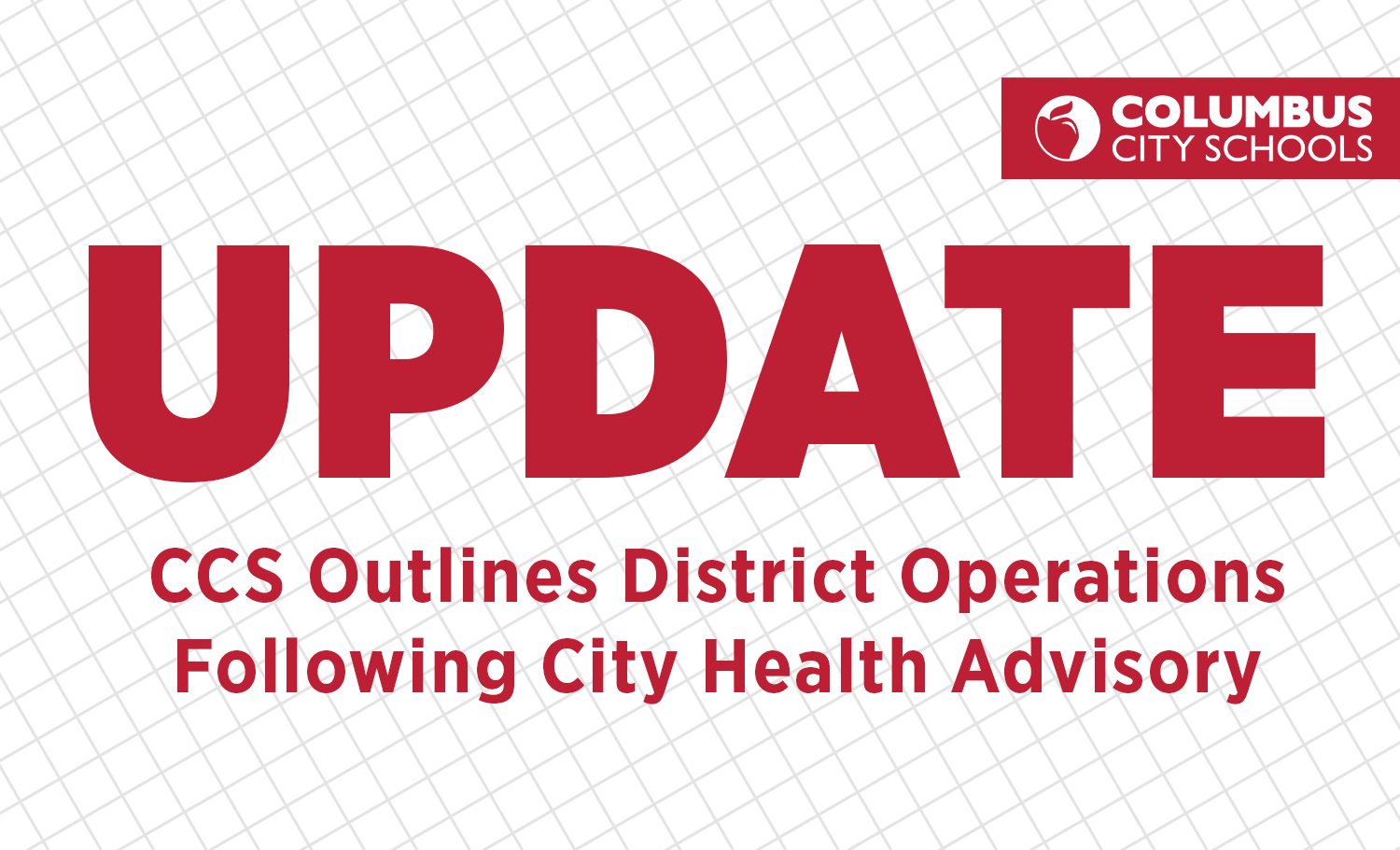 Dear CCS Community,
Yesterday, the City of Columbus and Franklin County announced a new health advisory that will go into effect on Friday evening, November 20, and extend until December 18. As our local hospitals are nearing capacity with no signs of slowing, the City and County health departments have advised that all residents of Franklin County stay at home as much as possible to help slow the spread of COVID-19 in our community.
Click here to watch yesterday's announcement.
Columbus City Schools supports the new advisory and recommendations put forth jointly by our local public health officials and appreciates the leadership of the City of Columbus and Franklin County in this time of crisis.
I have outlined below the specific measures our District will take in response to the COVID-19 Health Advisory for the City of Columbus and Franklin County.
---
---
Return to Remote Learning for Career Tech Students
Students in the Career and Technical Education (CTE) programs at Columbus Downtown High School and the Fort Hayes Career Center will return to a completely remote learning model beginning on Monday, November 23.
The health advisory runs through December 18, which is the District's last school day before winter break. CTE students and staff will return to blended learning on January 4, 2021, unless the advisory is extended beyond that date.
DECEMBER 18, 2020 UPDATE: Dr. Dixon shared a holiday message as well as the update that the earliest target date for students to return to their school buildings in a blended learning model (two days in school and three days at home per week) is Monday, February 1. This includes students in the Career and Technical Education programs at Columbus Downtown High School and the Fort Hayes Career Center. All CCS students will learn remotely through the end of January.
My sincere appreciation and gratitude go out to the teachers and staff at Downtown High School and Fort Hayes for welcoming our students back for blended learning the past three weeks. Your hands-on instruction with these students has been valuable in their ongoing mastery of the skills necessary for success in each program.
Suspension of Athletics and In-Person Extracurricular Activities
CCS is suspending all in-person interscholastic athletics and extracurricular activities beginning Saturday, November 21, through at least Friday, December 18. The District will reevaluate winter sports seasons and provide further direction, if needed, in December.
This suspension of in-person activities will go into effect at the end of this week to allow winter athletic teams to close out their preseason activities and collect any equipment needed. All fall sports seasons have concluded for CCS teams.
DECEMBER 17, 2020 UPDATE: Columbus City Schools has extended the suspension of the winter sports season until January 2, 2021. This suspension of all in-person athletic and extracurricular activities is in accordance with the announcement today from Columbus Public Health and Franklin County Public Health updating the current Stay at Home Advisory.
Fuel Up! Meal Distribution Program Changes Beginning November 30
Beginning on Monday, November 30, CCS will suspend its daily Fuel Up! Meal distribution offering. The District will still offer five-day meal packs to all children 18 and under on Wednesdays from 11 a.m. to 1 p.m. and from 5 to 7 p.m.
Families will have the choice of two types of five-day meal packs:
A shelf-stable meal pack that does not require refrigeration or heating, OR

A meal pack that may require refrigeration at home and could include items such as fresh fruits and vegetables, sun butter sandwiches, cans of soup, rice packets, and shredded chicken packets.
CCS will continue to operate all of its 44 Fuel Up! sites around the city unless staffing challenges force us to close sites. If we see a reduction in available Food Services staff due to leaves of absence or quarantine orders, the District could close some sites to consolidate resources. Advanced notification will be provided if we are forced to close any sites.
Updated CCS Staff Remote Work Guidelines
The City and County health officials are advising that businesses and organizations allow staff members to work from home to the maximum extent possible to help reduce exposure opportunities and provide relief for our hospitals.
We want to provide our CCS staff members with the flexibility to adhere to the health advisory while also maintaining the operations of the District and, most importantly, supporting our current learning model.
Staff who are able to complete their work remotely, as determined by their supervisor, should do so as much as possible through December 18. Staff members who must be on-site to complete their work will be directed to do so by their supervisor.
As we have done throughout the pandemic, we will take every precaution to protect the health and safety of those staff members who are working on site. Those of you who continue to serve on the front lines of our pandemic response are the true heroes of our District. I cannot thank you enough for your efforts in serving our students and our Columbus community.
Mask Up and Do Your Part
I am urging our school community to take this health advisory to heart, help slow the spread of COVID-19, and reduce the burden on our hospitals. Wear a mask, wash your hands, keep your distance, and avoid large gatherings.
It is that last point that I know can be the most difficult to hear, as we are entering the time of the year where we enjoy holiday gatherings with our families, friends, and loved ones. It is no small sacrifice to give up these time-honored traditions, but I believe it is the right thing to do in order to protect the health of our community. We must all do our part to combat the spread of this deadly virus.
Sincerely,
Talisa Dixon
Superintendent/CEO, Columbus City Schools