Return to Headlines
Fifth-grade Students Become Ohio State Buckeyes for a Day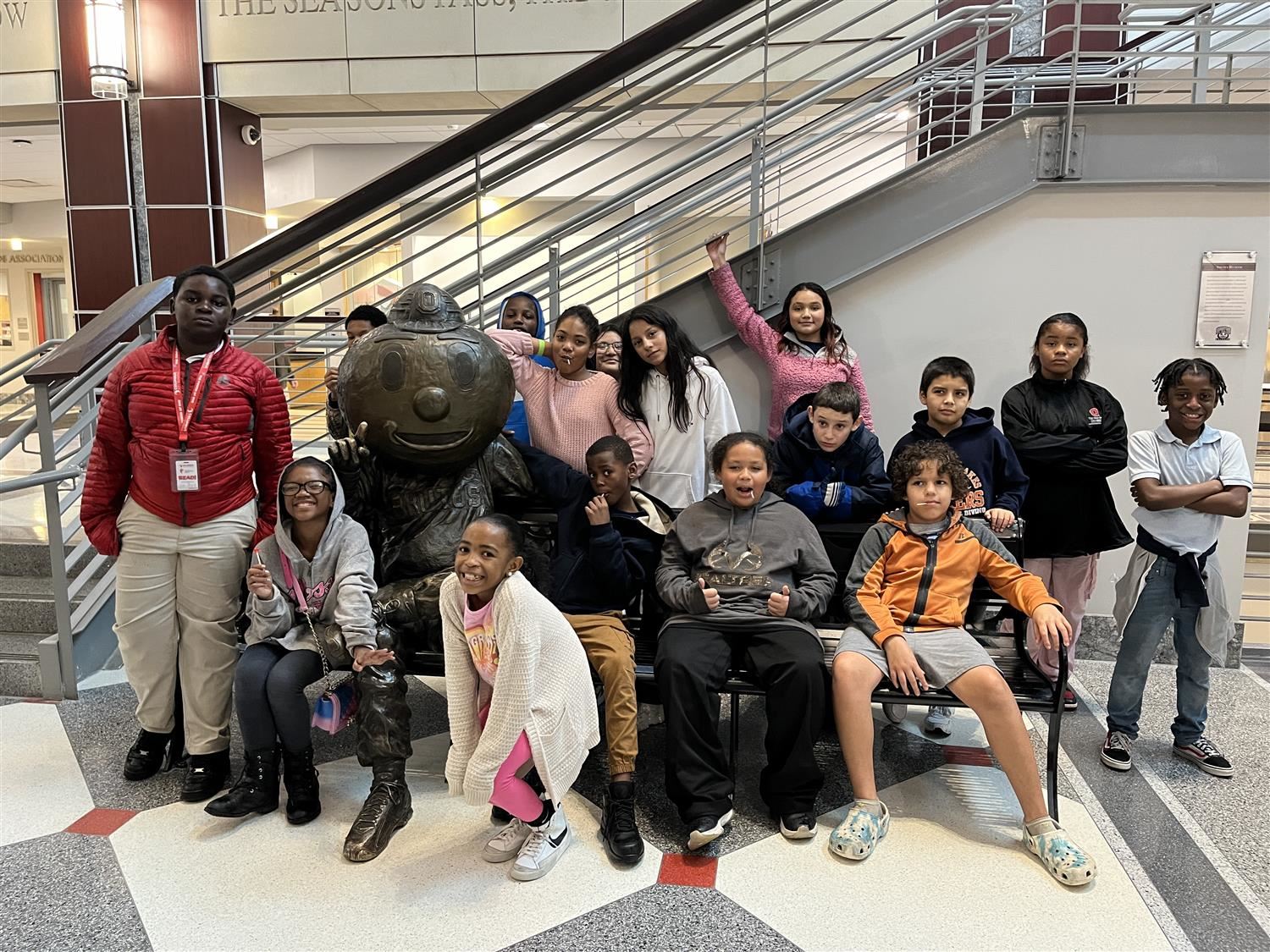 November 03, 2023 — Fifth-grader Marlon Davis of East Linden Elementary School is already thinking about his future in higher education.
Davis dreams of continuing the family tradition of wearing scarlet and gray and earning his degree from the prestigious Ohio State University (OSU).
"My dad went to OSU, and I follow everything he does," said Marlon Davis. "I want to go here."
Davis' dream of becoming an Ohio State Buckeye became a reality sooner than expected, thanks to the Buckeye Buddy for a Day program hosted by the OSU Office of Student Life, Center for Belonging and Social Change. Since 2001, Social Change "access days" have provided area high school, middle school, and elementary school students an opportunity to experience life at the university for a day.
"This is my first time at OSU," added Davis.
Davis was one of the fifth-grade students who got to experience a typical day of an Ohio State Buckeye. Students from East Linden, Ohio Avenue, and Windsor Elementary schools, along with Hamilton STEM Academy, partnered with Buckeye Buddies, current undergraduate and graduate students, to be their guides throughout the day.
For most of the students in attendance, visiting the school was their first time entering Buckeye Nation territory.
Upon arrival, students met with their Buckeye Buddy and received Kroger-sponsored goody bags. Each bag included two culturally rich books and OSU stickers featuring the beloved mascot, Brutus Buckeye.
"We saw college students, went to Mirror Lake, and had a delicious lunch," said fellow fifth-grader Trinity Nichols. "Today has been amazing."
From walking tours of the Ohio Union, the Oval, and Mirror Lake, to sitting in classrooms, students learned about what it takes to be a Buckeye and the endless opportunities that come with it. They even found themselves captivated as they watched food delivery robots zooming around the campus.
"I'm a little tired from all the walking," said Charrysh-Amor Groves. "It's fun. There are robots everywhere! I love this!"
East Linden Family Ambassador Herb Hayes chaperoned the school on their visit. Stopping at multiple "must-see" spots like the bronze statue of William Oxley Thompson, he was quick to remind students that attending college can be more than just a dream.
"You can go to any college you choose as long as you work for it," said Hayes.
Charity Martin-King, Associate Director of Student Outreach and Social Change, believes the opportunity is a co-learning experience for college and elementary students.
"Our Ohio State Buckeyes get a chance to lead and give back to the community," she said. "Our young learners get a chance to strengthen their literacy skills and have table conversations and discussions about college and careers. It's great."
Principal Cheryl Jones is always looking for ways to expose her East Linden students to out-of-the-box experiences and opportunities to inspire growth.
"This is everything," she said. "For our fifth graders to see real-life college students in action. Imagine how powerful that is - to start thinking about college in the fifth grade. This is truly an educator's dream."
---