Return to Headlines
Superintendent's Weekly Message - January 7, 2022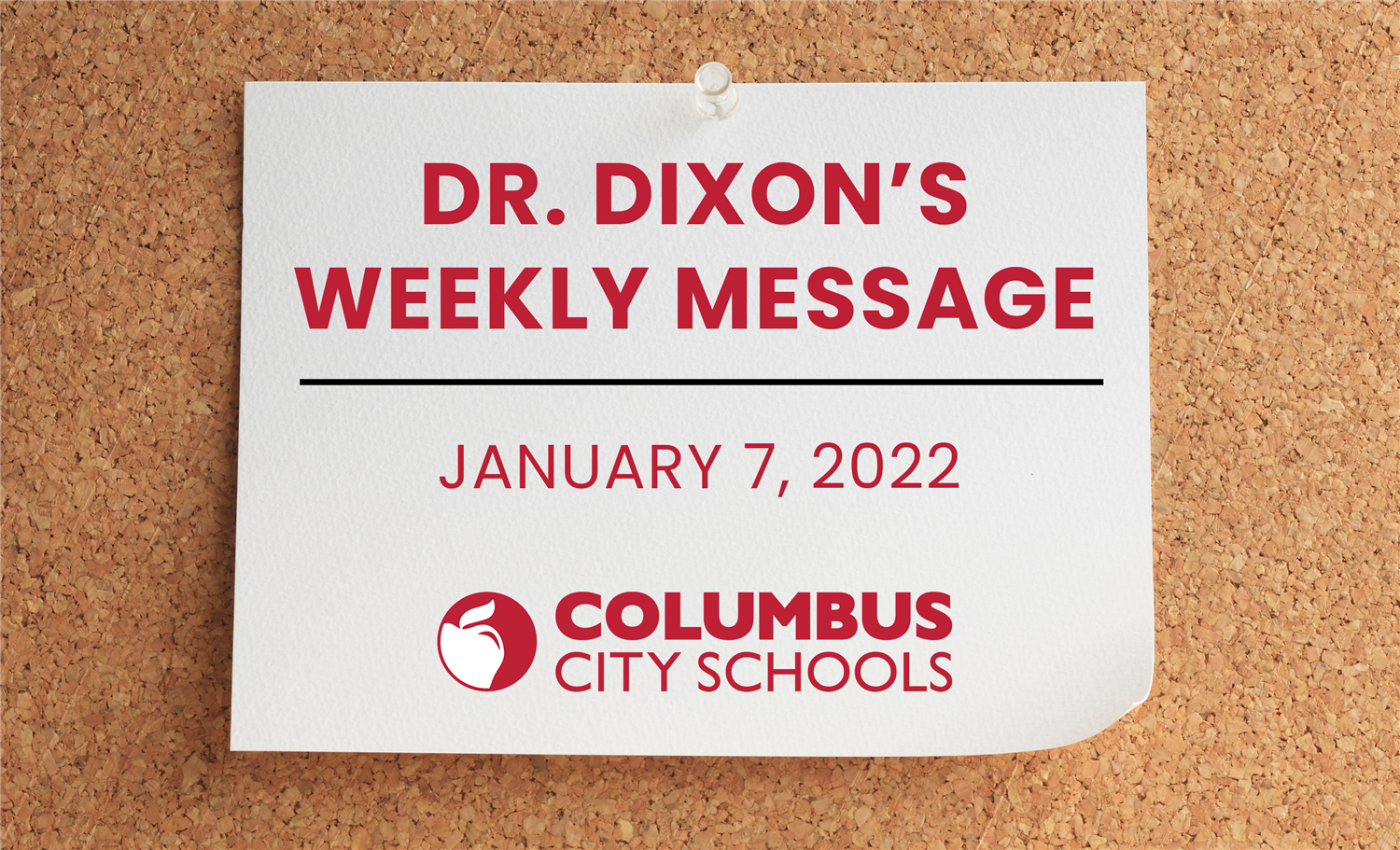 Dear CCS Families,
What a first week back from Winter Break this has been.
As you all well know, we have experienced daily staffing challenges in many of our schools and across our transportation team. This has forced us to make changes to our learning model each day. Please know, the determination to transition to remote learning or return to the classroom are being made in the best interest of our students and staff's health and well-being. With 112 buildings across the district, each school is unique with its own challenges to consider.
Our team of area superintendents, school leaders, local health officials, and our union partners collaborate daily to review each building's staffing data and determine the feasibility of holding classes. This process allowed us to maintain in-person learning in most of our schools – around 100 schools each day prior to today – and for the vast majority of the 48,000 students we serve.
At the same time, our transportation team continues to review bus routes, work to address staffing issues, and improve the ways we share updates on delays with families. We recently adopted a new communication platform to deliver transportation updates directly to parents. We encourage you to update your contact information in Parent Portal to ensure you receive text and email notifications.
One thing I'm encouraged by was the teaching and learning that happened virtually and in our classrooms, despite this week's challenges. I know it's not easy, so I applaud our educators, principals, and school staff for the extraordinary efforts they are making on behalf of our students and families.
We ask that you remain patient and understanding of staffing availability due to illness that may impact our daily transportation and learning models.
There are a number of District updates that I would like to share with you. And, it's a lot.
Student Devices
As I've continued to state, our goal remains, allowing students and teachers to safely engage in in-person learning, but as this week has shown us, we must remain proactive in navigating the challenges we face during this pandemic. I encourage all students to take their devices and technology home with them every night and keep them charged, in the event your school must transition to remote learning.
If a student needs a new or replacement Chromebook, they should contact their school principal. School leaders are working with the District's Information Technology Department to distribute new devices to schools as quickly as possible.
As day-to-day determinations are made for remote learning for individual schools, here are some additional resources and reminders for students and families:
Inclement Weather
Winter weather is here, and in the event we are forced to cancel classes or transition to remote learning, we will notify families as soon as possible. We will closely monitor weather forecasts, road conditions, and staff absences, and will make an announcement the night before whenever possible. If weather conditions are such that a determination the night before is not possible, we will make a decision no later than 5:30 a.m.
Click HERE for more information about Weather-Related School Closing.
Virtual School Choice Fairs
Don't forget, the District will host its Virtual School Choice Fairs next week on Thursday, January 13, for prospective middle and high school families. The opportunity for families to meet virtually with principals and staff from each school are: High School: 1:00 - 2:15 p.m. and 6-7:30 p.m., and Middle School 6:00 -7:30 p.m. Families can currently view school video profiles, to learn more about the amazing programs and school communities.
The Virtual Elementary School Choice Fair will be held on: Thursday, February 3, 6:00 - 7:30 p.m.
The 2022-2023 HS and MS School Lottery Applications are currently available via the Parent Portal.
Accelerated Learning Initiatives
As we enter the new semester, I'm excited about the work ahead of us and the current and upcoming Accelerated Learning initiatives. At the school level, our principals and teachers have been mapping out strategies and submitting proposals to create new extended learning programs with an emphasis on supporting the whole child. We have several new and unique literacy-related events on the horizon.
Something I know our students and families should be excited about is our new Pathway Express Program that kicks off this weekend (Saturday, January 8) with a family and community resource day at COSI. For families that can't make it Saturday, they'll still be able to receive FREE admission every weekend this month - Reserve Free COSI Tickets Here.
We will be providing transportation for families attending the January 8 Pathway Express activities at COSI. Buses will pick up from the following locations at 9:30, 10:30, and 11:30 a.m., and they will depart COSI at 2:00 and 3:00 p.m.:
West High School
Northland High School
Walnut Ridge High School
South High School
There will be a new Pathway Express experience each month at different locations throughout the city for all students and families to enjoy. In addition to academic resources, community partners will also be on-hand every second Saturday of the month throughout Pathway Express to provide a variety of family support services. For more information about the District's Pathway Express Program, visit www.ccsoh.us/pathwayexpress.
All of the academic enrichment and family engagement activities we have planned over the next few months lead to our 2022 Summer Experience for our Pre-K through 12 students. Summer Experience will once again be free and open to all students, and it will be hosted at sites across the District June 20 through July 28. This year's program has continued to expand thanks to the support of community partners, and we look forward to sharing additional information, including registration details, in the coming weeks.
Panorama Family Survey
We want to hear from you! Our District values feedback from our families, and we would like to learn more about your child's school experience this year. CCS is collecting responses for a Family-School Relationships Survey to learn how we can better support our community during the rest of the school year and beyond.
On Monday, January 10, make sure you check your email for directions and a link to access the survey. It only takes 10-15 minutes to complete. The survey window will be open from January 10 through January 28. All responses are completely anonymous and will help us to plan programs, resources, and services for the remainder of this school year.
Engaging our Families with Helpful Resources for Home
Our twice-weekly Virtual Family Engagement Sessions will resume next week to provide district updates, spotlight family and community resources, and offer opportunities for parents to provide feedback and get answers to questions. Our Tuesday night session is a refresher on accessing valuable information through the Parent Portal. This is an important one if your address recently changed or if you are planning to participate in the upcoming School Choice Lottery.
Our Thursday Virtual Family Engagement Session will be the first in a Safer Together series aimed at helping parents who might need tips or strategies on how to talk about safety with their children… questions like: What should a parent do if they suspect their child is involved with the wrong crowd? How do you talk to them about fight videos on social media? When should a parent report suspicious activity to our schools or to the police? We know these can be tough questions for some parents.
Sign up to join our Virtual Family Engagement Sessions - every Tuesday and Thursday from 6:00 - 7:00 p.m., on Zoom - at www.ccsoh.us/RSVP.
Continue to Mask Up
One thing we know from speaking with our local public health experts is that our mitigation strategies in our schools are working – that is universal masking, hand-washing, and proper social distancing whenever possible. We are not seeing the spread of COVID in our schools and that is thanks to the efforts of our principals, teachers, staff, and students who are following the protocols we have in place.
We will continue to require masks in our buildings, and it is important that everyone wear a mask properly so that it covers your mouth and nose. And if you have not received the COVID vaccine or gotten your booster shot, now is the time to do so! The vaccine is safe, effective, and our best protection against the virus.
Sincerely,
Talisa Dixon
Superintendent/CEO, Columbus City Schools