Return to Headlines
Teaching the Basics Using the Basics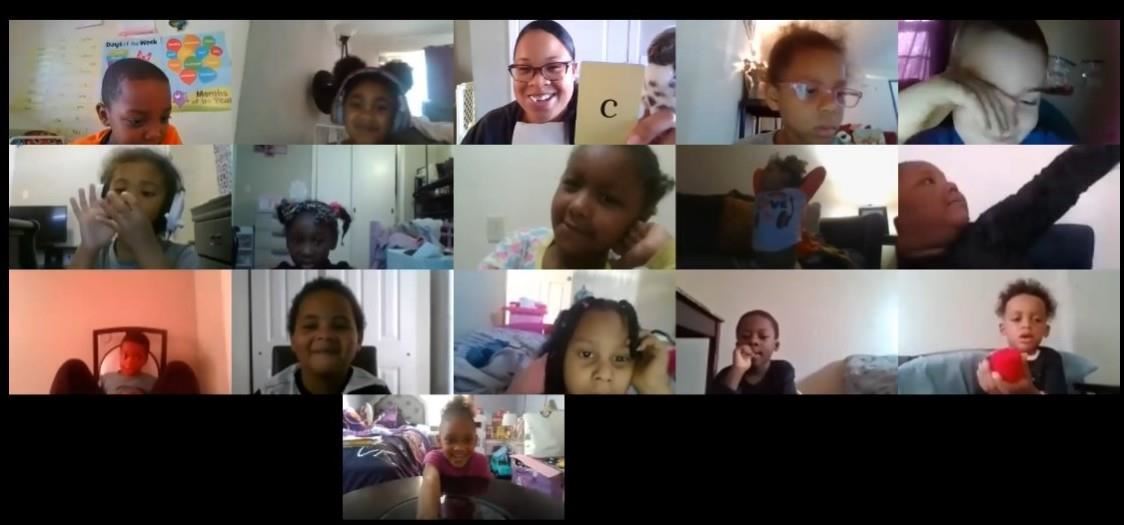 December 7, 2020 -- Two Columbus City Schools teachers are rising up and using what they have around the house to engage Pre-Kindergarten and Kindergarten students. "I've dunked my face in flour and put close to a dozen pieces of chewing gum in my mouth at one time," said Shenita Lyons, Fairmoor Elementary School kindergarten teacher.
Before COVID-19, keeping five and six-year-old students engaged and focused in the classroom could often be tricky. Working on the alphabet and sounding out words remotely in a virtual learning environment takes that challenge to a whole new level. "That's why I decided to do the flour and bubble gum challenge," said Lyons. "These are items I had around the house. It made this learning exercise fun for my students, and they paid more attention because they wanted to see what I would do next."
As Ms. Lyons held-up a flashcard with the letter D on it, she called on Noah. "Noah unmute yourself. D. Duh, Dog," said Ms. Lyons. Noah got it right, and Ms. Lyons popped another piece of gum in her mouth as her students smiled and laughed out loud.
By the 26th letter, this teacher had a mouthful, and her students were doing all the talking. One asked, "How many pieces of gum do you have in your mouth?" Another asked, "What does it feel like?" A total of 11 pieces," said Ms. Lyons. "It feels like a giant piece of bread in my mouth. My jaws are hurting," Lyons chuckled.
During another week of remote learning, this Fairmoor elementary school teacher did the sticker challenge. Every time her students answered a question correctly, Shenita Lyons would slap a sticker on her face to her students' delight.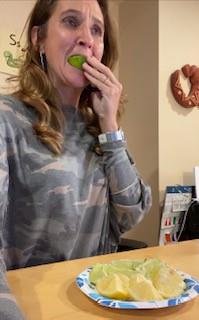 Hubbard Pre-K Teacher Megan Zones also used the flour challenge to engage her students. "I first saw the flour challenge on social media and decided to try it," said Lyons. "Every time one of my students answered correctly, I would plunge my face into a bowl of flour," said Zones.
Another week, Ms. Zones did the lemon-lime challenge. "Even before my class got started, one of my students asked if we were playing a fun game," said Zones. "My students loved the lemon-lime challenge," said Zones, who's been teaching Pre-K with the District for 14 years. "They laughed at the faces I made after putting a tart lemon or lime slice in my mouth."
Both teachers are proud of how hard their students and families are working from home. "Kiss your brains," instructed Shenita Lyons after her class completed a 30-minute exercise.
Both teachers admit that using some of the basic items that many of us have at home can engage students and leave a lasting impression.
"While these are unprecedented times for learning, teachers are willing to do what it takes to keep our youngest students laughing and learning," said Megan Zones.