Return to Headlines
Superintendent's Weekly Message - May 21, 2021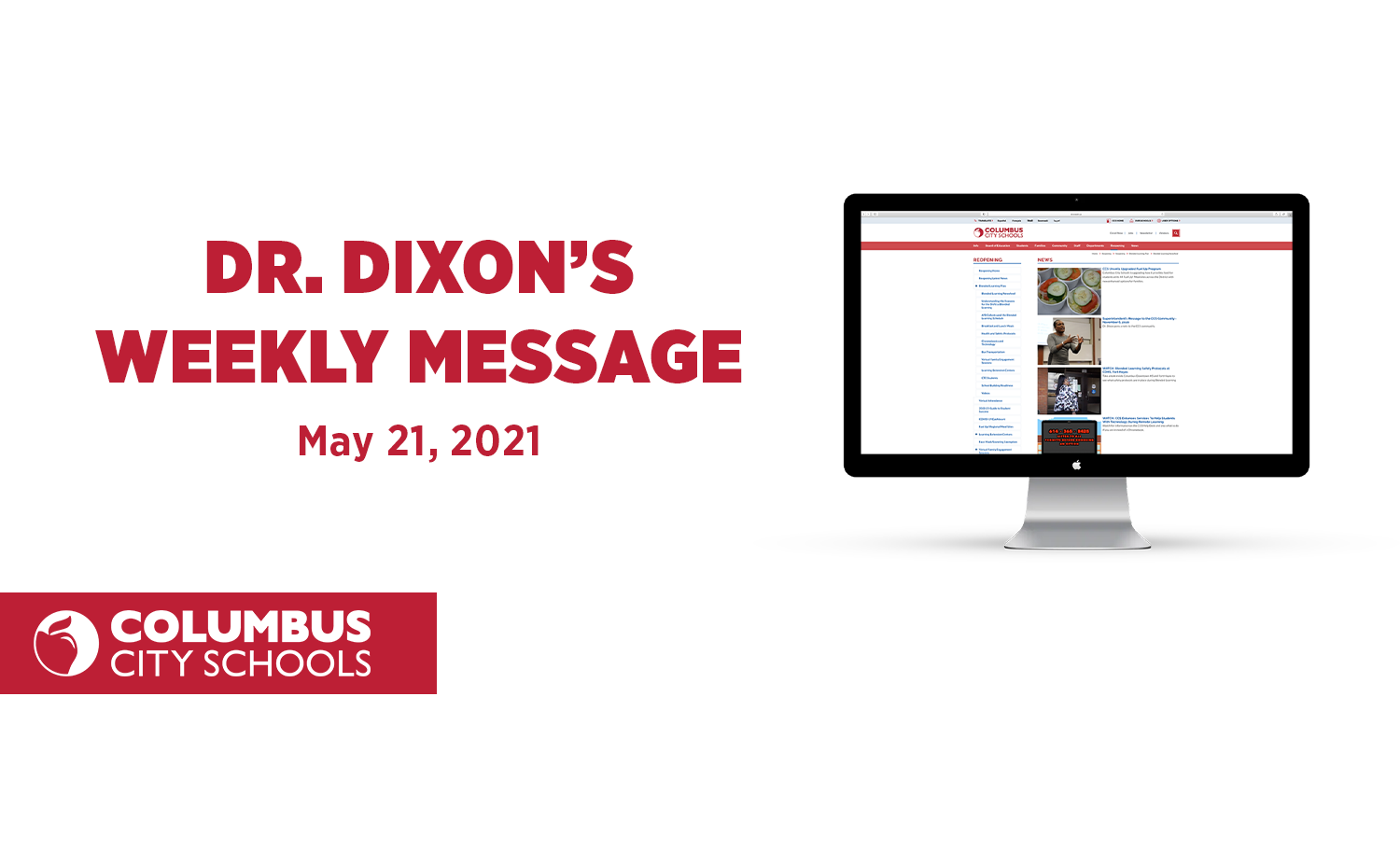 Dear CCS Community,
This week we celebrated many of our seniors who will graduate from Columbus City Schools in a few short weeks. While this year has been challenging to say the least due to the global pandemic, our seniors persevered and shared their college, career, and military plans at this week's virtual 'signing day' celebration.
The Class of 2021 has earned just over $30.8 million in scholarships and grants. From the Ohio State University to Yale, many of our seniors will head to universities across Ohio and the country this fall as well as to Historically Black Colleges and Universities, including Howard, Central State, North Carolina A&T, and Norfolk State.
Walking across the stage to pick up that diploma is not the only focus this time of year. Setting the stage for a stronger CCS is also a priority as we continue to align the District with the Board of Education Goals. The three Board Goals, which were formally adopted last month, are:

Strengthen Reading Proficiency

- The percentage of third-grade students proficient in Reading on the Ohio State Test (OST) will increase from 43% (or a decline in the benchmark due to COVID) in School Year 2018-2019 to 55% by June of 2026.

Develop Portrait-Ready Graduates

- The percentage of the Class of 2028 who earn the Portrait of a Graduate Seal will increase from 0% in June 2022 to 25% by June 2028.

Close Opportunity Gaps

- The percentage of 4-year graduation cohort students who complete state and district graduation requirements will increase from 81.2% in August 2020 (or a decline in the benchmark due to COVID) to 86% in August 2026.
You will continue to hear more about the Board Goals, the District's educational vision Portrait of a Graduate, and our CCS Strategic Plan over the coming months.
Important Dates to Remember
May 28: Last Day of School for Seniors
May 28: Last Day for Current CCS Students to Register for BlendED (former Digital Academy) for 2021-2022 School Year
June 1: Last Day to Register CCS Students for the 2021 Summer Experience
June 2-5:CCS Graduation Ceremonies (Click here for the schedule)
June 3: Last Day of School for Students (Traditional Calendar)
June 4: Records Day (No Students in Attendance)
June 10: Last Day of School for Woodcrest Elementary (Year-Round Calendar)
June 14: 2021 CCS Summer Experience Begins
ESSER Funding Priorities
A silver lining to the global health pandemic is called Elementary and Secondary School Emergency Relief (ESSER) Funds. Columbus City Schools has outlined its spending priorities using ESSER funds which include more school counselors, literacy specialists, air conditioning and heat for 16 schools, and laptops for every student.
Congress has authorized three relief packages since the onset of the pandemic with ESSER funds in each identified to assist local school districts address needs and recover student learning loss. ESSER I was included in the Coronavirus Aid, Relief and Economic Security (CARES) Act; ESSER II in the Coronavirus Response and Relief Supplemental Appropriations Act (CRRSAA); and ESSER III in the American Rescue Plan (ARPA).
Your feedback on how these ESSER dollars are spent is important to us. Please take a few moments to respond to a survey. The investments we will make with these federal dollars are student-centered and focus on addressing needs brought on or exacerbated by the pandemic, including learning acceleration.
Internet Assistance
The federal government has a new plan to help families in Columbus secure internet service at home. Columbus City Schools families can apply for the Emergency Broadband Benefit Program today. The Federal Communications Commission just launched the program to help families and households struggling to afford internet service during the COVID-19 pandemic.
Under the Emergency Broadband program, households can receive up to $50 per month for internet service and up to $75 per month for households on qualifying Tribal lands. Eligible households can also receive a one-time discount of up to $100 to purchase a laptop, desktop computer, or tablet.
The COVID-19 pandemic made it clear internet service is no longer nice-to-have. It's a need-to-have. Apply today, so you have secure internet when students return to five-day a week, in-person learning in the Fall of 2021.
To apply for the Emergency Broadband Benefit Program, you can:
Call an internet provider in the area and ask about how to apply.

Login to

www.getemergencybroadband.org

to apply

Or call

833-511-0311 for a mail-in application
Ready 2 Earn Offers for Teens
This summer, teenagers in Columbus City Schools can earn up to $1,300 by simply learning what it means to have a career. The "Ready 2 Earn" Summer Program - funded by our partners at the Franklin County Department of Job and Family Services - is a chance for young people ages 14-18 to gain exposure to in-demand career fields ranging from coding, cybersecurity, and robotics to health care and early childhood education.

Students will also learn workplace skills, develop a resume, hear from a job coach, discover their leadership skills, and get paid up to $1,300 as they complete certain projects and goals over the eight-week program.

If your plans this time of year include a graduation celebration or a much-needed summer vacation, I encourage all of you to be mindful of others and celebrate responsibly and safely.
Sincerely,
Talisa Dixon
Superintendent/CEO, Columbus City Schools