Return to Headlines
Superintendent's Weekly Message - January 28, 2022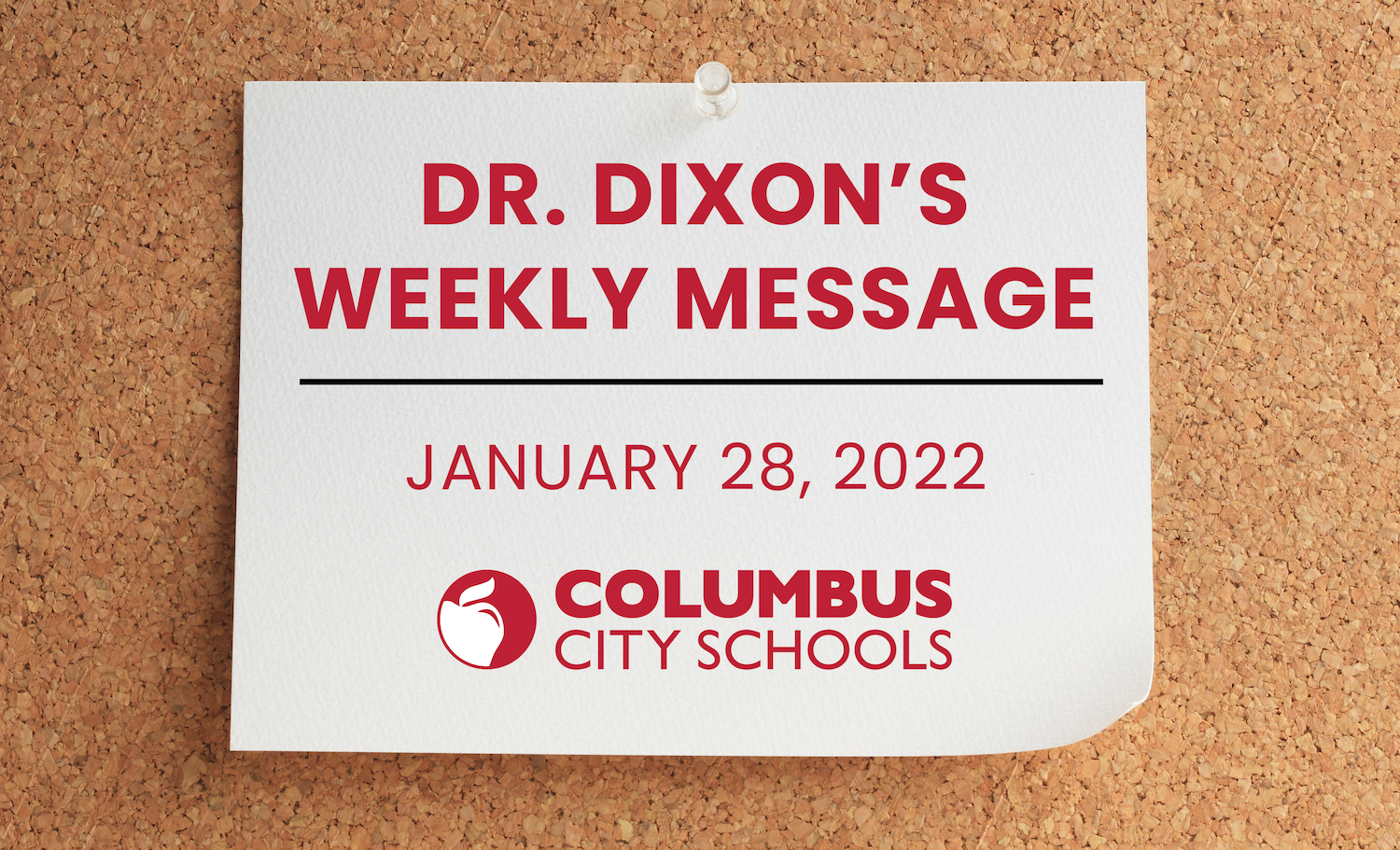 Dear CCS Community,
Today I had the opportunity to celebrate our first graduates in the Columbus City Schools Class of 2022. This afternoon, we hosted our Winter Graduation ceremony at the south administrative building at 3700 S. High Street. There, we honored 20 new graduates and live streamed the festivities on our social media channels.
I am proud of our mid-year graduates for their determination and resilience to reach this accomplishment. It's not about who finished early and who took a little longer. It's the right time for these seniors because this is their journey, and they reached a major milestone today.
In Columbus City Schools, we want our students to lead the way. Sometimes that means being first – the first graduates in 2022 or the first graduates to take advantage of a life-changing opportunity in Columbus Promise. Some of the graduates we honored today have already signed up for the program, which provides them with free tuition to attend Columbus State Community College and continue their education after high school.
I encourage all of our seniors to consider the Columbus Promise program and take advantage of the support our community is providing to CCS graduates. No matter what our graduates choose for their future, I want them all to dream big and pursue their goals with passion.
Once again, congratulations to our newest Columbus City School graduates!
FAFSA = Free Money For College
To our seniors, now is the time to complete your Free Application for Federal Student Aid (FAFSA) form. The form is free, and it could help you pay for college. It is also a requirement for your Columbus Promise application.
To ease your fears of completing this complex government form, Columbus City Schools is working with our long-standing partner, I Know I Can (IKIC) which has a college advisor assigned to every District high school. The IKIC college advisor can help you fill out the FAFSA form. These college advising managers are available daily to help you.
Click here for more information on IKIC's upcoming FAFSA Workshops.
Plan Now for the 2022 Summer Experience
Forget the frigid winter and plan now for your student's summer activities! CCS is again offering exciting and engaging Summer Experience programs for all students grades PreK to 12. Best of all, it's FREE! Programs begin June 20 and will run Monday through Thursday for six weeks. Save the dates now and look for more information next month.
Pathway Express
This weekend is the final opportunity for families to take advantage of the Pathway Express STEM opportunity at COSI. Next month, we are partnering with the Columbus Museum of Art to offer Fine Arts programming for our students. Look for additional details next week!

Panorama Family Survey
To all of our families, today, January 28, is the deadline to complete our Family-School Relationships Survey. CCS is collecting feedback to learn how we can better support our community. All responses are completely anonymous and will help us to plan programs, resources, and services for the remainder of this school year. Click here for more information on accessing the survey.
Staff PD Day on Wednesday, February 2
As a reminder, all schools are closed for students next Wednesday, February 2, for a staff professional development day.
Sincerely,
Talisa Dixon
Superintendent/CEO, Columbus City Schools