Return to Headlines
Superintendent's Community Message - January 27, 2023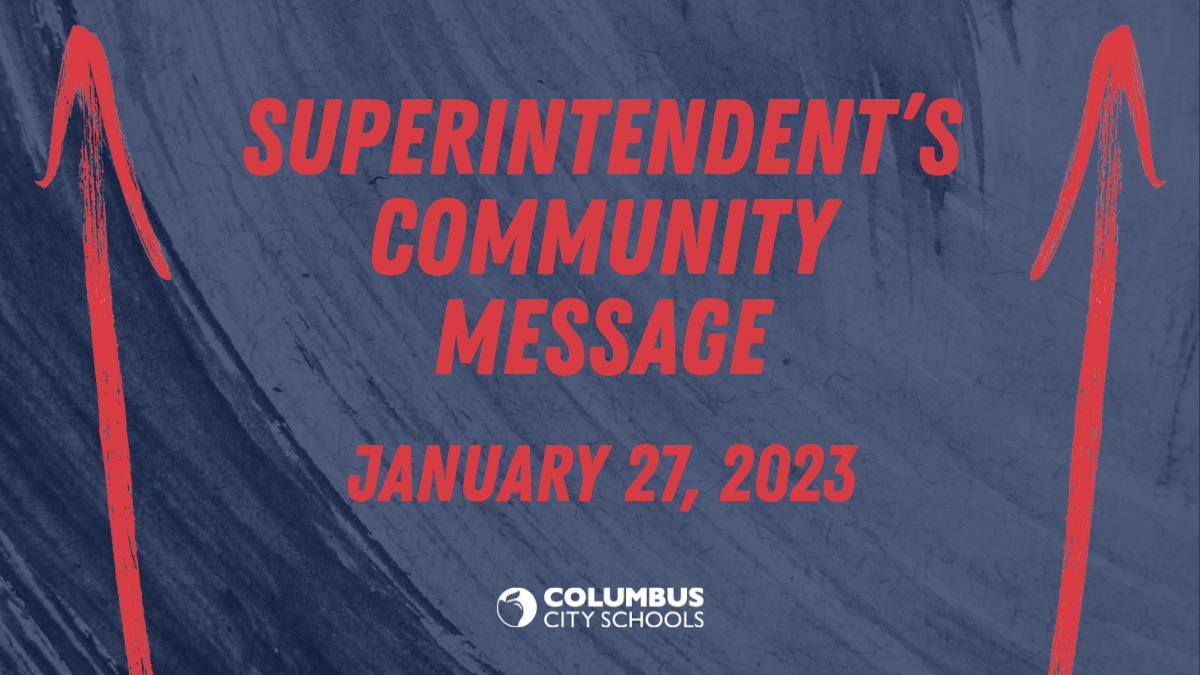 Dear CCS Community,
As we head into these cold winter months and into the second half of the school year, it's a good time to pause and reflect on student milestones, such as winter graduation, and all the work from our CCS community that makes it all possible. In my first few weeks as superintendent, I've hit the ground running and have seen this commitment and dedication first-hand in my visits to schools and departments. Through these visits, I've had the pleasure of talking with the many people who make CCS so special from the time students start school to when they walk across the stage for graduation.
First and foremost, I want to recognize our 2023 January graduates. Today, CCS students will graduate and will venture into the next chapter of their lives. Getting to this point in your life takes a lot of behind-the-scenes work and dedication and hopefully, you feel proud of what you have accomplished. Congratulations on this major milestone, and we look forward to seeing where your journey takes you next!
However, none of this would be possible without the work put in every day by our staff, families, and CCS community. Whether it's getting students to and from school, inspiring our young scholars along their educational path, or preparing nutritious meals every day, many people go into the success of our district. I want our entire CCS family to know how valuable and appreciated they truly are.
As a former principal and teacher, it has been refreshing to be back in the classroom and see all the continued efforts of our educators and students in action. As a parent, I'm always excited to see what my child brings home from school, and you can rest assured that our kids have continued to work hard as we head into the second half of our school year. I am proud of our students' endeavors.
Many students were eager to show me what they were studying in class. A few memories really stood out, like one of the Kindergarteners at Winterset Elementary inviting me to sit down with her as she worked on her Fundations activities, pointing to the letters of the alphabet on her desk, and eagerly telling me what she had learned that week. I also remember my visit to Walnut Ridge, where I saw how our students are leading the way through the Bridge to Ridge and Student Council.
During my visits, I also enjoyed meeting with our food services staff, who were hard at work preparing meals for our students. These staff members show up for our kids every day to ensure they have nutritious breakfasts and lunches and we are grateful for what they do.
I've also had the opportunity to visit the transportation team at the Fort Hayes, Moler, and Frebis compounds. There, I learned about the complexities that go into the daily routine of routers, dispatchers, call center employees, mechanics, and administrators. They all keep the buses running, and we thank the transportation staff for their dedication, along with our CCS families for their continued patience and support.
From the time students start school at CCS to the time they walk across the stage, we hope to build a sense of community and belonging. Building relationships is a vital component in focusing on the whole child. Although we focus on these qualities all year, our upcoming Relationship Week, which runs February 6-10, will be an opportunity to highlight these core priorities. During this week, students, staff, and community partners will participate in activities each day that reaffirms our compassion, respect, and love for one another by building a community where each person belongs. This week is important because having caring and supportive relationships are critical to learning, well-being, and the success of our students.
Creating opportunities for authentic engagement and focusing on the whole child are priorities close to my heart. They're critical components of our strategic plan. Meeting with staff and students is an essential facet of bolstering authentic engagement because, without our staff, none of this would be possible. We also want to build communities where students, staff, and families feel like they belong. I look forward to continuing to visit schools and departments over the coming weeks and meeting and reconnecting with the many people who are part of the CCS family.
Sincerely,
Dr. Angela Chapman
Interim Superintendent/CEO, Columbus City Schools