Return to Headlines
Hilltonia Special Education Team Goes Above and Beyond for the Students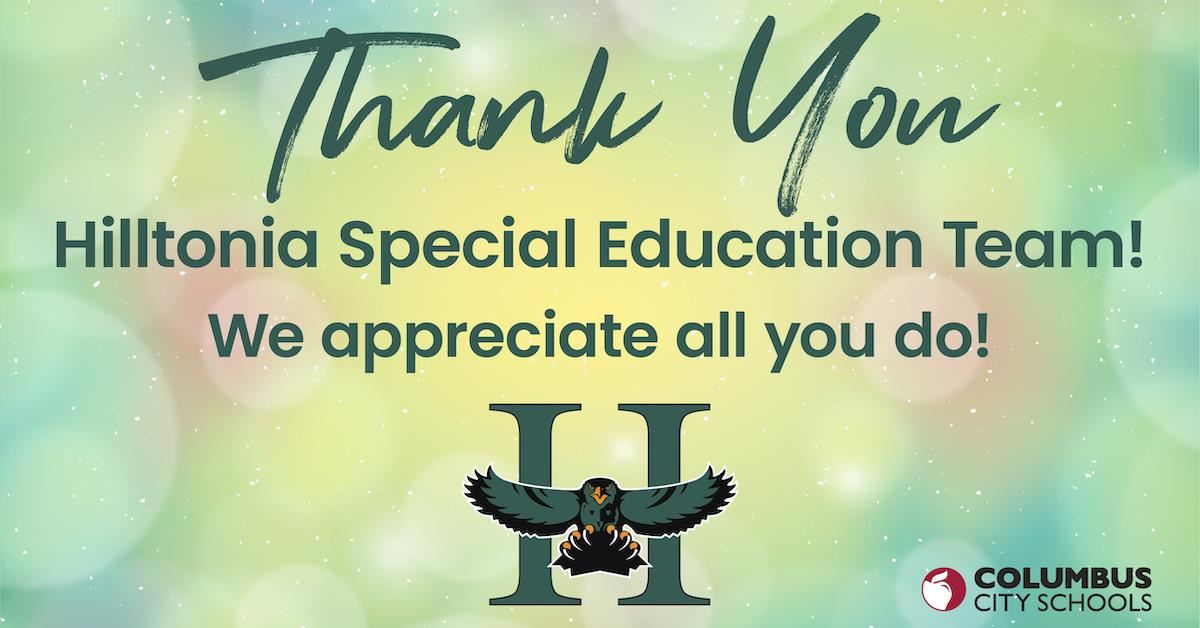 May 11, 2023 -- The "why" for the Hilltonia Middle School special education team, the reason they do the work they do every day, is the students. The team is dedicated, passionate, and always puts their students first.
Nathaniel Beswick is one of those students. Beswick enjoys coming to school, especially when he gets to work on i–Ready, one of his favorite parts of the day. He said he has fun working alongside his teachers to grow in the classroom.
"My teacher is really good! He helps me learn," Beswick said.
Hilltonia is home to students with a diverse range of disabilities. Principal Dr. Joyce Albright said the special education team works tirelessly to ensure each student has the individualized support they need to thrive in and out of the classroom.
"Our team always goes above and beyond to help our kids and families and support them," Dr. Albright said. "I have watched our kids grow every year academically, socially, and emotionally. They make a difference for our kids."
Nicole Zych is part of the multiple disabilities teaching team at Hilltonia. All of the students in her room are non-speaking. To help them build communication skills, Zych utilizes creative strategies, including sign language and head nods.
Along with learning these strategies, each student uses a communication device with buttons they can press to express their thoughts and feelings. Zych works closely with each student to curate the communication strategies that work best for them. Her goal is to help them feel comfortable communicating with people when they leave the classroom.
"Everything they do is super modified. It's adapted to each individual need," Zych explained. "It doesn't matter how or what mode they use to communicate, as long as they can express their point."
Zych said there is a lot of collaboration on the special education team. Austin Swanger is one of her colleagues. He said that whenever another teacher needs assistance with anything from watching their classroom when they need to step out or assisting a student, everyone is always ready to help.
"I consider all of the students 'our students.' We all jump in whenever another classroom needs our help," Swanger explained. "At the end of the day, it's about the students. We all have that mentality."
Dr. Albright said she is very proud of her special education team and the work they do.
"The special education team is always willing to go out of their way to help support our students and staff. They are hardworking and creative, and their decisions and work are always about children," she said. "These teachers continue to adapt and create the best learning environments for our kids."
The Hilltonia special education team consists of Nicole Zych, Austin Swanger, Austin Hall, Elizabeth Baumhackl, Julie Sutton, Sherlene Jude, Selina Jackson, Dwayne Higgins, Kitty Carr, and Brendon Fabian. Thank you for all that you do!
---