Return to Headlines
Family Ambassador Works to Build Bridges Between Deaf, Hearing Communities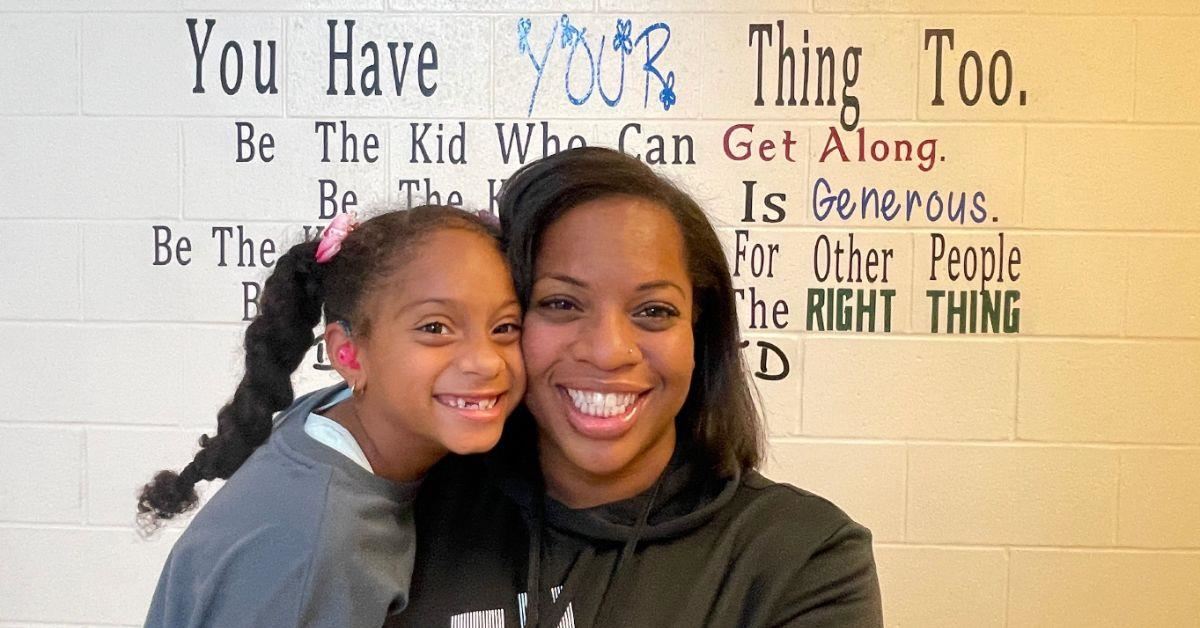 September 28, 2023 – Brittney Carmona's life forever changed when she became a mom to the newest member of the Deaf community - her newborn daughter Brooklyn.
From that moment on, Carmona made a pact to do everything she could for her daughter to live life to the fullest.
Seven years later, the pair finds themselves at Huy/A.G. Bell Elementary School. Enrolled in the one-of-a-kind Columbus Hearing Impaired Program (CHIP), Brooklyn, who has bilateral sensorineural hearing loss, excels as a second grader.
"[Brooklyn] is constantly getting access to the Deaf community so that she can learn, grow, and flourish in it," Carmona said. Through CHIP, Columbus City Schools (CCS) is able to offer a variety of services to meet the needs of over 200 students from over 30 school districts who are deaf and hard of hearing.
Denyse Woods, CHIP supervisor and principal of the school, and her expert staff, work around the clock to create inclusive spaces for students to reach their full potential.
"We make sure we include our deaf and hard of hearing students in general education classes," said Woods. "For Brooklyn, she is on the roster of the general education teacher. She is in that classroom all day long with interpreters. That's what it means to be inclusive."
Woods and staff recognize that each student arrives at school with their challenges, and they know the importance of meeting students where they are. That's why the school offers class options for students with severe hearing loss that are taught by teachers of the deaf.
"It truly takes a village," Woods added.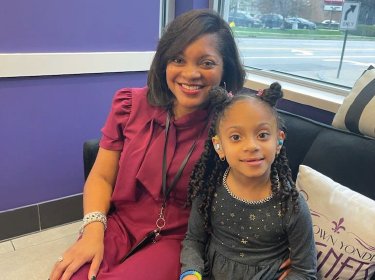 All classes are designed to support student communication, education, physical activities, creativity, social and emotional growth, and career aspirations. Since starting her journey at the school, Brooklyn's growth in communication, both orally and through American Sign Language (ASL), has tripled contributing to higher levels of confidence, self-esteem, and pride.
"It makes me happy to see her embracing [Deaf culture] for what it is and loving it with everything she's got," Carmona said.
Sharing that mutual love for Deaf culture, Carmona took a leap of faith.
"I love being a family ambassador," she said. "It makes a huge difference when you have a student in the building."
Over the past two years, CCS has added caring and passionate adults to serve as family ambassadors. As representatives of their community, family ambassadors serve as liaisons between school and home and facilitate a partnership of support for student academic achievement.
"Family ambassadors are important," said Woods. "They have a unique opportunity of working in the school but also being trusted as a fellow parent or community member."
Woods goes on to share about the challenges of engaging families who have had negative experiences with education in their past. Parents feel comfortable sharing their concerns with Carmona and see her as an ally.
The family ambassador model has even encouraged the principal to welcome parents on staff as additional support for the students in the building.
"It opens a door and creates a different sense of trust when you have parents and community members in the school building," Woods commented.
In her role as a family ambassador, Carmona faces an even greater challenge: building a bridge between the school, families, and the Deaf community.
"The Deaf community is untrusting of the hearing community," Carmona said as she shared the challenges that occur between people who are deaf and hard of hearing and those who can hear.
"We often want Deaf people and hard of hearing people to accommodate us because we can hear," Carmona added. "But why can't we accommodate them by learning their language [ASL]?"
Woods provided simple solutions for the hearing community to support the Deaf community. "One of the most important things is if you see someone using an interpreter, pay respect to the person who is talking, which is the person who is signing, not the interpreter. We tend to look at the person that is speaking auditorily, not the person who is actually speaking using sign language."
In her unique role, Carmona seeks to host several school and community events with the hope of building that bridge between the Deaf community and the hearing community.
"I want the hearing community to know that they can be partners and allies with the deaf and hard of hearing community. They can help bring change," said Carmona. "There is still so much work to be done."
---