Return to Headlines
Lindbergh Elementary Students Sharpen Math and Reading Skills During Saturday Academy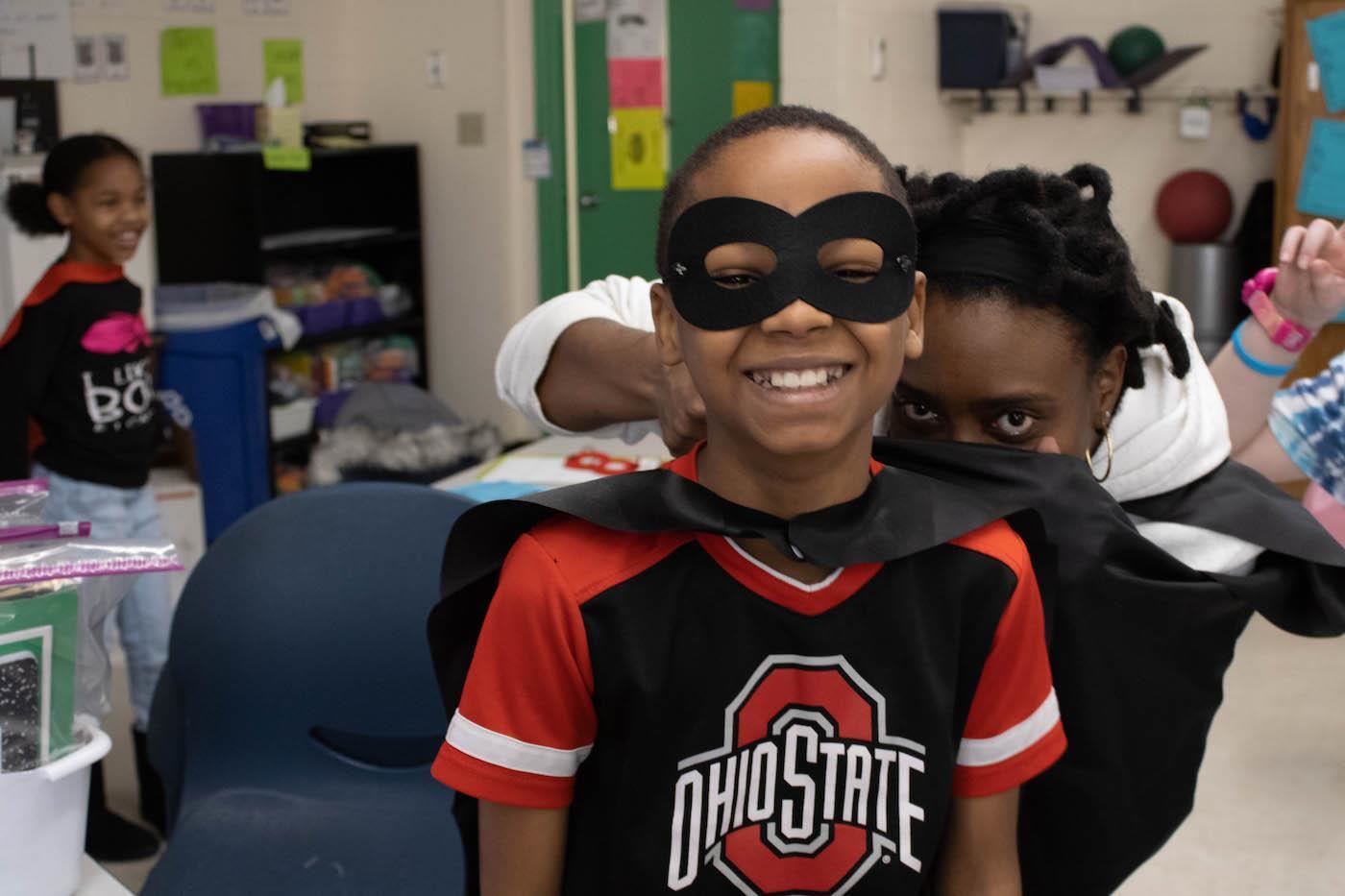 February 9, 2023 -- It's a Saturday morning, but Kalani Wilson isn't sleeping in. Instead, the Lindbergh Elementary School 5th grader is lying down on a scooter in an attempt to grab as many bean bags as possible. Her teammates push her towards a circle in the middle of the gymnasium that contains a pile of them. One at a time, Wilson and her team grab as many bean bags as they can before time is up.
The game is part of Lindbergh's Saturday Superhero Academy. While it seems at first glance like it's just for fun, the students are practicing their math skills while playing.
"After the game, our team had 17 bean bags, and they were each worth 7 points, so we had to multiply 17 by 7 to get our points." Wilson explained, "It's really fun."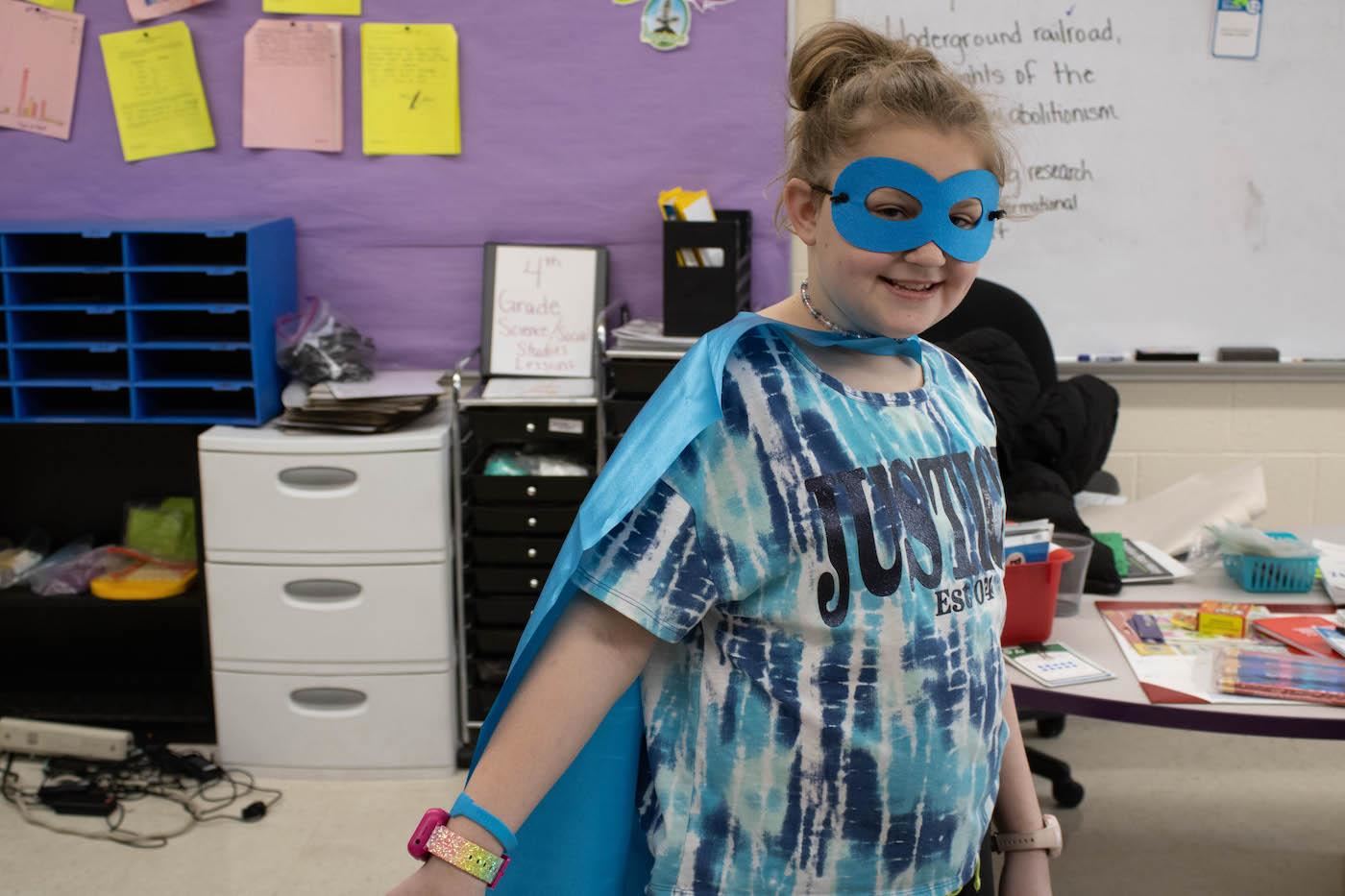 The Superhero Academy runs every Saturday morning from January 21st to February 11th. The goal is to increase the students' math fluency and reading comprehension skills in a fun environment. Along with the physical education math games, students are provided with superhero capes and masks they can wear throughout the day. To top it off, their principal, Annette Tooman, greets the students dressed as Batman.
"The kids love it," Tooman said. "We have a few kids in the neighborhood who walk to school, and I promise you, on a regular school day, they're not running. But, when I'm greeting kids in the Batman costume, kids are actually running up the sidewalk."
During the Saturday Academy, Physical Education Specialist Channon Gross facilitates the interactive math games. She said educational games that students enjoy could help improve their work in the classroom.
One game her students play is a multiplication relay race. In this game, students have the chance to shoot a bean bag into a basketball hoop. They are then presented with a multiplication problem. If they answer the question correctly, they receive an extra bean bag to shoot. Gross said that the prospect of trying for a basket gets some students motivated to practice their math.
"Just knowing they have that opportunity to shoot a basket encourages them to work extra hard to learn those math facts," Gross explained. "We have kids that last year had to use the multiplication chart, and this year are not using it as much. One student worked really hard to learn those facts so he can do better in the game."
The Saturday Academy is an opportunity for students to extend that learning. This year is the second time Lindbergh has hosted the program, and Tooman said it's popular with students. Several kids participating this year were enrolled in the program last year and enjoyed it so much that they returned.
"We have some repeat kids, and they know that they're going to have a good time," she said. "It's somewhere fun to come for three hours on a Saturday. They're getting to do extra time with physical education, and they're learning. The excitement level is there."
Both Tooman and Gross are excited at the positive feedback they're receiving from students enrolled in the program.
"It's fun to see them excited. They're getting their P.E. standard and their math standard," Gross said. "If we can get them to come in and have some fun while also learning, I'm all for it."
---