Return to Headlines
Superintendent's Weekly Message - November 5, 2021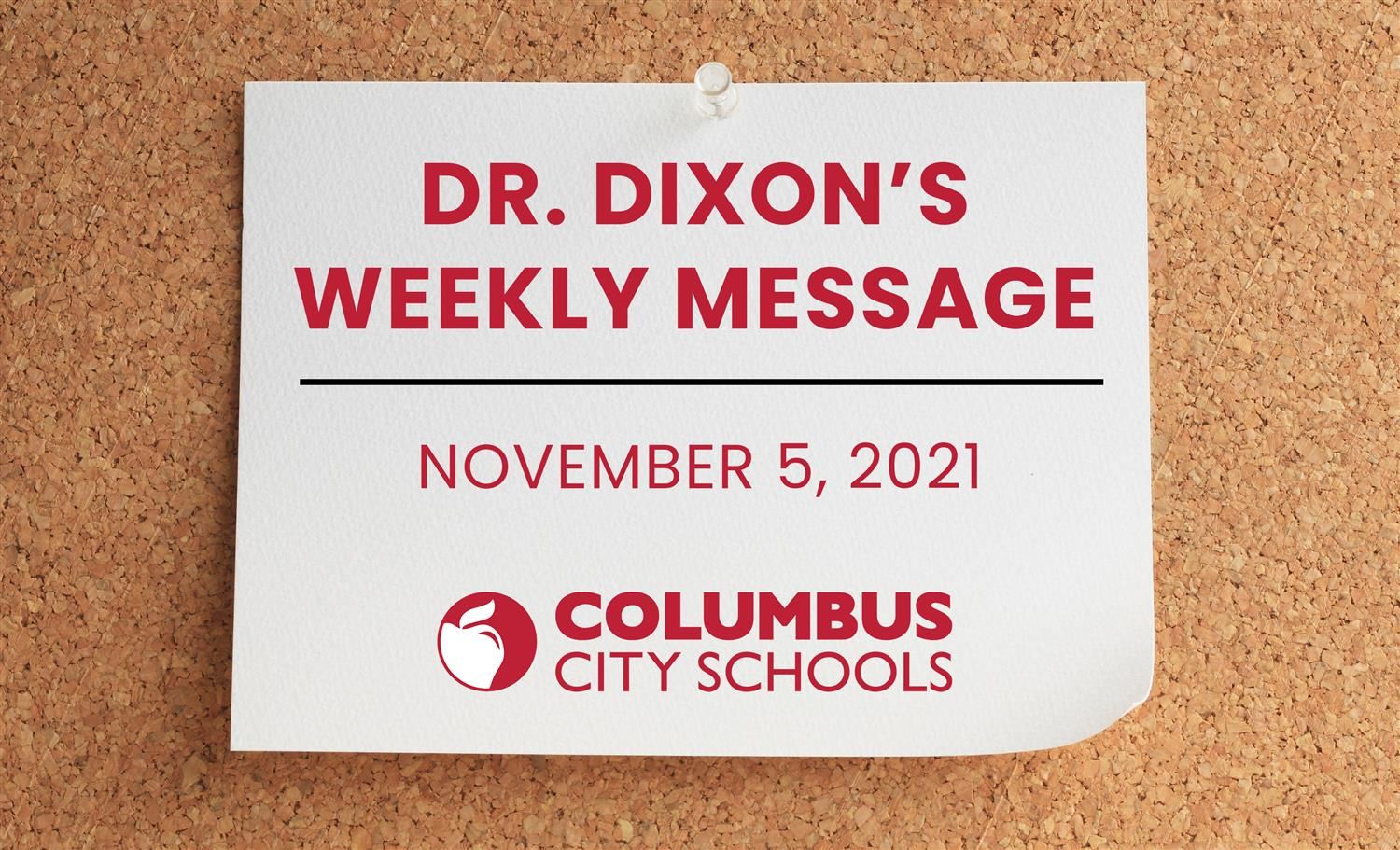 Dear CCS Community,
My heart is heavy today as I send you this message. This morning, I woke up to the news that another Columbus City Schools student lost their life to senseless gun violence in the community.
Far too often, gun violence affects the lives of our students in their neighborhoods, their homes, and impacts our schools. We want our neighborhoods and schools to be safe havens for our students. We all want safe environments for our young people to learn.
We need to connect with our young people, let them know that they have purpose and meaning, and become advocates for change. Quite often, our young people don't see past a day. Research shows that if there is a trusting adult that a young person can connect with, it will change their outcomes.
I'm asking each of you to take time to connect with a young person, whether it's your child or a young person you know. I encourage you to talk with that young person about the challenges they may be facing or the goals they are trying to achieve. Let their questions or concerns be your guide as to how much information to share. They need to know that a trusted adult cares that they can talk to and trust.
One conversation at a time.
Here are some important updates for our staff and families to know.
COVID-19 Vaccine for Children
I was excited to learn this week that the COVID-19 vaccine has been authorized for children ages 5 to 11 years old. As we have done in the past, we are working with our partners at Columbus Public Health and Nationwide Children's Hospital to identify and schedule opportunities for students in this age group to get the vaccine.
I do not have specific details to share yet, but we will have more information for families soon. I do know that Nationwide Children's Hospital is offering the free vaccine for children ages 5-11 on its main campus -- click here to schedule an appointment with NCH. Columbus Public Health will have the vaccine available for this age group at their clinic sites too.
Our school-based health partners at Nationwide Children's are working with CCS nurses and school leaders to identify regional locations for targeted vaccine clinics -- during the school day, in the evening, or on Saturdays. Once scheduled, each clinic could offer up to 300 students the vaccine.
Nationwide Children's has been offering the COVID vaccine daily to eligible students in all School-Based Health Centers. We have had a steady group of students that have gotten the vaccine while they are being seen for other services such as well checks.
I am excited that more of our students are now able to receive the vaccine, and we hope to share more information soon.
Welcome, Dr. Sara Bode!
Earlier this week, we announced a new partnership between Columbus City Schools and Nationwide Children's Hospital. Dr. Sara Bode will serve as the District's Medical Consultant for the remainder of the 2021-2022 school year.
Dr. Bode is a primary care pediatrician and the medical director of Nationwide Children's Hospital's Care Connection School-Based Health and Mobile Clinics. She will support CCS in a dual role between the District and Nationwide Children's.
We are fortunate to have a national expert of Dr. Bode's caliber in our own backyard here in Columbus. She has been a trusted advisor and resource throughout the pandemic, and we are excited to have her on our team in a larger role through this new partnership with Nationwide Children's Hospital.
Wellness Week - Nov. 22-25
As we announced last Friday, I declared the week of Thanksgiving as "Wellness Week" in Columbus City Schools. Monday, November 22nd, and Tuesday, November 23rd, will be asynchronous remote learning days for all students. Teachers will assign independent work to be due after the Thanksgiving break, but there will be no in-person or synchronous remote learning that week.
Most of our district operations will be closed for the entire week to give the majority of our workforce time off. This adjustment gives our teachers, principals, staff, and students a whole week off to reset and recharge.
One of the primary points of feedback I have received from families since making the announcement is why didn't we just close school for those two days -- instead of assigning asynchronous work. We did consider that option, but it would have required an official change to our academic calendar -- which, according to Ohio Revised Code, needs a 30 day notice to do so.
I ultimately decided that asynchronous remote learning days were our best option, as it allows teachers to assign work and give students ample time to complete the assignments.
I understand that transitioning to remote learning for two days during that week could be a hardship for some of our families. Still, I believe this decision is a necessary step as I consider the state of our district community.
Our Academic Services and Engagement teams are working on identifying partner supports and resources for students and families that week. We will be following up soon with updates on what we are able to provide.
Veterans Day Parade
Finally, it was great to see so many CCS students participating in the annual Columbus Veterans Day Parade today. Our district had a large presence in the parade, including 10 high school bands from Beechcroft, Briggs, Centennial, East, Linden-McKinley, Eastmoor, Mifflin, South, West, and Whetstone and our Junior ROTC students.
We also had three Air Force Junior ROTC cadets carry the Columbus Veterans Day Lead Banner, four Air Force Junior ROTC cadets lead the Pledge of Allegiance, and one of our Fort Hayes Arts and Academic High School students sing the National Anthem.
Thank you to everyone who participated and attended this annual tradition. We look forward to celebrating and honoring our veterans next Thursday!
Sincerely,
Talisa Dixon
Superintendent/CEO, Columbus City Schools