Return to Headlines
Superintendent's Weekly Message - November 12, 2021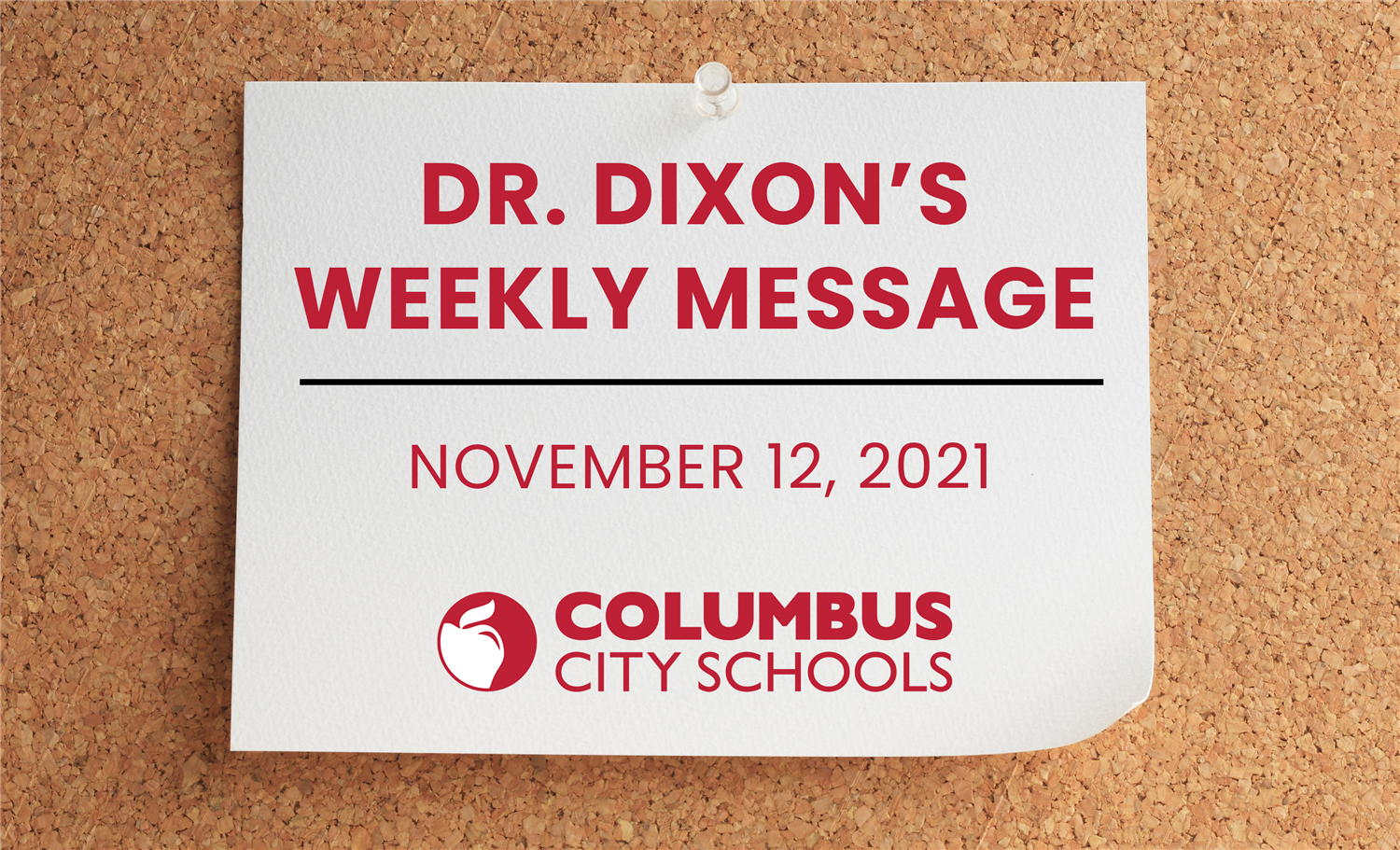 Dear CCS Community,
It was a big week in Columbus City Schools! On Wednesday, I joined our city leaders, community and business partners, and an amazing group of students to announce an incredible initiative that I know will open so many doors for future Columbus City Schools graduates -- the Columbus Promise.
This new initiative will provide FREE tuition for CCS graduates to attend Columbus State Community College and continue their education after high school. They'll also have access to mentors, scholarships for their books, and other academic resources to set them up for success.
Whether they decide to use that degree as the launching point to further their education or enter the workforce, we're making a promise to our students that they will have the knowledge and skills to make an immediate impact. I want our students to understand that a college education is a real and attainable goal, especially when you remove one of its biggest hurdles - tuition.
Our Class of 2022 will be able to submit their Columbus Promise applications starting Monday, November 15, and our school counselors will be working closely with community partners from I Know I Can to help families with FAFSA and college applications.
I know this week's announcement focused on soon-to-be graduates, but it's not lost on me the opportunities we can create for our elementary and middle schoolers. We're already working to identify educational and career-focused experiences to open up new postsecondary pathways that start even earlier in our students' educational journeys.
The Columbus Promise may very well be the first step in making true systemic change in our city and in closing equity gaps. That is what we want to give them...a PROMISE of a brighter future that's rich with life-changing educational and financial opportunities.
Click here to watch the full Columbus Promise announcement and learn more about the program.
Updated Quarantine Guidelines for Siblings of Symptomatic Students
Columbus City Schools has carefully considered the recently adopted protocol of sending home the siblings of students who are sent home with COVID-like symptoms. Given the new "Mask to Stay" protocols and the low rates of positive cases among these siblings, it has been determined that CCS will no longer require siblings of symptomatic students to quarantine out of school. This change will reduce the burden on families to pick up children at multiple schools and reduce the number of missed days of school for these students. Click here for more information about our quarantine guidelines.
COVID-19 Vaccine for Children
We continue to encourage families to have their children vaccinated against the COVID-19 virus. These vaccines are safe, effective, and free. And they are our best defense against this deadly virus and the way we end the pandemic.
We are working with our health partners to offer convenient vaccination opportunities for students. Nationwide Children's Hospital is currently offering the free vaccine for children ages 5-11 on its main campus -- click here to schedule an appointment with NCH. Columbus Public Health has the vaccine available for this age group at their clinic sites too.
Thank You to Our Veterans
On Thursday, we honored our veterans as we do annually on Veterans Day. CCS is fortunate to have 155 U.S. military veterans within our own ranks of teachers and staff. Their leadership and life experiences bring much value to our district community.
National School Psychology Week
In celebration of National School Psychology Week, I would like to thank all of our school psychologists for the work they do to help our students thrive. We have 76 full-time school psychologists in Columbus City Schools, and many serve two or more schools. We appreciate all you do to support students' learning, growth, and development.
World Kindness Day
This Saturday, November 13, is World Kindness Day. With everything going on in the world today, I cannot stress enough the importance of being respectful and caring to one another, to yourself, and to the world. Join me in committing to show more kindness -- on World Kindness Day and beyond. I believe that together, we can all work to create a kinder and more united world.
Sincerely,
Talisa Dixon
Superintendent/CEO, Columbus City Schools