Return to Headlines
Columbus Crew SC Partners with CCS on New Mini-Pitch at Northgate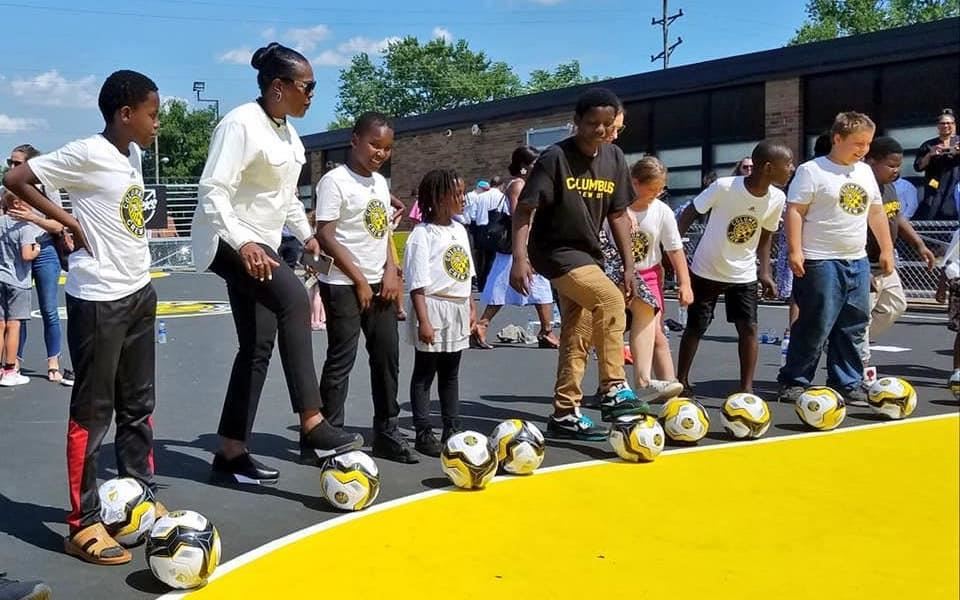 File photo from 2019
March 25, 2021 -- Columbus City Schools welcomes the latest partnership with Columbus Crew SC, the Columbus Crew SC Foundation, and the U.S. Soccer Foundation to install a new mini-pitch at our Northgate Intermediate School.
Installation of the new mini-pitch is slated to begin in June and is expected to be completed by early July.

"For more than a decade, Columbus Crew SC has been a major contributor to our mission of empowering this city's young people," said Dr. Talisa Dixon, Superintendent and CEO of Columbus City Schools. "Healthy bodies fuel active minds, and playing sports is a proven way to keep children healthy, teach them to work successfully as part of a team, and boost their energy and confidence. Columbus City Schools is proud to have Columbus Crew SC, U.S. Soccer, and Nationwide Insurance on our team and supporting our students on and off the field."
The Northgate Intermediate mini-pitch will become the Crew SC Foundation's 11th Field Development Project, all of which are located around the Columbus area and are funded by the Crew SC Foundation. The mini-pitch at Northgate is part of a commitment by the Haslam and Edwards families to create safe spaces to play for underserved communities, while providing a soccer environment that encourages the continued growth of the game in the city.
"The investment in field development projects such as this mini-pitch at Northgate Intermediate has granted local youth the chance to play in a safe environment. Columbus Crew SC, along with the Columbus Crew SC Foundation are privileged to be able to provide a new safe space where members of our community can engage in the sport we all love," said Crew SC Executive Vice President, Chief Business Officer Steve Lyons.
Along with the creation of the mini-pitches, the Crew SC Foundation will work with the U.S. Soccer Foundation to provide Soccer for Success programming at Northgate Intermediate. Soccer for Success is an after-school program that helps children establish healthy habits and develop critical life skills through trained coach-mentors and community engagement.
"The Crew continues to show up for its community and we are thrilled the partnership continues to grow each year," said Ed Foster-Simeon, President & CEO of the U.S. Soccer Foundation. "This new mini-pitch, like the others, will provide more young people of Columbus with a safe place to play, high-quality soccer programming, and more opportunities to reap the game's many benefits."
As a founding level partner, Nationwide Insurance will play a key role in supporting all Crew SC mini-pitch initiatives throughout its multi-year partnership. Their mini-pitch support will be featured through various volunteer opportunities and signage efforts.
To learn more about the Crew SC Foundation's commitment to providing soccer field space for challenged youth in the Central Ohio Community, as well as to see other Crew SC Foundation's Field Development Projects, visit the following link: https://bit.ly/3iGXTy2.