Return to Headlines
Superintendent's Weekly Message - March 12, 2021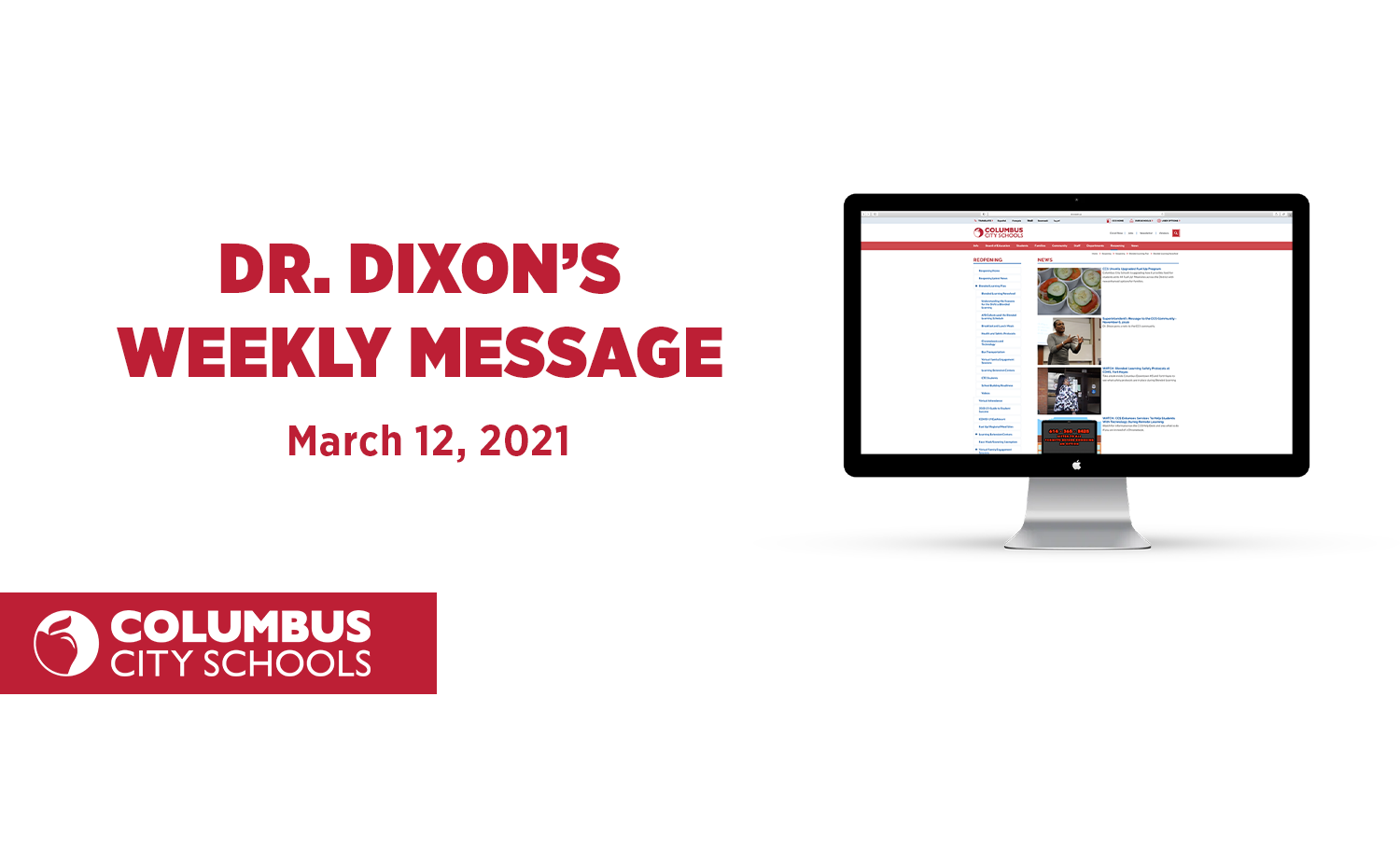 Dear CCS Families,
It was one year ago today, March 12, 2020, when Ohio Governor Mike DeWine announced the statewide closure of all schools, grades K – 12, due to the onset of the COVID-19 pandemic. As I reflect on that date, I think of three valuable lessons learned from the past year.
The first lesson came from a colleague who shared with me that the virus was in charge initially, not me as the Superintendent of the largest school district in the state. The sooner I accepted that fact, the sooner I could mobilize the leadership team. After that March announcement, I was so proud that it only took three weeks for the CCS curriculum team to figure out how to get lessons to nearly 50,000 students virtually.
The second lesson I share is never underestimating the power of partnerships. The leadership team worked diligently with our community partners to support our students and families. The City of Columbus provided $7 million of CARES Act funds so that we could purchase 20,000 Chromebooks for our students. We then discovered many students still couldn't connect electronically with their teachers not because of infrastructure capabilities but because of Wi-Fi affordability. Once again, our partners helped us get 4,000 Wi-Fi "hot spots" so our students and families could access their lessons remotely.
In the last year, we've seen area businesses and churches open their doors to our students by creating Learning Extension Centers. These are safe places for our students when their parents or guardians had to return to work and didn't feel comfortable leaving their children home alone.
The third and final lesson is don't be afraid to share if you don't know the answer. Share what you do know in an open forum. Our weekly Virtual Family Engagement sessions effectively provide that information and have ongoing engagement with our students, families, and community members.
It was equally important to listen to the doctors, nurses, and scientists. The science and medical knowledge helped us figure out how to help our teachers, staff, and students continue with their education even during a historic pandemic; figure out when it is safe to transport our students and return them using a phased-in approach to our school buildings.
On February 1, nearly 11 months after the statewide stay-at-home order, we did it. We safely returned our first large group of students, our youngest learners, students with identified complex needs, and Career and Technical Education (CTE) students to their classrooms for blended learning.
Next Monday, we begin the return of our middle and high school learners, and by March 22, all grades PreK – 12 will be back in their classrooms for blended learning.
Blended In-Person Learning Grades 6 - 12
Here are the dates for the phased-in transition of our students in grades 6-12 to blended learning:
Students in grades 6, 11, and 12 will transition to blended learning starting the week of March 15; and

Students in grades 7, 8, 9, and 10 will transition to blended learning starting the week of March 22.
Remember, your child needs to bring their fully charged Chromebook with them on the days they are in school. Remind them about their masks. They are mandatory on school buses and in school buildings. Please visit the Blended Learning Hub on our website for more information. There are many videos and a wealth of information to help you safely transition back to the school classroom after a year.
Summer Experience
I highly encourage our families to consider enrolling their students in our Summer Experience. The program will provide enriching experiences for all students in PreK through 12th grade. It is an outstanding opportunity for students to accelerate or recover credits. The need for a rich summer experience is critical now more than ever.
Visit our CCSSummer.org for more details or log on to your Parent Portal to sign up.
Senior Fest to Celebrate CCS Class of 2021 Starting Wednesday|
Senior Fest 2021 is more than an event - it is an experience and celebration of our seniors as they prepare for graduation. The kickoff to the celebration is this Wednesday, March 17, starting at 1:00 p.m. on Zoom with the Live Senior Fest 2021 Virtual Celebration, hosted by our seniors. This seniors-only event will feature live music, special giveaways, special guests, and in-the-moment voting for a CCS Senior Fest T-shirt contest winner. Make sure to tell the seniors you know to sign up for the event.
Women's History Month
To celebrate Women's History Month, we continue to showcase the women in our District, including students, staff, teachers, and principals. Women have the power to change the world. I encourage you to read these inspiring and encouraging stories about some of these women making a difference in Columbus City Schools.
While we continue to strive for some normalcy, one thing is certain. We can't go back to the way it was before this pandemic. We have learned too much. The technology and remote access have revealed so many opportunities and provided unique ways to engage students and families virtually.
The City of Columbus and our partners have embraced our students and families. Students see and feel that support, which is a great motivator to succeed in the classroom and the community. Let's work together to keep up that momentum.
Sincerely,
Talisa Dixon
Superintendent/CEO, Columbus City Schools