Return to Headlines
Superintendent's Weekly Message - April 30, 2021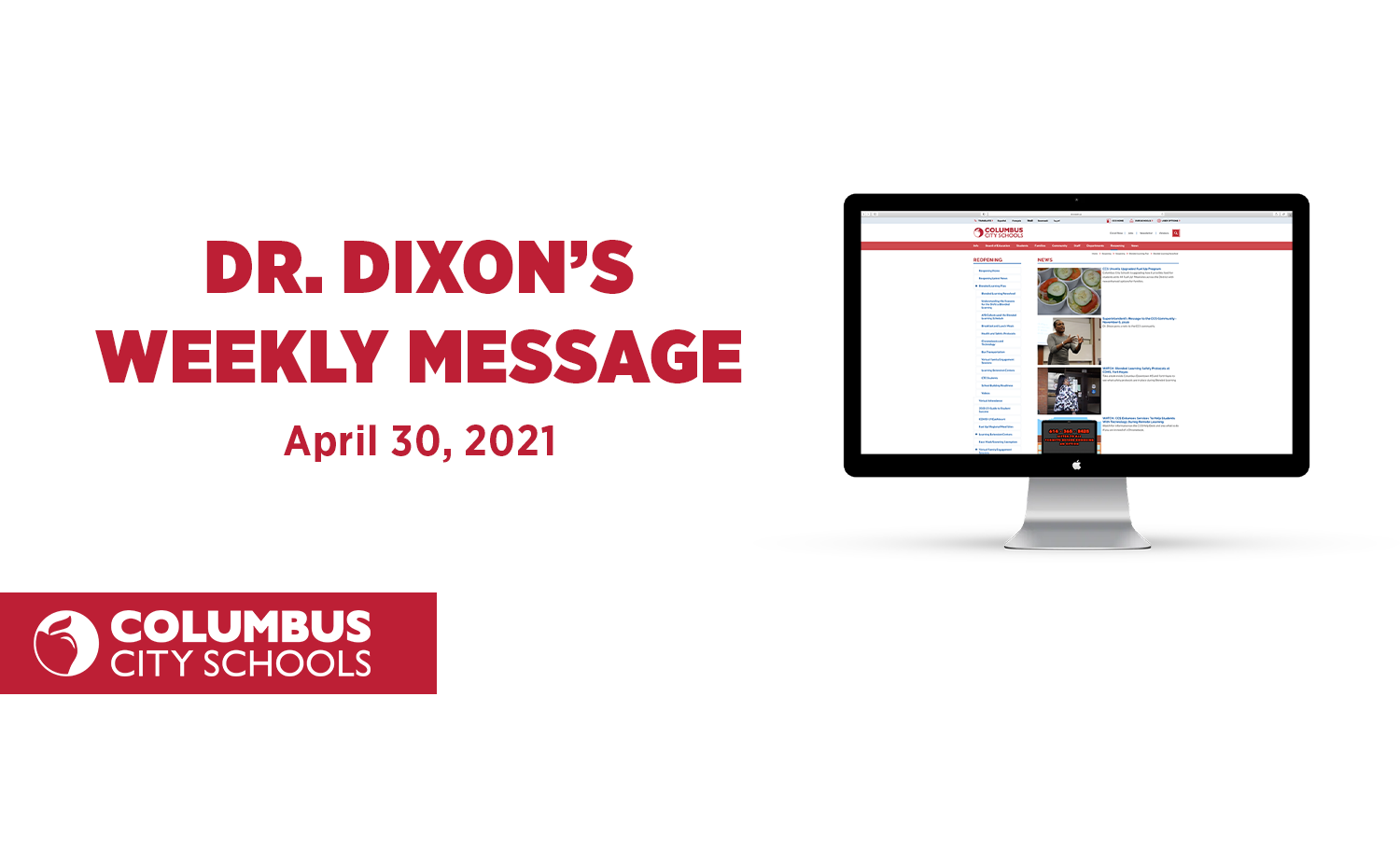 Dear CCS Families,
I have said many times that our Columbus City Schools students cannot be what they cannot see. This week, we held up the mirror for our students and showed them several examples of opportunities and success. All of these opportunities symbolize our mission at CCS: each student is highly educated, prepared for leadership and service, and empowered for success as a citizen in a global community.
Historic Partnership
For the first time in the District's history, we have a partnership with a Historically Black College or University (HBCU) in Ohio. That partnership with Central State University has resulted in three full-ride scholarships for Class of 2021 graduates, Anutee Tyler (Columbus Africentric Early College), Denzel McCoy (Walnut Ridge High School), and Kapri Dawkins (Independence High School and Columbus Downtown High School).
From my personal experience attending an HBCU (Mississippi Valley State University), these seniors will have a new circle of support when they attend college, where they will be nurtured, mentored, and supported all four years. This partnership with Central State creates a pipeline for our graduating seniors in the Class of 2021 and beyond.
Students Leading the Way
At the heart of the District's vision and priorities will be the concept of "students leading the way." Every decision we make and the initiatives we put forth will keep students at the center of our work. They will be engaged in the process and help shape the opportunities we offer them. Students must have a voice in our District and be active participants in determining the outcomes we strive to achieve. Our students will lead Columbus City Schools into the future.

The Portrait of a Graduate is the District's "north star" that ensures we prepare students for success, now and in the future. The Portrait is a collective vision that articulates our community's aspirations for every student in Columbus City Schools. Our Portrait of a Graduate will serve as the educational vision for our schools, bringing our community together with a shared purpose.
Facilities that Match Our Vision
Creating a vision for our students goes hand in hand with the vision of our school buildings and what they should look like. The Facilities Master Plan (FMP) Committee just completed round one of the regional community conversations. These were virtual meetings where members of the community within each of our six regions met virtually and shared ideas on how to shape the future of our schools.
Community input is critical to this year-long endeavor. It ensures the FMP process is transparent and equitable. On Wednesday, April 28, the FMP Committee met to share what they have learned so far from the community.
Next month, another round of regional community conversations will get underway. If you have not registered for a community session, I encourage you and your high school students to participate. Look for more details on how to register soon.
A Summer to Remember
If you have not registered your student for the CCS Summer Experience, please sign them up today. We have six weeks of programming for all CCS students, grades PreK through 12, that is unique and innovative. Most of all, it's free for all CCS students; breakfast and lunch are provided, and so is yellow school bus transportation for elementary and middle school students.
We offer adventure camps for all grade levels at our Spruce Run Nature Center, credit recovery courses for high school students, and middle school students can learn about the world of gaming, robotics, and fashion. First-year high school students, sophomores and juniors can play golf or sign up for wall climbing, and in six weeks this summer instead of a full year, receive credit for PE 1 and PE II which is required to graduate.
Partnerships with COSI, Franklin Park Conservatory, and the PAST Foundation at OSU promise our students a summer to remember. Just over 3,000 students are already registered. I encourage you to allow your child to experience this wonderful, enriching educational opportunity. To register your student for the 2021 Summer Experience, log onto the CCS Parent Portal, click the "More" tab, and then click "Summer School" under Quick Links.
This week, I saw so many examples of our students achieving success in several arenas here at CCS. Many of our students have not been deterred by this pandemic. That includes the Fort Hayes Dance Ensemble. They have produced a year-end dance performance made into a film called "The Afterglow." The film will be played at the South Drive-In on Thursday, May 6, at 9:00 p.m.
Thank you, families and loved ones, for allowing your children to call CCS home, a safe place to learn, grow, lead and succeed.
Sincerely,
Talisa Dixon
Superintendent/CEO, Columbus City School