Return to Headlines
Parsons ES Students Experience Virtual Field Trip To Spruce Run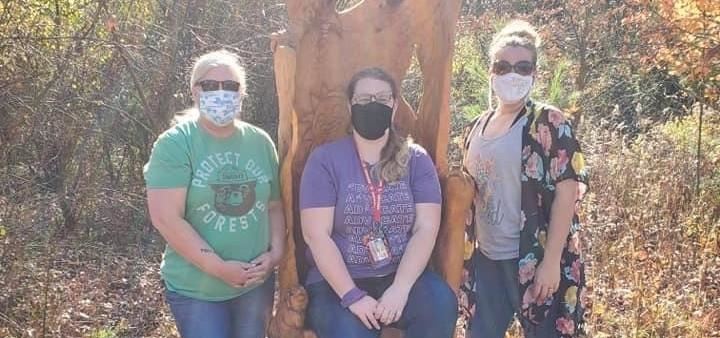 November 24, 2020 -- Parsons Elementary School Special Education Teacher Ashley Luedeke has learned what many District teachers are doing these days: Rising Up and finding a way to engage students despite the pandemic.
"I planned a field trip to the District's Spruce Run Education Center," said Luedeke, who's been teaching special education at Columbus City Schools (CCS) for four years. "Since my students are all learning remotely, I used technology to make them feel as if they were really on the 50 acres of land near Hoover Reservoir."
With Luedeke's teaching assistants Bethany Smith and Marcie Clark, they hiked the woods of Spruce Run and waded through creeks. Geri Granger, the Pre-K through 12 Environmental Coordinator at Spruce Run Education Center, was the guide for this field trip.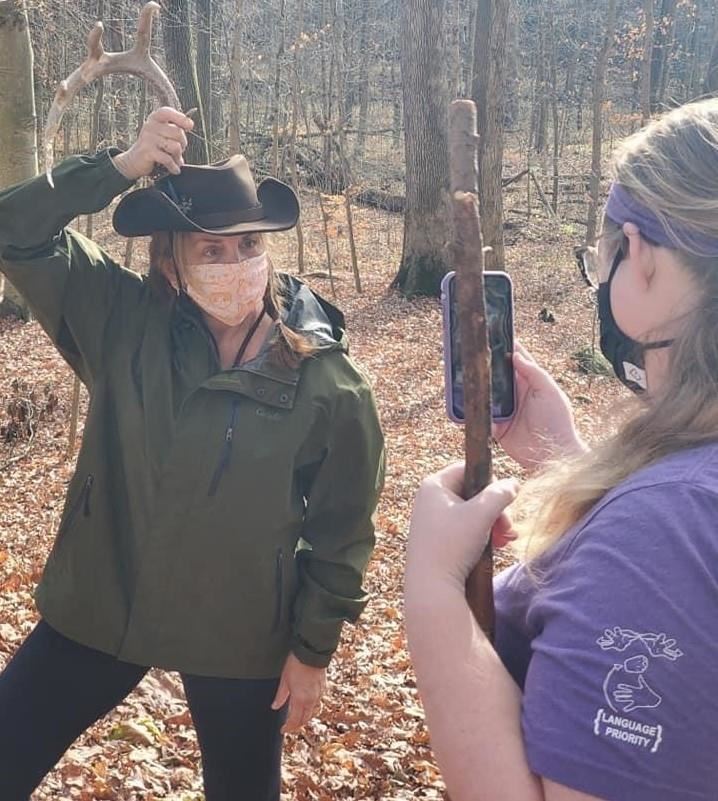 "Outdoor experiences are best when you get to experience them firsthand, and it breaks my heart that we have such an over the top fabulous facility, and it can't be used right now," said Granger. "Hopefully, the students, see, hear, and feel my enthusiasm, making it as real as it can be for the times we are in."
Wearing a safari hat and hiking boots, Granger dug through the fall leaves, showed the students moss, acorns, and even a deer antler. While trudging through the stream is nothing new for Granger, what she caught and showed to the students was a first for her.
"She caught a crayfish with her bare hands," said Luedeke chuckling. "Geri was so excited because she had never done that before."
As fun as it was to show off this crayfish, Granger put it back in the stream and returned the moss and acorns to the trail where she found them. "Of course, this field trip was fun, but there was a lesson too," said Luedeke. "Some things in nature belong right where we found them. It is not our place to take things. It's our place to preserve nature."
This teacher hopes this virtual field trip to Spruce Run brought a little normalcy to her students, who range in age from 7 to 10 and have multiple disabilities. Using technology in the woods was not a heavy lift. "I'm in my 20's, so using technology is what I do every day," Luedeke. "At school, I'm the unofficial technology person, and I use Zoom to keep in touch with my family in Florida, Tennessee and other parts of Ohio."
When Ashley Luedeke was in college, she initially thought she wanted to teach Chemistry. Near the completion of her studies, she began to question that path. "I was learning sign language because my sister has Cerebral Palsy," said Luedeke. "That's when I decided on special education. It just seemed like the natural thing to do."
Pandemic or not, planning more field trips is also something this special education teacher will do. So far, Mrs. Luedeke's class has already been on two virtual field trips to the Columbus Zoo and Spruce Run Environmental Center. This Parsons Elementary School teacher is hopeful there will be more to follow.
A video of Mrs. Luedeke's Field Trip to Spruce Run can be found by clicking here.