Return to Headlines
Bus Drivers Conduct Safety Seminars for National Bus Safety Week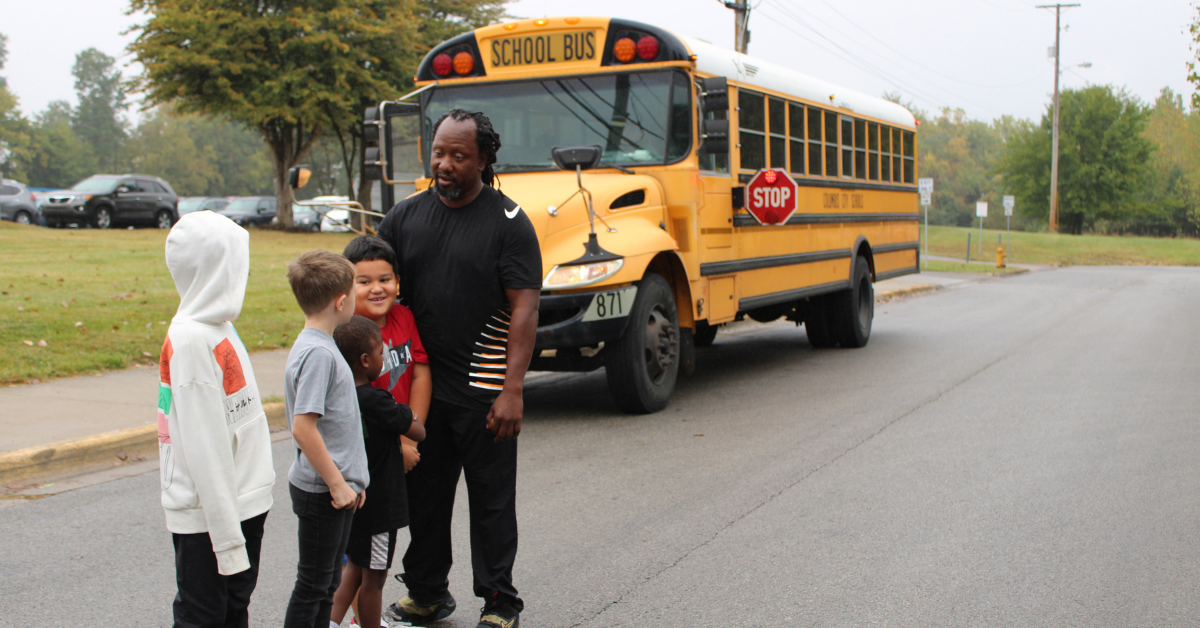 October 18, 2023 – Monday morning at Innis Elementary School started off the same as usual. Eager students arrived by bus, parent drop-off, or on foot, ate their breakfast, said good morning to their teachers, and grabbed their work to begin the day.
For the kindergarten through third-grade students, however, their morning was anything but ordinary. They received a shake-up to their normal schedule - the Bus Safety Seminar.
It is a requirement by the Ohio Department of Education that school bus safety seminars be conducted annually. This is to provide guidance, assistance, and training to ensure the highest levels of safety while traveling on a bus.
As the students watched an educational tutorial video about bus safety protocols and procedures, the engines of school buses rumbled and stop lights flashed just outside the school building.
In a few moments, these young learners would get to meet a bus driver face-to-face and learn the proper ways to ride the school bus.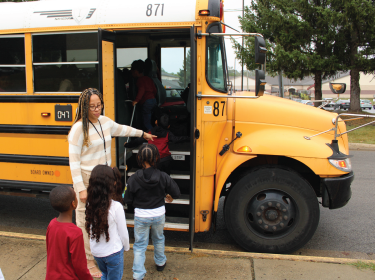 "We want to make sure that our students are safe on the bus," said Innis school counselor of 10 years, Maria Gross. "We are responsible for students' safety, and we want parents to know that we are taking all the precautions that we can to ensure their students are safe while on the bus."
The third week of October marks National Bus Safety Week. Each year, the Columbus City Schools' Department of Transportation collaborates with school counselors to further enhance the education of the whole child through these seminars.
Rodney Stufflebean, Executive Director of Transportation, shared some Bus Safety Tips for National School Bus Safety Week. These tips include behavior at the bus stop, getting on and off the bus, and even mobile devices.
Benjamin Grace III, transportation and training coordinator, has been driving buses for over 22 years. Prior to driving a bus, all drivers receive rigorous background checks and must have earned a Commercial Driver's License. They must also receive a bus endorsement from the Ohio Department of Education before they may operate a bus.
"We're the ones that get the students home safely," said Grace III, who now trains bus drivers in the proper transportation procedures l."The bus drivers will show students how to act on the bus, sit on the bus, not be too loud, and proper ways to act when approaching railroads."
Grace III expressed growing concerns about students' safety while crossing the street, urging parents to allow bus drivers to cross their students.
"Parents like to wave their child across the street," commented Grace. "This can be dangerous as students often see this and run into the street. We don't want anything bad to happen."
Taylor Slemming, a licensed school counselor at East Linden Elementary, believes students will inevitably ride the bus at some point in their journey through school, and she wants them to be prepared.
"I think it's really important that students are equipped with this knowledge and skillset," she said.
The transportation team is responsible for transporting over 44,000 K-12 students across the District, a job the staff takes very seriously.
"We're here to keep everyone safe," said Grace III.
---