Return to Headlines
District Guidance Counselor Receives High Honors from Business Community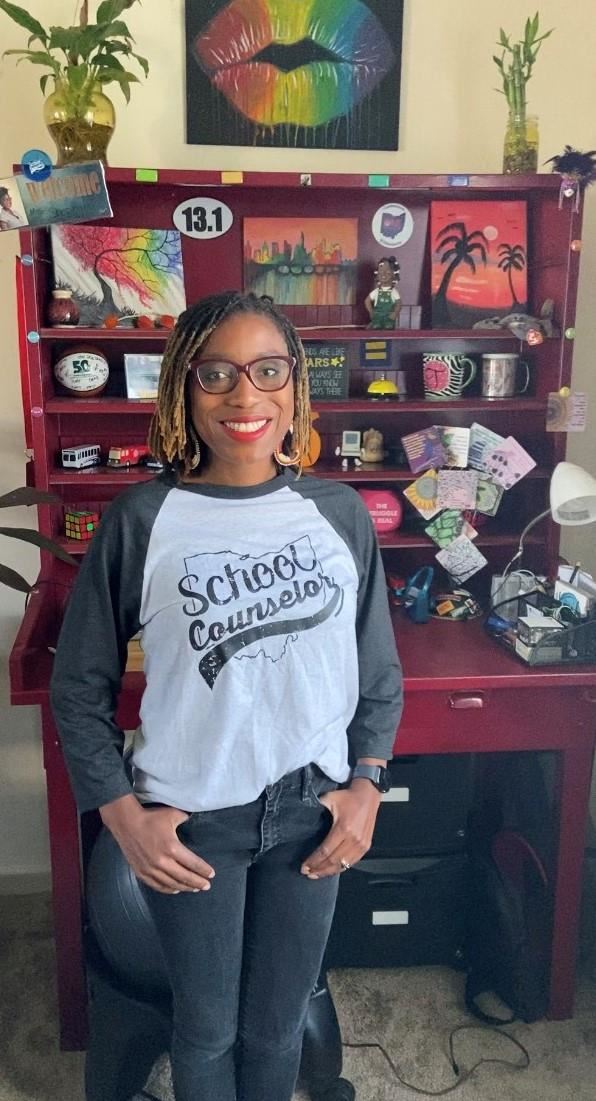 November 12, 2020 -- Taraja K. Shephard Allen, the guidance counselor at Eastmoor Academy High School and South 7-12, has been named the 2020 Educator of the Year by Central Ohio Junior Achievement.
Shephard Allen started working with Junior Achievement of Central Ohio nine years ago when she first became a guidance counselor at CCS. The very first event she planned was at Linden STEM Academy 7-12. She worked with Junior Achievement of Central Ohio to set up a business town model for the elementary school students. "The students re-created a functioning small-town community, working jobs, running companies, and even producing a newspaper," said Shepherd Allen.
When Taraja Shephard Allen became the guidance counselor at Sherwood Middle School, she continued her partnership with Junior Achievement of Central Ohio, utilizing project-based learning in the classroom. Students collaborated with their peers and volunteer mentors, who taught students about financial literacy and entrepreneurships.
The event that Shephard Allen is most proud of is called Junior Achievement In A Day. "We hosted 60 volunteers from JPMorgan Chase who put on workshops for our students," said the guidance counselor. From those workshops, students identified the product or service, its purpose and need, and then pitched the idea to their classmates, similar to what you see in the television show Shark Tank.
The day-long event was so successful, JPMorgan Chase came back a second year to Sherwood Middle School to do it all over again. "I'm always looking for ways to help my students explore various career pathways. Junior Achievement brings the business community to our classrooms," said Taraja Shephard Allen.
Junior Achievement of Central Ohio said Sherwood Elementary School was one of the first schools in Central Ohio to carry out this one-day event. "Sherwood's JA In-A-Day events have become shining examples of how to "do it right," as the entire school community, helmed by Taraja, worked hard to ensure that our volunteers felt warmly welcomed, especially by her incredible team of student ambassadors," Stephanie Patton, Director of JA In-Class Programs.
Junior Achievement of Central Ohio said that during the 2019-2020 school year, they worked with more than 500 educators. Still, Taraja Shephard Allen stood out because she makes learning real-life lessons a priority for her students year after year. "To be named Junior Achievement's Educator of the Year for 2020 is so humbling and unbelievable," said Shephard Allen. "I don't think I do anything different than anybody else."
Taraja Shephard Allen is currently a high school guidance counselor at Eastmoor Academy High School and South High School. With the challenges of remote learning, she remains committed to providing students with practical experiences to apply to life after graduation. "We have to make knowledge applicable, not just theoretical, to keep our students motivated into becoming lifelong learners."
Taraja Shephard Allen will receive her 2020 Educator of the Year award virtually during the 33rd annual Junior Achieve Central Ohio Business Hall of Fame ceremony on November 18, 2020, at 4:00 p.m. You can virtually join the ceremony via JA's Facebook, LinkedIn, and Instagram.