Return to Headlines
US Army Sergeant Major Michael Grinston Visits South High School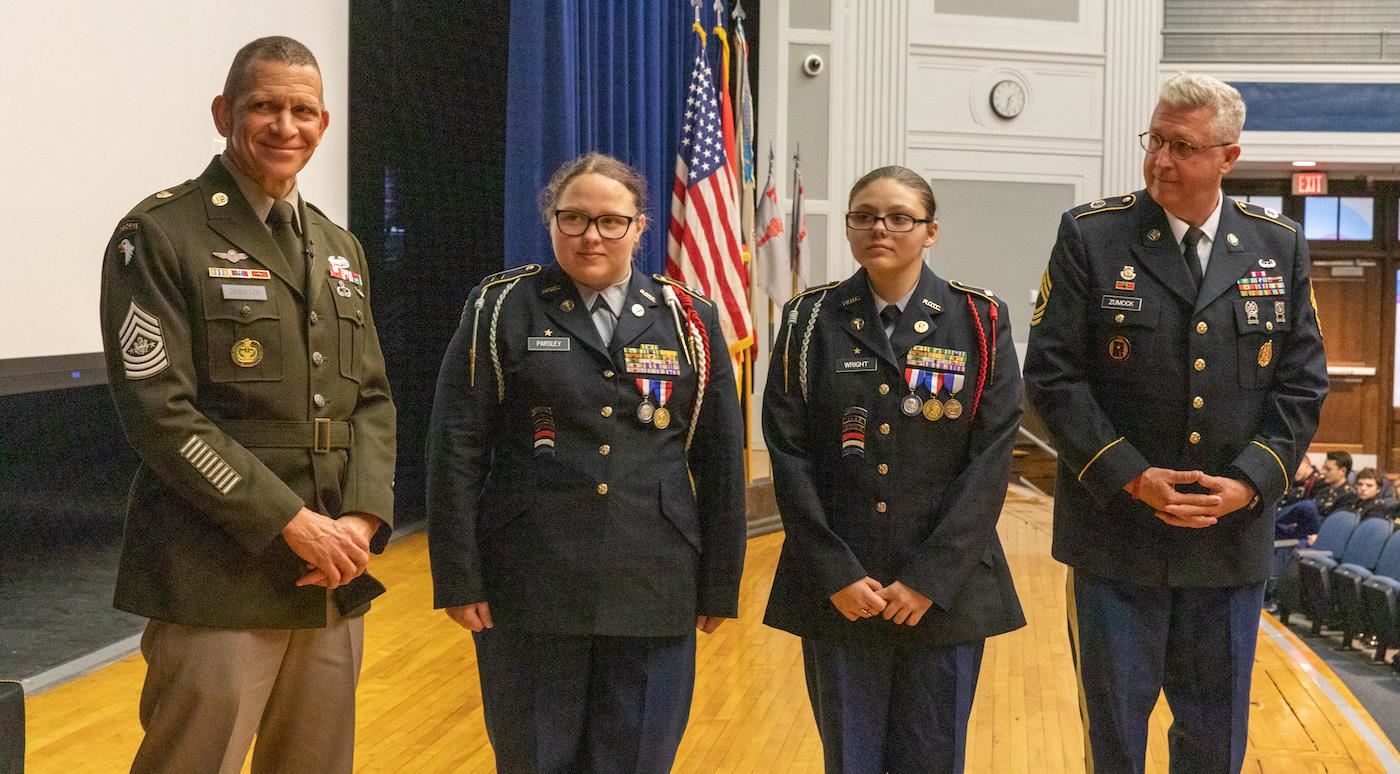 November 15, 2022 -- Veterans Day is an opportunity to honor those who have served in our nation's military branches.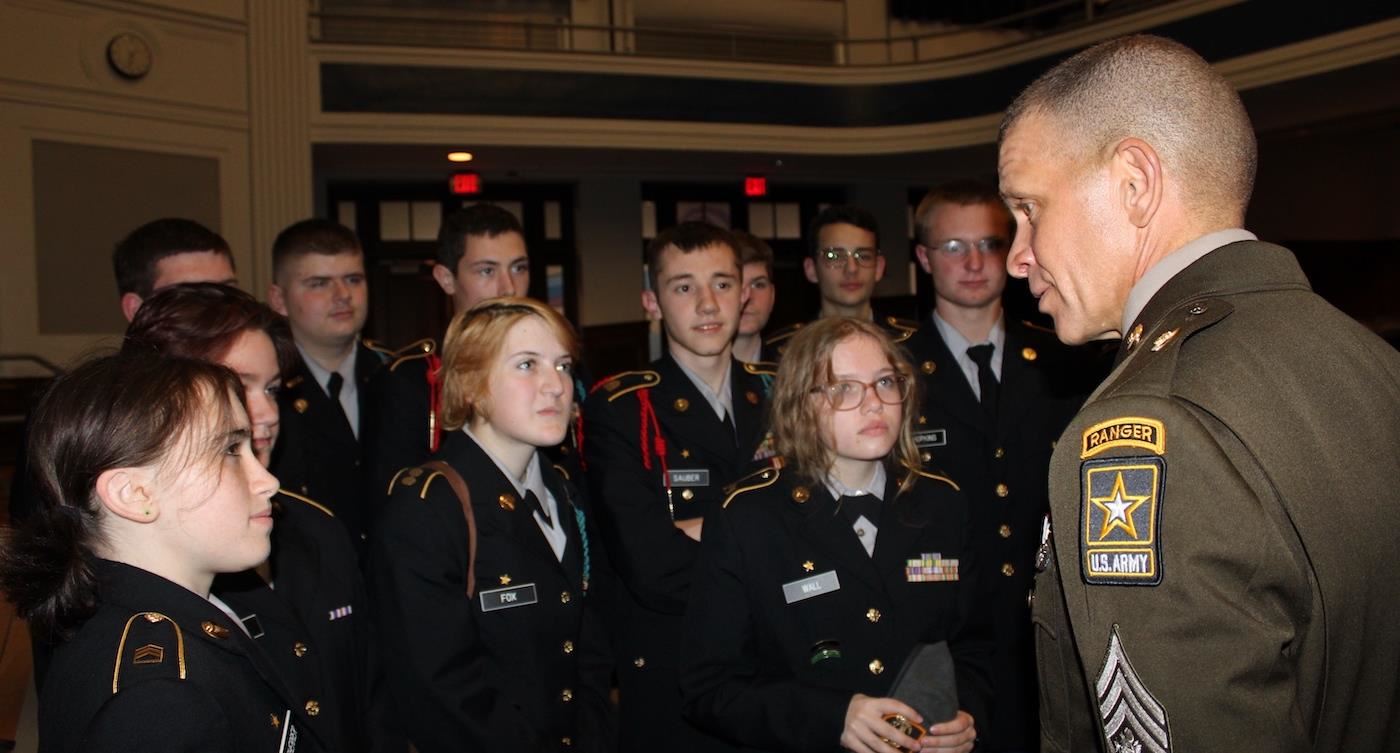 Columbus City Schools (CCS) extended a special "thank you" last Friday to those who continue their commitment to our country and community through their work.
JROTC cadets at South High School welcomed special guest Sergeant Major of the Army, Michael Grinston. Sergeant Major Grinston was the keynote speaker for the school's Veterans Day ceremony.
Grinston was sworn in as the 16th Sergeant Major of the Army on Aug. 9, 2019. He has held every enlisted leadership position in artillery, ranging from cannon crewmember to command sergeant major.
Griston's years of service in the United States Army date back to 1987. In addition to his service, he has worked with many presidents, including former President Barack Obama. His notable deployments include Operations Desert Storm and Desert Shield, Iraqi Freedom, New Dawn, Inherent Resolve, Enduring Freedom, and Kosovo.
South High School Senior Cadet Kateri Coontz-Wardia, recognized as the number one JROTC cadet in the State of Ohio for 2022, began the ceremony by delivering a Veterans Day Speech.
"Today, we honor our veterans who unselfishly place their lives on the line for our freedom. As we honor our veterans and remember their great deeds, let us also salute those who are currently fighting for our freedom," said Coontz-Wardia.
Additionally, South alum Command Sergeant Major Chambliss, Senior Noncommissioned Officer of the Ohio Army National Guard, was also in attendance. CSM Chambliss is a 1987 graduate of South High School.
This Veterans Day marks the 140th year the day is observed; originally known as Armistice Day, Chambliss shared what Veterans Day means to him.
"This is a day that we observe and commit remembrance and a day of reflection. A day set aside to honor and thank all military veterans who have served our nation both in war and peacetime," said Chambliss.
Veterans Day was initially Armistice Day, named in recognition of the 1918 armistice that unofficially ended WWI. In 1938, it became an official holiday to honor WWI Veterans.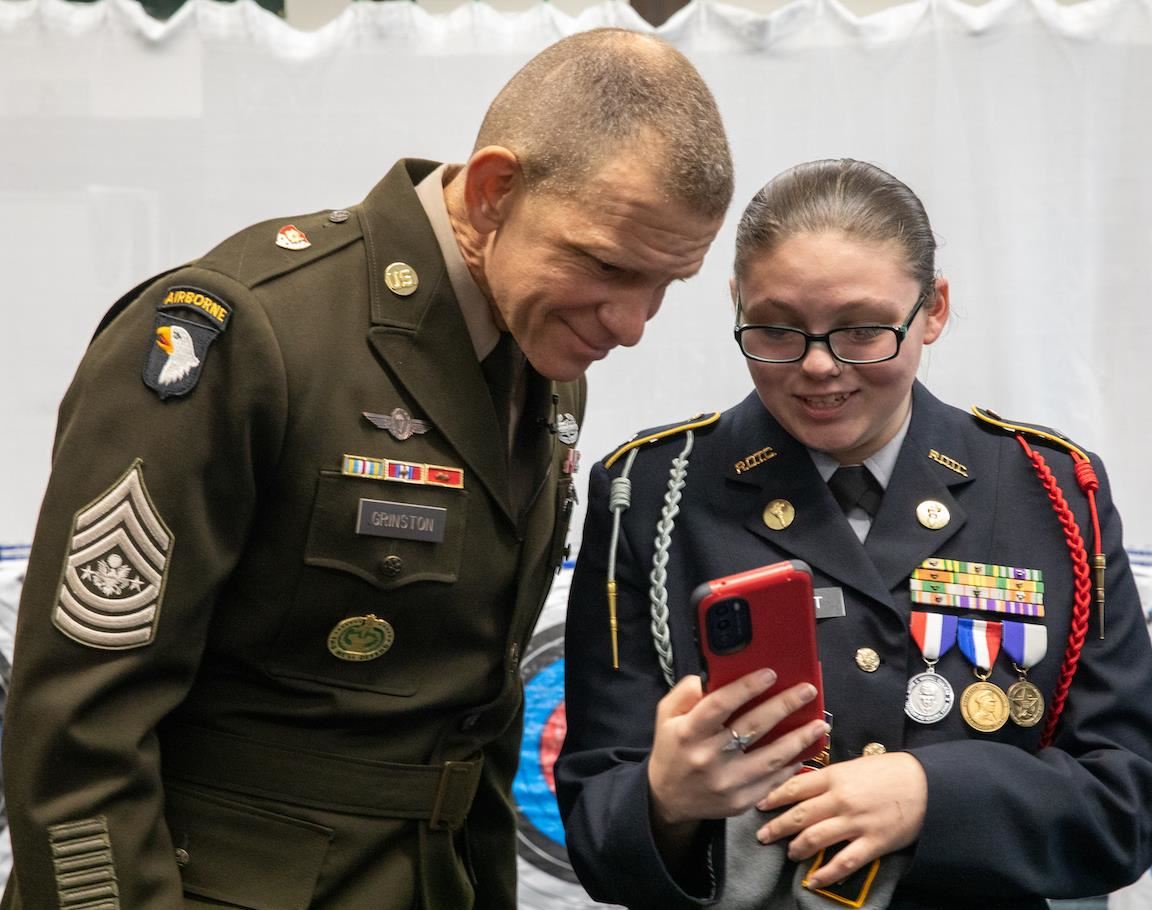 With millions of Americans serving in WWII and the Korean War, on June 1, 1954, Congress officially renamed it Veterans Day to include those who served after WWI.
Retired U.S. Army Master Sergeant Benjamin Zumock, South High School Army Junior ROTC instructor, introduced Grinston to the audience, expressing gratitude for his years of service.
"I am honored to introduce our guest speaker today," said Zumock. Of his numerous awards, the ones that stand out to me the most are his two Bronze Star Metals (BSM), awarded to him for his heroic service achievements."
Smiling, Grinston approached the podium. As he positioned himself, he spoke to the JROTC cadets about the importance of this day.
"It is an honor to be here speaking with you today," said Grinston. "Veterans Day is a day not only to remember those who died in service to our country but also to recognize those who continue to serve today."
In his remarks, Grinston reflected on how veterans are an integral part of the community, bringing their unique experiences to show great strength and courage.
"Today is a special day in the hearts of many Americans who have served," said Grinston. "Let's remember, reflect and be aware of the gratitude we owe Americans we call veterans."
---
---
After the celebration, retired Army Lieutenant Colonel and South Senior Army Instructor Paul Allmon and Sergeant Zumock showed Grinston the JROTC trophy case, located across from the JROTC classroom.
In that case, there are accolades earned by JROTC cadets during the Leadership and Academic Bowl and countless other awards.
"This is the future of America. It's not just the future of our Army. They are our future leaders of America, and spending time with these young men and women is fantastic. I couldn't think of a better place to do it than in Ohio on Veterans Day," said Grinston.
Similarly, Senior Battalion Commander Leader and Cadet Lieutenant Miranda Parsley shared her thoughts surrounding the Veterans Day celebration.
"Celebrating Veterans Day at South provides the opportunity to learn more about honor, commitment, citizenship, and placing others before self. Our school values the veterans' service within our communities and their families," said Parsley.
---