Return to Headlines
Honoring an East High School Music Legend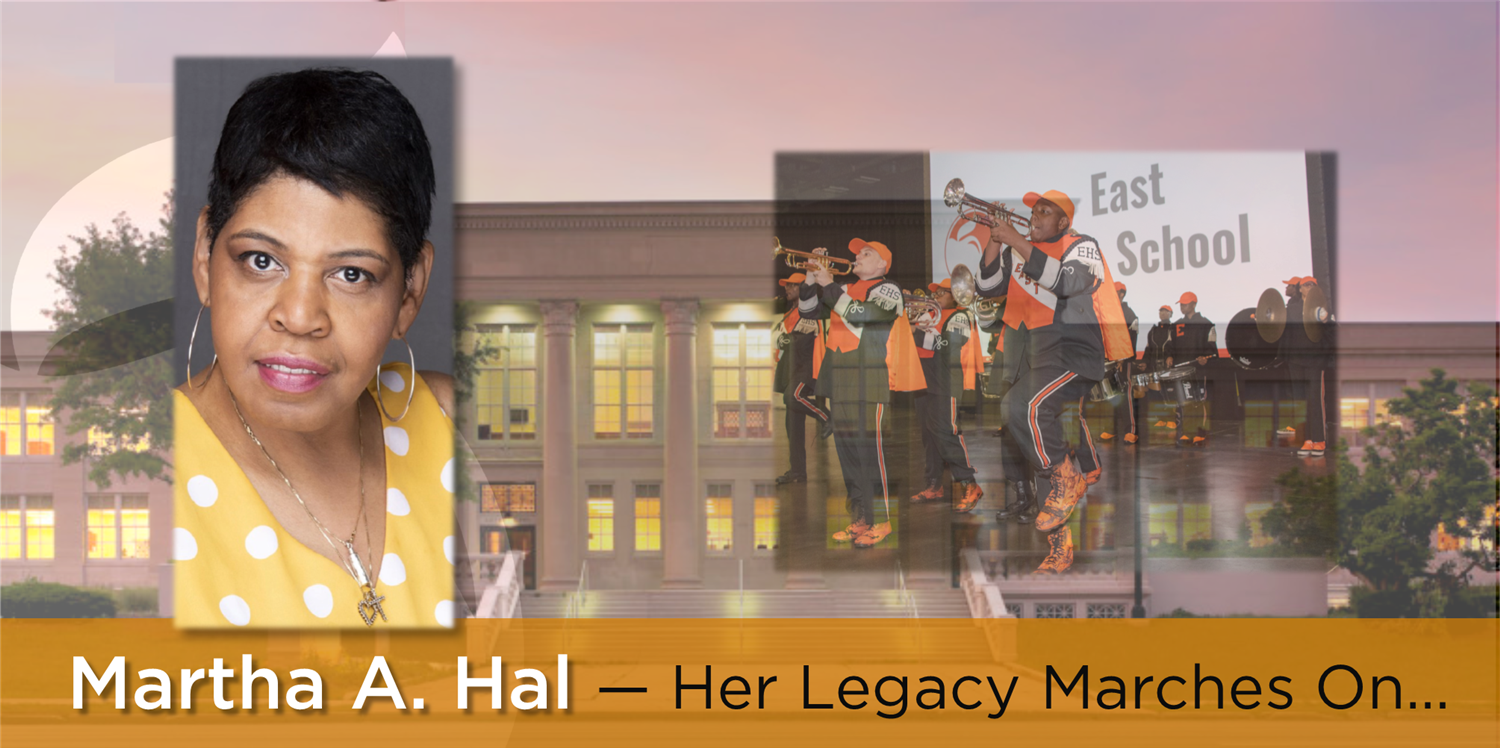 February 5, 2021 -- Even though Martha Hal held several positions from music teacher to assistant principal at Columbus City Schools (CCS), she is most fondly remembered as the Band Director of East High School, a post she held for 11 years before pursuing a career in administration with the District.
"She made the band at East High School what it is today," said Marcel Reeder, assistant band director at East. "She was so much more than a band director. She was a mother and a mentor to so many East High School students. She was also one of my closest friends."
Martha A. Hal died late last month. In September of 2020, Ms. Hal, the assistant principal at East HS, had a heart attack. Marcel Reeder was by her side administering CPR until medics arrived. "I spoke to Ms. Hal two weeks ago," said Reeder. "We shared band stories, and the last thing she told me was to stay strong."
"Our friendship started nearly 40 years ago when we were marching in the Jackson State University Marching Band, the Sonic Boom of the South," said Samuel Richardson, a music teacher at Columbus Alternative High School. "Never would I imagine Ms. Hal and I would be working in the same school district a thousand miles away from our southern roots in Alabama. It was an honor to follow in Ms. Hal's footsteps as the band director at Columbus East High School. She made me a better teacher and a better person."
1999 East High School graduate Brandy Avery concurred and said that Ms. Hal was a woman of great presence. "She made me the woman I am today," said Avery, who is the co-CEO of Keys to Black Wealth, a multi-media and edutainment business. "Ms. Hal helped transition young girls into young women. I was co-captain of the drill team my senior year of high school. Ms. Hal demanded excellence every time, not just some of the time."
Avery's friend and former captain of the flag corps, Izetta Thomas, said that Ms. Hal was about inclusion. "It didn't matter that we were on the drill team. We were all part of the band to her," said Thomas, a behavior specialist coordinator with the Department of Early Childhood Education at Columbus City Schools. "Ms. Hal brought the HBCU band culture and flavor to East High School, and that's exactly what we needed. She changed all the routines for the band, dance team, drum majors, and drill team so that we embodied the spirit of the bands you see at Historically Black Colleges and Universities. Every home game began with a parade to Harvey Field from East High School, not just the homecoming game. Every single football game, there was a parade, and the entire east side community lined the streets to watch."
Even the track coach took notice. "Before Ms. Hal came to East, no one wanted to be in the band, and the uniforms were a white t-shirt and black pants. That all changed after a few years with Ms. Hal. The students had colorful uniforms and performed routines," said Saradhi Narra, a chemistry teacher with the Columbus City Schools online Digital Academy. Mr. Narra and Ms. Hal began working at East High around the same time. "My fondest memory was a school assembly about 20 years ago at East. Everyone, students and teachers were packed into the auditorium, and it was noisy even when the principal was speaking. Ms. Hal walked onto the stage and silence. You could have heard a pin drop. That's how much respect she had."
As we celebrate African-Americans who shaped history this month, Ms. Hal's former students reflect on a woman who they say was larger than life. "Ms. Hal didn't act like she was better than us. She honored us and told us not to be ashamed of who we were or where we came from. She did that through music."
The supervisor of Unified Arts K-12 at CCS, Dr. Betty Hill, took classes with Martha Hal at Ohio State University. Both women were earning their Masters in Arts degrees in Music Education. "Martha was a friend and colleague," said Dr. Hill. "She embodied what great music teachers and band directors do; she touched and inspired the lives of her students."
Izetta Thomas' fondest memory of Ms. Hal did not occur on the football field. Instead, it happened the Fall she began her senior year when she marched into Ms. Hal's band room office.
"My great grandmother had died, and we were about to lose our house," Thomas said. "I told Ms. Hal, I need my deposit back for the band trip and a refund on my drill team uniform because my family needed the money. Ms. Hal looked at me and said no. The next thing I know, Ms. Hall had called in the principal, his wife, and community members who helped my family and me that Fall. I also went to band camp. Ms. Hal said this tragedy is not going to deter the trajectory of my senior year. When I began my teaching career at Columbus City Schools in 2004, Ms. Hal was the first call I received at my new school. She called to congratulate me. I will never forget that."