Return to Headlines
The String Queens Masterclass Inspires Columbus City Schools' Young Musicians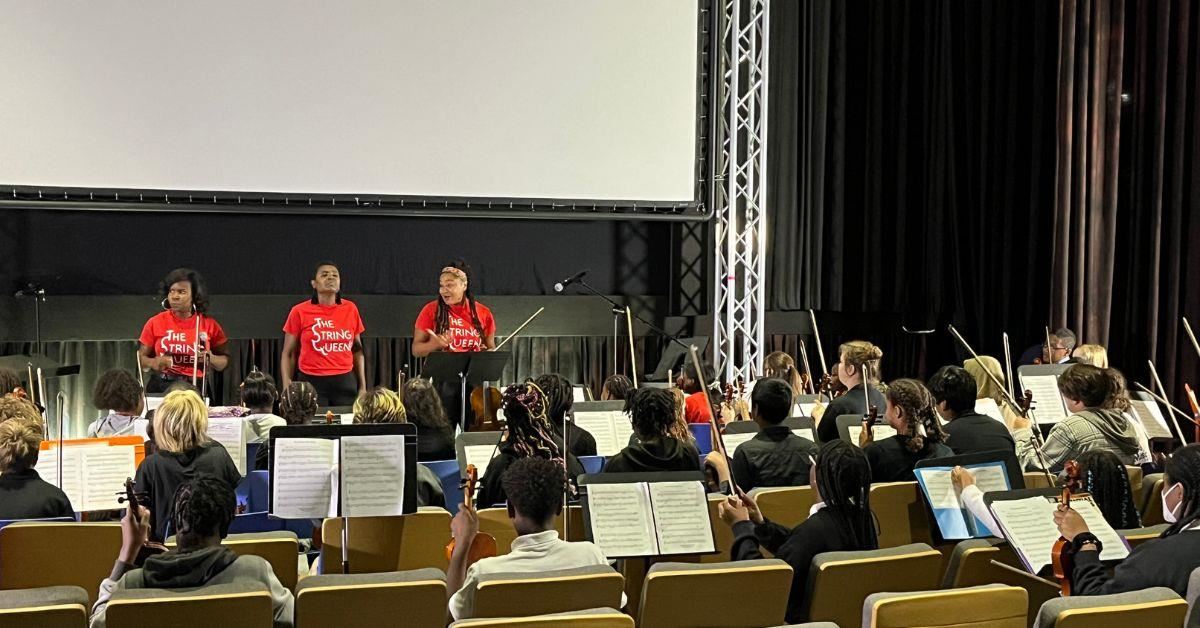 September 29, 2023 – Walking into the theater at the Columbus City Schools (CCS) Southland building, you could immediately sense the air buzzing with the captivating sound of music.
The students of CCS were in for a delightful treat as The String Queens (TSQ), a renowned trio, returned to collaborate with the Save The Music Foundation (STM), presenting their musical masterclass to students.
"The String Queens masterclass with CCS students was a highlight of the two days spent interacting with The String Queens in professional development and performance," said Unified Arts Supervisor Dr. Betty Hill. "Students in the masterclass were engaged and truly enjoyed the connection with The String Queens. The final performance was magical!"
The String Queens consists of three award-winning musicians who have garnered recognition and accolades for their exceptional talents. It comprises Kendall Isadore on the violin, Dawn Johnson on the viola, and Élise Sharp on the cello.
These remarkable musicians excel in their musical endeavors while educating students in the DC area. The String Queens have showcased their musical expertise and become prominent music education figures.
Save The Music Foundation, a nonprofit organization dedicated to music education throughout the US, arranged a special masterclass session for CCS students, offering them a unique musical experience.
Save The Music Foundation's Senior Manager of Teacher Programs, Rebecca Hof expressed the importance of such experiences for students.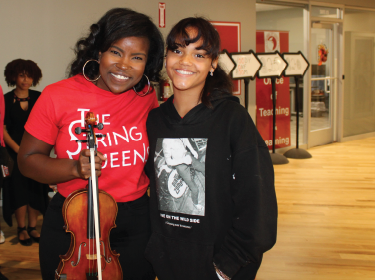 "This is our second year partnering with CCS," said Hof. "This masterclass provides students with a joyful experience that creates a sense of motivation for them to keep on playing. They're learning interpersonal skills and how to problem solve; these are the skills we want in our next generation of leaders."
Eleven CCS schools participated in this transformative experience, including students from grades 4 to 12. Eighty-six students were given the unique opportunity to connect with The String Queens, their enchanting music, and each other.
The day started with a side-by-side Master Class, where fourth and fifth-grade string players worked closely with The String Queens. The trio, known for their innovative blend of classical and contemporary music, offered students a deep dive into the world of string-playing techniques and ensemble etiquette.
The String Queens explains what sets this masterclass apart from their previous Professional Development Day (PD) with CCS.
"The masterclass was more in-depth," said Isadore. "These sessions are more interactive, where we go over what we normally would go over in our classes. The way we command attention, the way we ask for posture. We went into this masterclass as if we were in our own space. The students were wonderful and receptive and we were impressed by their skill set."
While last year's PD session provided a glimpse into concepts, this year's masterclass allowed a more profound exploration of string playing. The students and educators were thrilled to have two 90-minute interactive sessions that covered everything from posture to detailed techniques.
The String Queens commended CCS educators for their dedication and emphasized how important teachers are in shaping young musicians.
"It was almost as if we naturally taught them like we've had them since August," said Sharp. "When we can come in and work, and students are engaged, they're ready. We have to credit the teachers for showing them the proper etiquette. It was a great experience working with the students and teachers of CCS."
The String Queens' teaching approach was inspiring and practical as they guided the students through the nuances of string playing. Additionally, the students were receptive to their teaching style.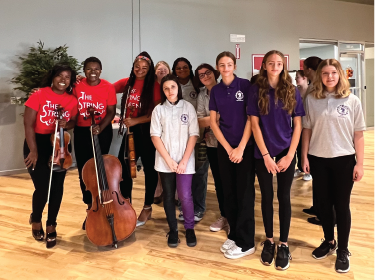 The rapport they built with each student was outstanding.
Principal Jamie Spreen from East Columbus Elementary expresses how the masterclass instilled a sense of belonging among her 4th and 5th-grade students.
"Experience changes lives," said Spreen. "Several of our students kept asking our instrumental music teacher if they really belonged there. He told them that he chose them to attend the masterclass. I don't think they will ever forget it."
Key takeaways from the masterclass included improved listening skills, grit, hard work, and a sense of community. Playing in an ensemble fosters unity, and the students experience the magic of creating music together.
"We want students to be open to the magical world of music that's happening around them," said Johnson. "You can tell, especially students coming from so many different schools, they didn't know quite what to expect. But once everyone put those bows to string, it's like, oh, we are the same. One band, one sound!"
For The String Queens, the masterclass was an opportunity to share their passion for music and instill confidence in the students. The trio believes in the power of ensemble playing, where students learn to collaborate, support one another, and create a harmonious sound together.
Following the masterclass, The String Queens came together with CCS students to take selfies and sign autographs.
"I hope the students had a great time here," said Johnson. "Learning different ways to play music and learning with other people they've never played with."
With a smile, Sharp glances over at her band sisters and proudly says, "JOY."
"I hope students take away joy," said Sharp. "We also hope teachers take away the joy of teaching music.
The String Queens' masterclass demonstrated the lasting influence of music education, inspiring and empowering young minds leaving an unforgettable impact on students and educators.
---