Return to Headlines
Superintendent's Weekly Message - June 4, 2021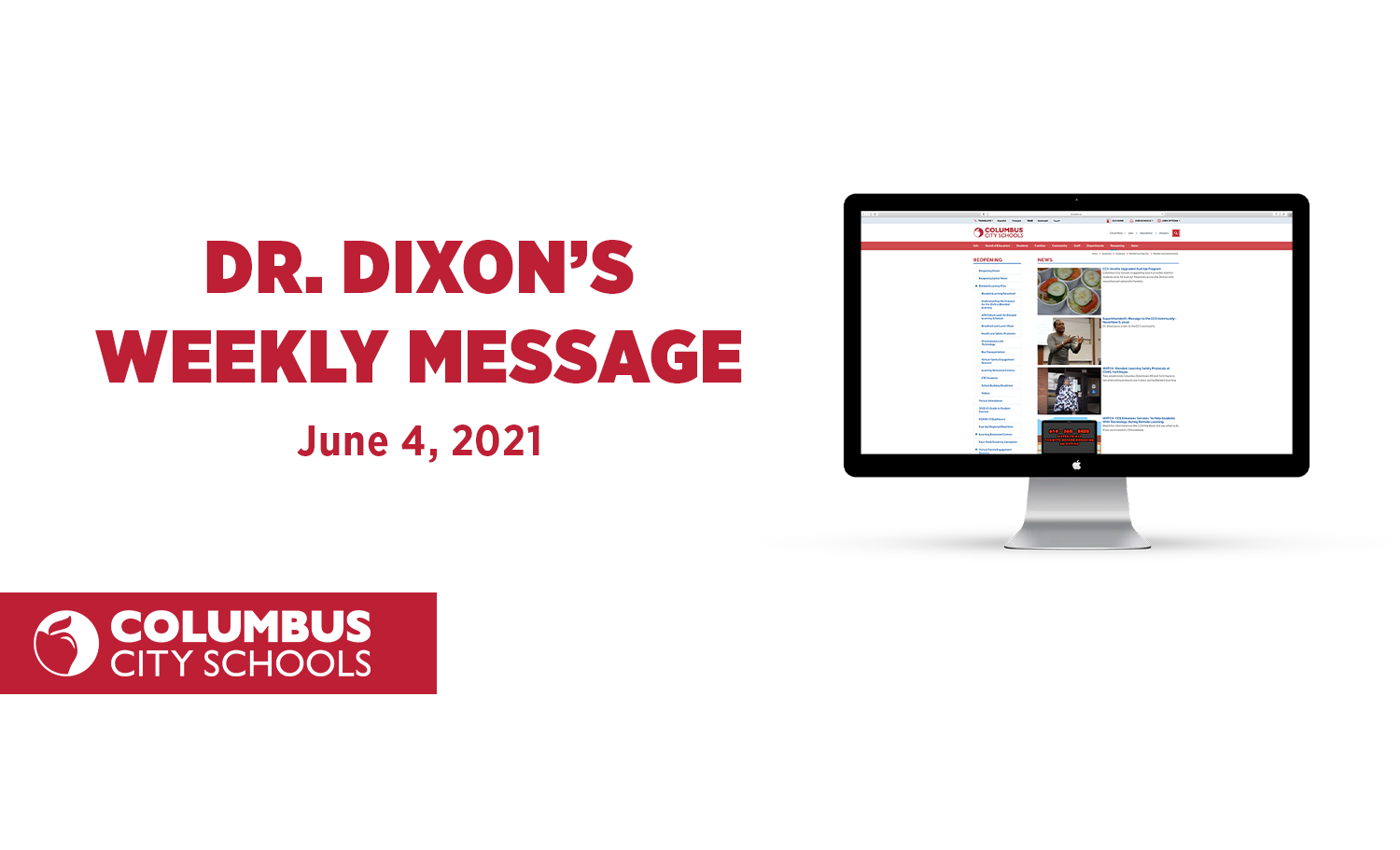 Dear CCS Community,
This week, we celebrated and honored the Columbus City Schools Class of 2021 with our graduation ceremonies which continue through Saturday. By tomorrow night, 2,146 seniors will have received their diplomas from our 19 high schools. This was not the kind of year any of us would have imagined or hoped for, but the Class of 2021 showed character, grit, and the ability to pivot in the face of unbelievable adversity.
A Look at the Class of 2021 by the Numbers
The circumstances of this past year may have prevented how our seniors learned or the physical space which they learned; it did not diminish the achievements that have brought seniors to this milestone this week. Some of those achievements include:
More than

500

seniors plan to attend more than 100 two- and four-year colleges and universities in Ohio and across the country, including Historically Black Colleges and Universities.

The Class of 2021 received more than

$46.5

million in scholarships and grants.

Twenty-seven (27)

Class of 2021 graduates earned 22 college credits while in high school.

Sixteen (16)

Seniors will attend the Ohio State University for free this fall because they were enrolled in the Young Scholars Program starting in the eighth grade.

Three (3)

seniors will receive full scholarships to Central State University as a result of a new partnership formed with the Historically Black University in Wilberforce, Ohio.
Portrait of a Graduate
While our 2021 graduates are center stage, we are also focused on our future graduates and the six pillars that will shape our Portrait of a Graduate in Columbus City Schools: Adaptability, Communication, Creativity, Critical Thinking, Global Empathy, and Technology.
Even though another academic school year has come to a close, we continue the work on the CCS strategic plan which will be launched this fall. The three priorities outlined in the strategic plan include:
Priority Area I: Whole-Child Focused -

CCS will design and implement a student learning curriculum with a holistic approach so that students find their education more relevant, rewarding, and energizing.

Priority Area II: Equitable Opportunities for All -

CCS will improve equitable access to educational opportunities so that students and the CCS community realize greater individual and collective qualities of life.

Priority Area III: Strong Learning Communities in Every Region -

CCS will strengthen a high-quality, interdependent set of learning communities so that within and among these centers of growth are reliable sources of support, identity, and hope.
We recently met with students, staff, and the community virtually to solicit feedback on the draft strategic plan. While we continue to review comments, I can share some recurring themes that have surfaced so far. Those include:
Personalizing student education, including flexibility in course offerings such as career technical curriculum.

School schedules

Engaging students of all cultures

Neighborhood and school choice
Community engagement will collectively shape this plan. The input will help us fulfill the District's mission that every student is highly educated, prepared for leadership and service, and empowered for success as a citizen in a global community.
Summer Experience 2021
While this may be the end of the academic school year for many students, teachers, and staff, it's not the end for all. On Monday, June 14, CCS will begin its innovative, face-to-face programming for more than 7,700 students in grades PreK through 12 who are registered for the 2021 Summer Experience. Some students will use the six weeks to recover credits to graduate, while other students will take courses and participate in camps for the enrichment and to accelerate their learning. High school students have until Tuesday, June 8, to register for summer courses through the Parent Portal.
In closing, thank you to our parents, grandparents, aunts, uncles, and guardians for your love, support, and guidance in helping the CCS Class of 2021 get to the finish line and helping all of our students complete this school year unlike any other.
Sincerely,
Talisa Dixon
Superintendent/CEO, Columbus City Schools