Return to Headlines
Superintendent's Weekly Message - June 18, 2021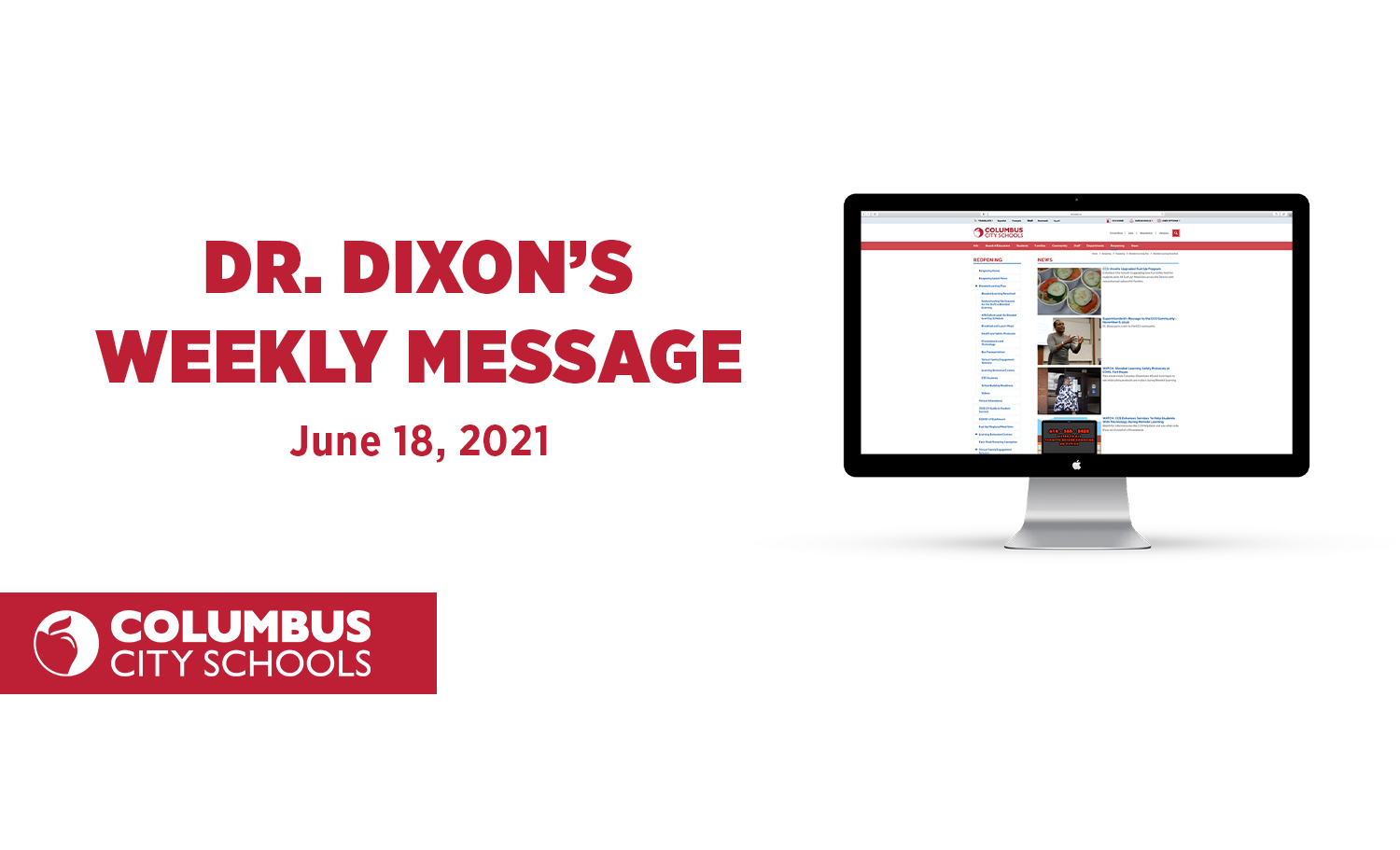 Dear CCS Community,
Being the first week after the official end of the 2020-2021 academic school year, you would think the District might slow down slightly, but that's certainly not the case. Instead, this week we are active, engaging, and productive, helping our students achieve and succeed regardless of what the traditional academic calendar reflects. This is also a time to share our plans for the new school year that begins July 29 for our District's year-round elementary school and on August 26 for CCS students on the traditional calendar.
Week One of the 2021 Summer Experience
This Monday, June 14, the 2021 Summer Experience at Columbus City Schools kicked off. More than 8,000 students are registered for unique, innovative, hands-on learning at 25 school sites and Spruce Run, the District's Nature Center. Students in all grades are using math, science, and language arts to learn everything from how to build a robot and develop a business plan to creating public art and surviving in the wilderness. Some students will use the six weeks to recover credits, while others get ahead on their general education requirements, such as PE and volunteer hours, both needed for graduation.
Helping Seniors Graduate
More than 300 seniors are enrolled in summer school for credit recovery. Currently, the graduation rate for the 2020-2021 school year is 73%, but we expect that number to rise as more seniors complete the District's core curriculum requirements this summer. The CCS summer graduation is currently scheduled for August 14.
Already Planning for the Next School Year
At the Board of Education meeting on Tuesday, June 15, we shared our 2021-2022 school year plans for all students. Masks, while permitted, will not be required in our buildings or at athletic events and extracurricular activities, where spectators will be allowed.
Due to a nationwide bus shortage exacerbated by the pandemic, a recommendation was presented to the board to change the District's current transportation model for the coming school year. The recommended proposal would provide yellow school bus transportation to all CCS and Charter/Non-Public school students in grades Kindergarten through 8. CCS and Charter/Non-Public School students in grades 9-12 would use COTA to get to and from school each day. The Board of Education will vote on these changes at our next board meeting on June 29.
Facilities Master Plan
Columbus City Schools is now in the Define phase of the Facilities Master Plan process. For this phase, the discussion will center around the last three pillars of our Portrait of a Graduate: Creativity, Critical Thinking, and Technology. Our regional community conversations begin this Monday at 5:30 p.m. I encourage you to sign up for one of these conversations as we create the vision for the future of Columbus City Schools.
In the meantime, have a joyful summer. Get out and safely enjoy the wonders of our community and wherever your travels may take you. As Superintendent, I appreciate you and all your efforts to support the whole CCS student to reach their full potential.
Sincerely,
Talisa Dixon
Superintendent/CEO, Columbus City Schools