Return to Headlines
Superintendent's Weekly Message - March 19, 2021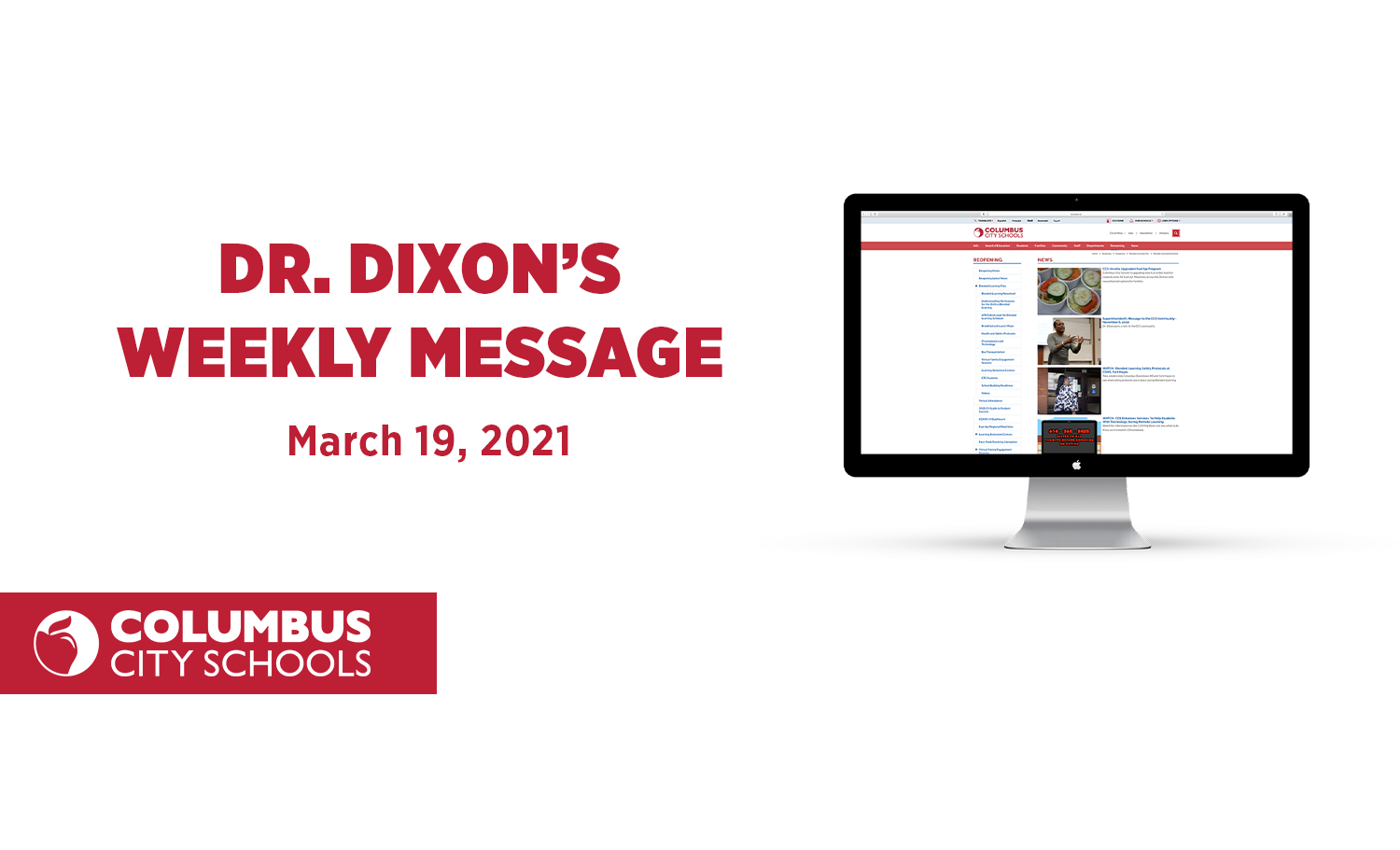 Dear CCS Families,
You know that feeling you get when you hear the doorbell ring and you see that someone has come to your home to visit and check on you? Better yet, that person on the other side of the door is bearing gifts? I was fortunate to be that person bearing gifts this week as part of our effort to celebrate our Class of 2021 graduates.
On Wednesday, we celebrated our CCS Class of 2021 with hundreds of our seniors together for our first Virtual Senior Fest Celebration. We surprised five lucky seniors with a Digital Door Delivery live during the online gathering. I surprised Linden-McKinley's Alaysha Brunner with a Donatos gift card, balloons, and an Apple iPad!
This past week marked the start of our salute to the Class of 2021. There's more to come as we celebrate our seniors and all that they have achieved.
Blended In-Person Learning Grades 6 - 12
Just as graduating high school is a milestone; the District reached another milestone this week as we welcomed back Cohort A students in grade 6, along with juniors and seniors, to blended learning. This Monday, I visited four high schools and one middle school:
Briggs High School

West High School

South High School

Marion-Franklin High School

Buckeye Middle School
On Thursday, I saw the return of Cohort B students at five more schools:
Columbus Africentric Early College

Eastmoor Academy

East High School

Fort Hayes Arts & Academics High School

Arts Impact Middle School
Students in grades 7, 8, 9, and 10 will transition to blended learning beginning next Monday, March 22.
Remember, your child needs to bring their fully-charged Chromebook with them on the days they are in school. Don't forget your masks. They are mandatory on school buses and in school buildings. Please visit the Blended Learning Hub on our website for more information. There is a plethora of videos and information to help you and your student safely transition back to the school classroom after a year.
Another reminder, next Wednesday, March 24, is Records Day. Students are not in attendance on this day.
Superintendent's Student Ambassadors
I was so pleased with this week's Board of Education Meeting, where several Student Ambassadors made presentations about their high schools and learning environments. The Superintendent's Student Ambassadors act as liaisons for their high school with my office. I meet regularly with our student ambassadors and their advisor, Mia Prewitt. The Superintendent's Student Ambassadors are leaders in our district and are invested in their CCS educational experience.
Summer Experience
Now is the time to enroll your child in the 2021 Summer Experience, which promises enriching experiences and new adventures for all students in PreK through 12th grade. Summer is an outstanding opportunity for students to accelerate their learning or recover credits. Here are some specific benefits:
Get high school course credit that includes Physical Education 1 & 2 through the Spruce Run Program. Enrolling your high schooler means they could get PE 1 & 2 credit in just six weeks.

Summer Experience promises face-to-face learning, especially for students in grades 6 - 8 who may have struggled with virtual platforms.

Reach out to your school's secretary. They can help register your child for the summer if you are having technical difficulties with the Summer Experience registration process.
I encourage our families to visit our website for more details or log on to their Parent Portal to sign up.
HBCU Parent to Parent Discussion
Columbus City Schools is hosting a virtual discussion with parents of current students who attend a Historically Black College or University. The discussion aims to help prepare parents and students as they transition from high school to campus life. The Parent 2 Parent discussion is Saturday, March 20, 2021, at 10 a.m.
Click here to WATCH LIVE.
Click here to REGISTER.
Whether out in the community or inside our school buildings, I continue to be amazed at the ongoing efforts of our educators, staff, and partners to work together for our students no matter the challenges. These are life lessons that strengthen and motivate all of us to succeed and continually do better.
Sincerely,
Talisa Dixon
Superintendent/CEO, Columbus City Schools