Return to Headlines
How Music Plays a Part in One Teacher's Everyday Curriculum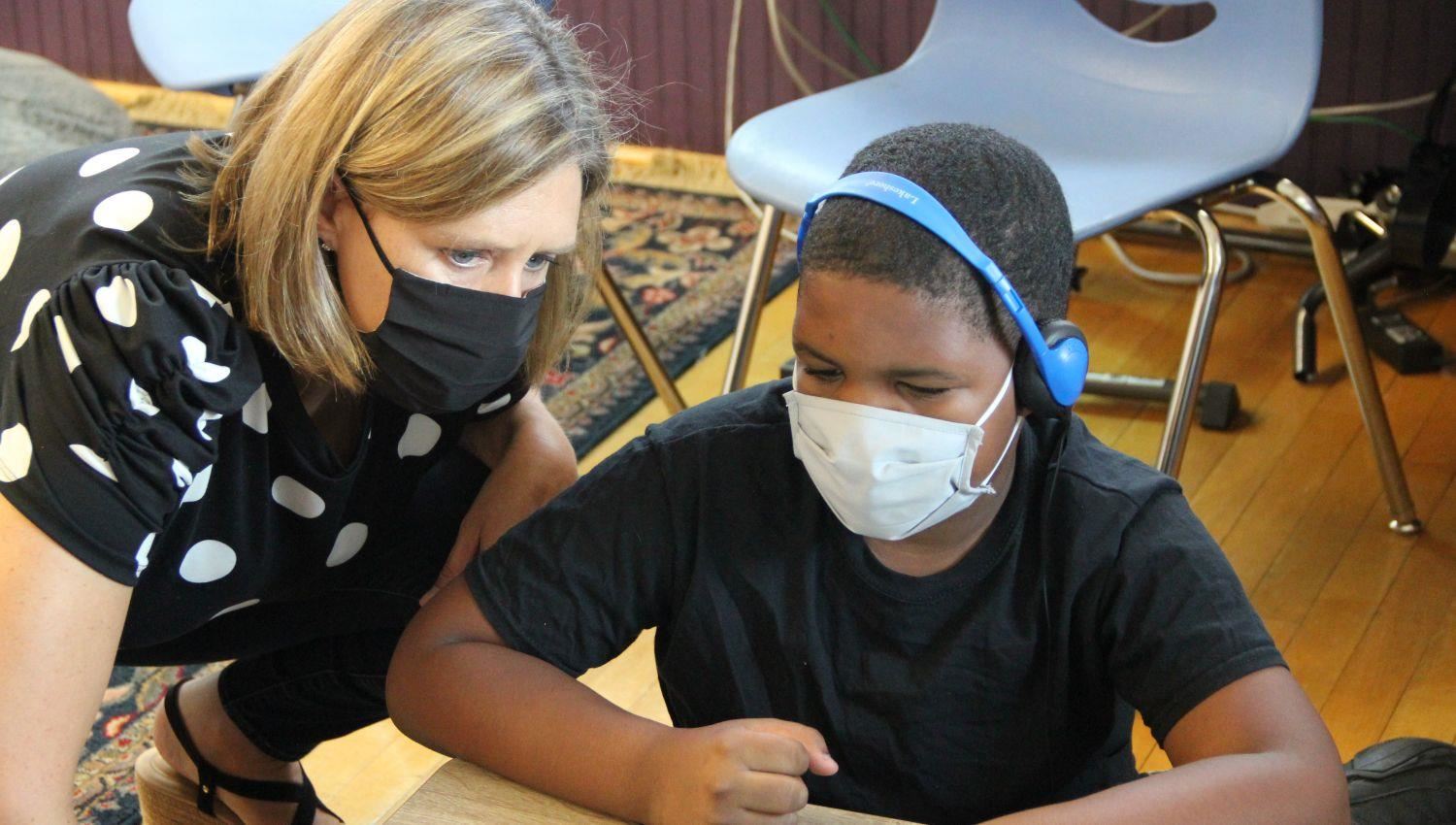 September 14, 2021 -- At the start of every school day, the fifth-grade students in Molly Youngstrom-Hagkull's class at Avondale Elementary School sit in a circle safely distanced from one another. Sitting on a carpet the teacher brought from home, it's time to start the school day with morning assignments and the guitar.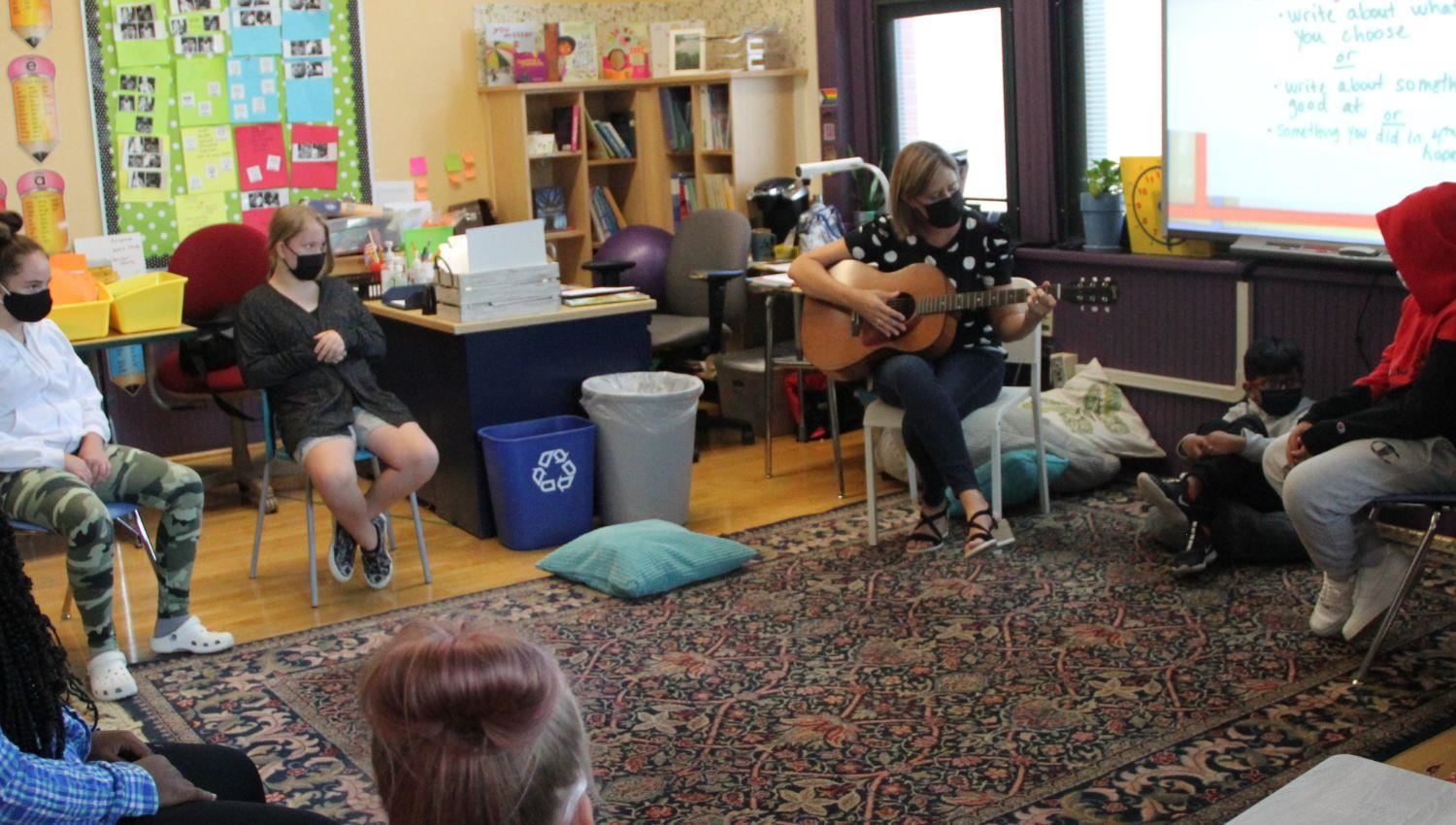 "Okay, your hands need to move during this song," Youngstrom-Hagkull reminds the students. The teacher begins singing. "I've got joy like a mountain. Let's clap this time. I've got peace by the river. I've got love like the ocean in my soul. Let's do all three; put your hands up."
Most of the students, even those hunkered down with their hoodies up, followed along, clapping their hands and fluttering their fingers. Molly Youngstrom-Hagkull plays the guitar and sings to her students every day. The guitar is part of the morning routine, which includes the day's schedule and expectations. The students perked up when they learned they were walking to the Columbus Metropolitan Library's Franklinton branch later in the week, where the students would all receive a library card to check out books.
"I like to start the day with a ritual and routine," Youngstrom-Hagkull said. "The guitar connects our classroom community and us. The students know what to expect, and that's important given the chaos we've had in the last two years. The music guides us."
Music and her guitar have always been a part of this teacher's life. She says music can get students engaged even if they aren't singing; energized, and music can calm nerves. Preparing for the start of the school year and getting her classroom ready, Youngstrom-Hagkull said she wasn't even sure if she would bring her guitar along.
"I was talking with a former student who is now an adult, and she reminded me that my guitar was her favorite part of her elementary school experience because it helped her when she was feeling down," said Youngstrom-Hagkull. "That was the moment I decided the guitar would be a permanent fixture in my Avondale classroom."
This is Molly Youngstrum-Hagkull's first year teaching for Columbus City Schools.
"I was itching to return to public school," Youngstrom-Hagkull said. "I taught public school in Minnesota and Iowa before becoming a mom. I've also been a substitute teacher, worked with families through my church, and for a non-profit, but I wanted a classroom of my own."
Even though we are only a few weeks into the new school year, Youngstrom-Hagkull is thrilled to be back in the classroom, especially at Avondale, where her youngest student is two years younger than the oldest student in her classroom. While some of her students are a little tentative, she says that the music is helping everyone navigate the new norm when it comes to social relationships.
"I realized how much I miss public school and the diversity that comes with it," she said. "There is such camaraderie and sense of community at Avondale. This is a neighborhood school. Multiple generations have been a part of this building, and that's why there is so much pride here. I love being a part of that and a large District working toward the same goals."
As students grab their Chromebooks to begin their math and English lessons, Mrs. Youngstrom-Hagkull makes the rounds and responds every time a student raises their hand. Her guitar, while silent at the moment, is always poised and ready.