Return to Headlines
Fort Hayes Student Donates to Georgian Heights for Eagle Scout Project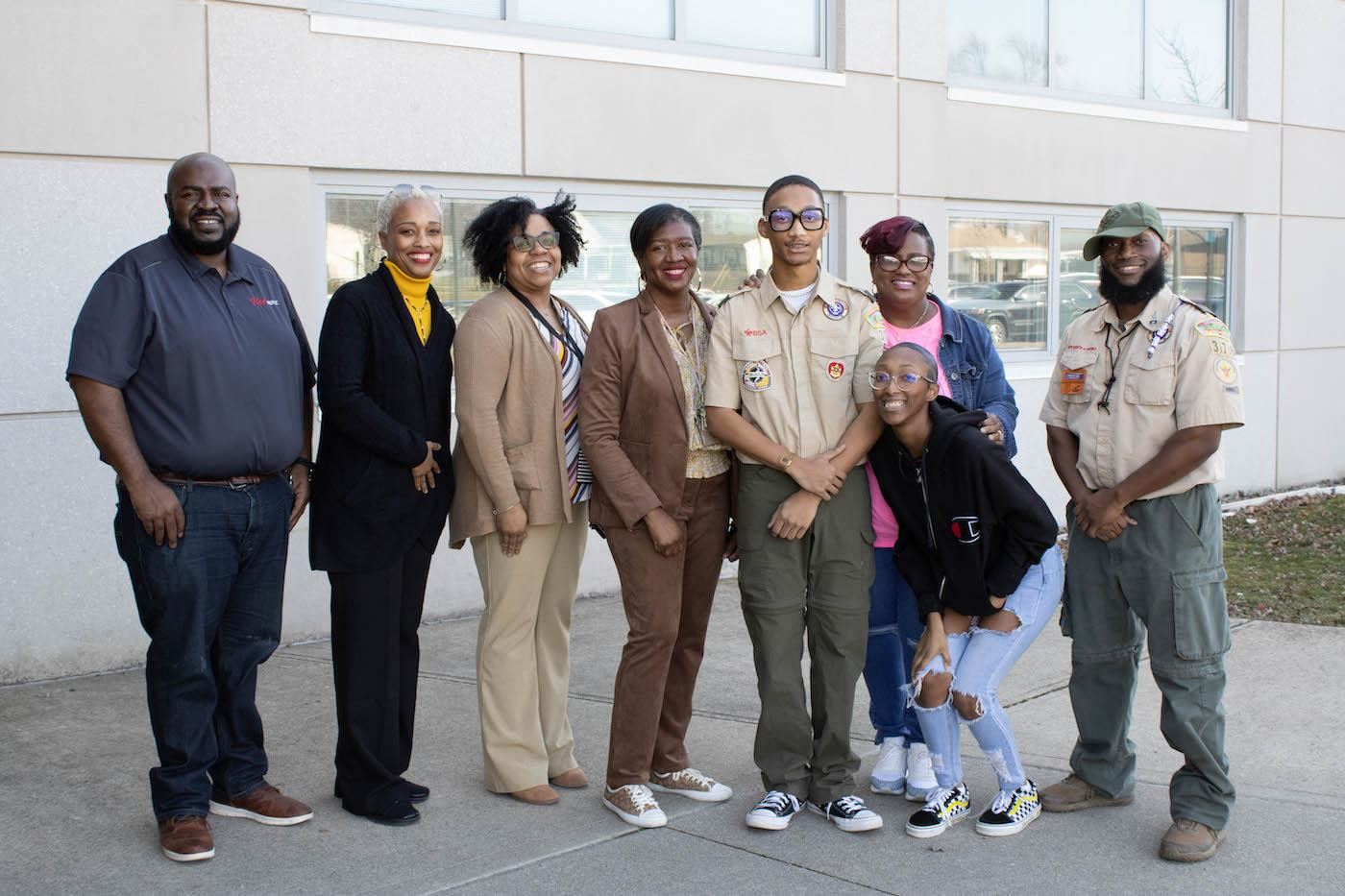 March 2, 2023 -- For a Boy Scout, there is no higher honor than the coveted Eagle Scout, the highest rank attainable by a Scout. Since the honor was first awarded in 1912, only around six percent of Scouts have earned the distinction. Fort Hayes senior Marques Scales is currently working to join that six percent, and he's uniting his community as he does it.
For his Eagle Scout project, Marques Scales collected shoes, socks, and undergarments from community members through his local church and donated them to Georgian Heights Elementary School. His mom, Nataria Scales, said she was thrilled when her son came to her with the idea.
"With the way this economy is going, we all should be working together to help each other when we can," Nataria Scales said. "Marques wanted to do something around collecting shoes for children. Once he told me his idea for his Eagle Scout project, I said, 'I've got a school you can do it for.'"
She suggested that her son partner with Georgian Heights. She first connected with the school when she ran a school supply drive for them. She introduced Marques Scales to the Georgian administration, and they were impressed by his initiative.
"Marques is a student at Fort Hayes in his senior year, and this is what he's thinking about. It's phenomenal. It makes you wonder what else he's going to come up with," said Georgian Heights Principal Nakita Smoot.
Even after the original deadline for community members to donate had passed, items continued to add up. Marques Scales said the final total wildly exceeded his expectations.
"My original goal was 50 pairs of shoes. Once I got past 50, I just kept pushing the goal up," he explained. "I passed 50, so I made the goal 100. Then, I passed 100, so I made it 150."
Overall, Marques Scales collected roughly 350 pairs of shoes and undergarments and 550 pairs of socks for the students. Lisa Johnson is the PEAK Student Support Specialist at Georgian Heights. She worked closely with the Scales family and staff members to distribute the donated items. She said that when she saw the final totals, she was amazed by the generosity of the Scales family and the community.
"We just kept telling Marques how appreciative we were that he selected Georgian Heights," Johnson said. "This is overwhelming; we're so happy."
Marques Scales has been a Columbus City Schools student since 5th grade. He said he wants to inspire younger generations of CCS students to do good in the world and work to benefit their communities.
"I felt like someone at Georgian could follow the footsteps I'm doing – becoming an Eagle Scout or just giving back to their community and caring for another person," he said. "I hope I inspired a lot of kids and adults here at the school."
Marques Scales' efforts show that students can lead the way in their communities. Smoot said she wants her students to realize Scales' impact and feel confident they can do the same.
"We're going to make sure they know what Marques did for our school," she said. "The kids can see that you can be a young person, and you can make a huge change."
---