Return to Headlines
Local Sports Trainer is Making Fitness Fun at Southwood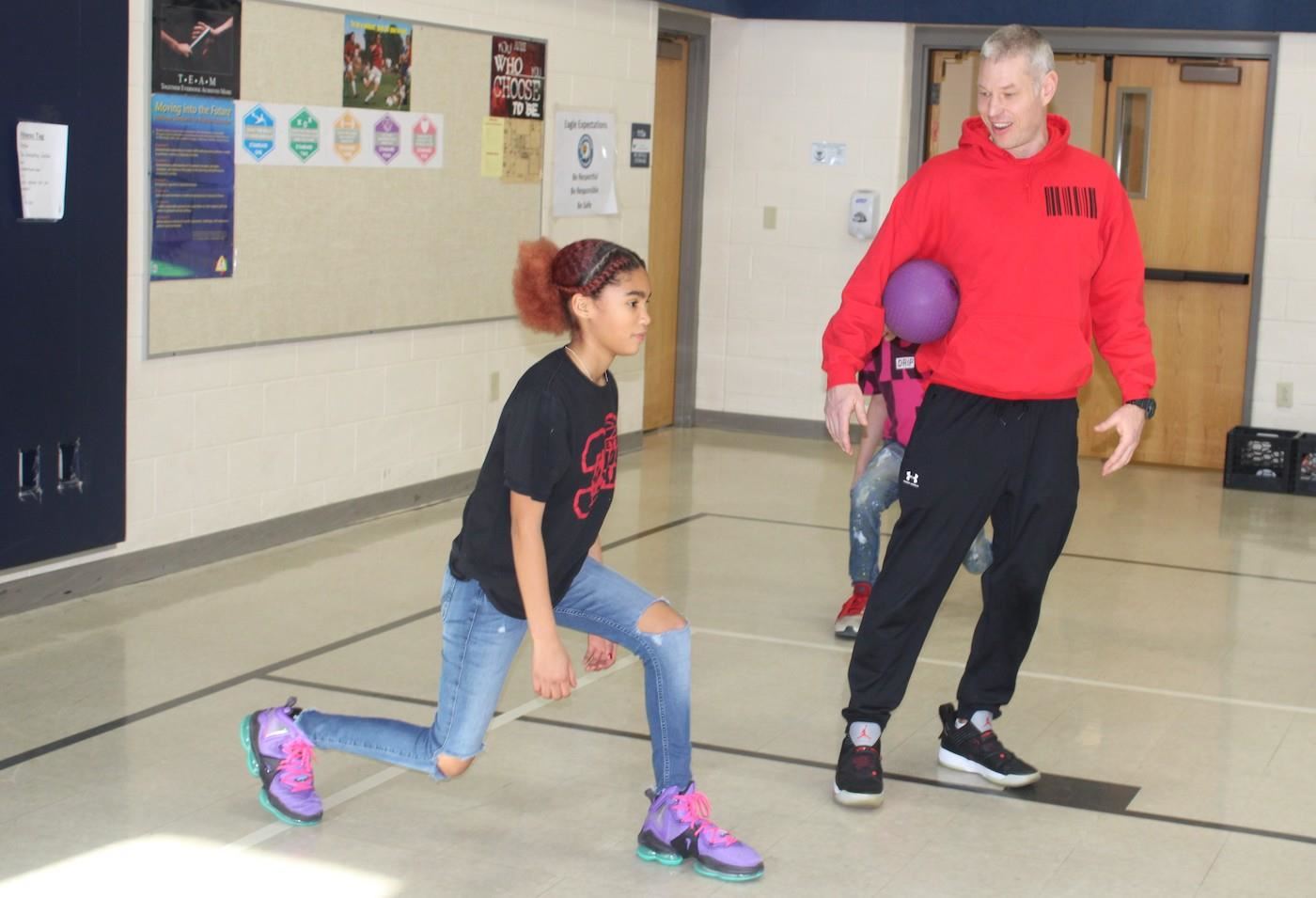 March 6, 2023 -- With a skip in his step and a heart full of anticipation, first-grade student Shakur Hansard gazes out of the office window at Southwood Elementary School.
"Coach is on his way, he should be here soon," said Hansard excitedly.
Suddenly, Hansard sees Coach Mike Kozak walking toward the school.
Meeting Coach Kozak at the front door, Hansard greets him with a hug.
"You're finally here!" said Hansard.
Local sports trainer Coach Mike Kozak dedicates his Friday afternoons to working with a group of enthusiastic students at Southwood. Coach Kozak, a former Columbus City Schools physical education teacher at Pilgrim, Moler, Eakin, and Binns Elementary Schools has always been passionate about sports and teaching others.
"I decided last year that I had some free time on Fridays that would allow me to offer my coaching services to kids who would not be able to get to my facility, Soar Fitness, located in Lewis Center," said Kozak.
Coach Kozak holds sessions in Southwood's gymnasium, where he works with about a half dozen boys and girls students from grades 3-5.
"My main focus was finding a group of kids who I could impact not only athletically but from a confidence and mental standpoint," said Kozak. "I encourage each student to reach their full potential."
Southwood Principal Miracle Reynolds is seeing a positive shift in her students' behaviors since Coach Kozak's arrival.
"Every week, Coach Kozak works with students to provide professional training that positively impacts their physical health and positions them to be better students," said Reynolds. "Coach Kozak also works to build relationships, which allows him to encourage each student to make decisions in the classroom that support academic growth."
Focusing on teaching the fundamentals of various sports, including basketball and track and field, Coach Kozak splits the students into small groups, rotating between stations where they work on different skills, such as dribbling, passing, shooting, and running.
Coach Kozak shares that students participate in all sorts of gameplay involving coordination and speed. Additionally, students work out by breakdancing and holding basic strength positions such as lunges and push-ups.
"The heart of my program is getting kids to run fast, jump high, and be athletic at an age-appropriate level," said Kozak. "I show up at Southwood every Friday with a workout that I know will stimulate them with those things in mind."
Southwood teacher Dr. Kevin Daberkow says that students use their time with Coach Kozak each Friday as a motivator to take care of their academic and behavioral responsibilities.
"The students are excited to work with Coach," said Dr. Daberkow. "They are learning how to work in a team, and they never complain; they jump up and are ready when he arrives."
Coach Kozak's approach to his training program is unique because he strongly emphasizes teamwork and character development. Throughout each session, Coach Kozak emphasizes the importance of working together, supporting each other, and staying positive even when things get tough.
Dr. Daberkow is amazed at how positively students respond to Coach Kozak's training program.
"Students give up their recess to work with Coach," said Dr. Daberkow. "Our students are benefiting from working with a professional trainer once a week."
Coach Kozak's impact on the students at Southwood is genuinely remarkable. Through coaching, he has helped students build their confidence, develop their skills, and cultivate a love for sports.
He has helped create a sense of community among the students, who have formed strong bonds with each other and himself.
"Now that the word is out about the opportunity, students are lining up to be able to spend time each Friday with Coach!" said Dr. Daberkow.
Coach Kozak's commitment to the well-being of Southwood students is a testament to his passion for sports and his dedication to helping others.
"I really hope to keep this going for years to come, whether it be at Southwood or another school in the District," said Kozak.
---